Let's REBOOT 2020 with a post-genre party, jumping from contemporary classical to hyperpop to jazz, with Nonsemble, LÂLKA, Shamin and more!
About this Event
Have you tried turning it off and on again?
2020.exe has experienced unforeseen errors in live performance... So we're holding the power button down for five seconds and rebooting into safe mode! We haven't backed up in a while, so we're temporarily reverting to a "retro" Dots+Loops save-point, throwing together a bunch of our favourite Brisbane artists, cracking open a few beers, and inviting everyone along for the party!
Join us for a post-genre party, as we jump from contemporary classical to hyperpop to jazz, with Nonsemble, LÂLKA, Shamin, Luminescence, Madeleine Cocolas, MJ O'Neill, Airport, and Roitu Opus (presented by Cre8tive Nations).
Spread across two stages in the amply air-conditioned Old Museum Studios, there'll be drinks, there'll be food, there'll be a (socially distanced) load of friendly faces to hang out with, and a bunch of comfy spaces to chill out.

To make sure everyone can join in, ticket prices are also at "retro" prices, with thanks to funding from the Australia Council for the Arts. Tickets are Pay-What-You-Can, minimum $5. We encourage those of you with the means to do so to pay more, enabling us to put this event on while keeping it accessible to those in our community who may be experiencing financial difficulties in these strange time. Every little bit helps support Brisbane's vibrant arts community and the amazing artists in the Dots+Loops family.
The Old Museum Studio 2 is fully wheelchair accessible.
Dots+Loops exists for all members of the community, regardless of gender identity, sexuality, ethnicity or economic background. Our shows are explicitly safe spaces, with no tolerance for bigotry, racism, queerphobia, sexism, misogyny, or ableist behaviours or attitudes.
Dots+Loops Reboot is held on Jagera and Turrbal land. We respectfully acknowledge the traditional owners, pay respects to elders past, present and emerging, and recognise the important ongoing contributions our First Nations communities make to our music and arts scenes. This always was, and always will be, Aboriginal land.
dotsandloops.com.au | facebook.com/dotsandloopsmusic | instagram.com/dotsandloopsmusic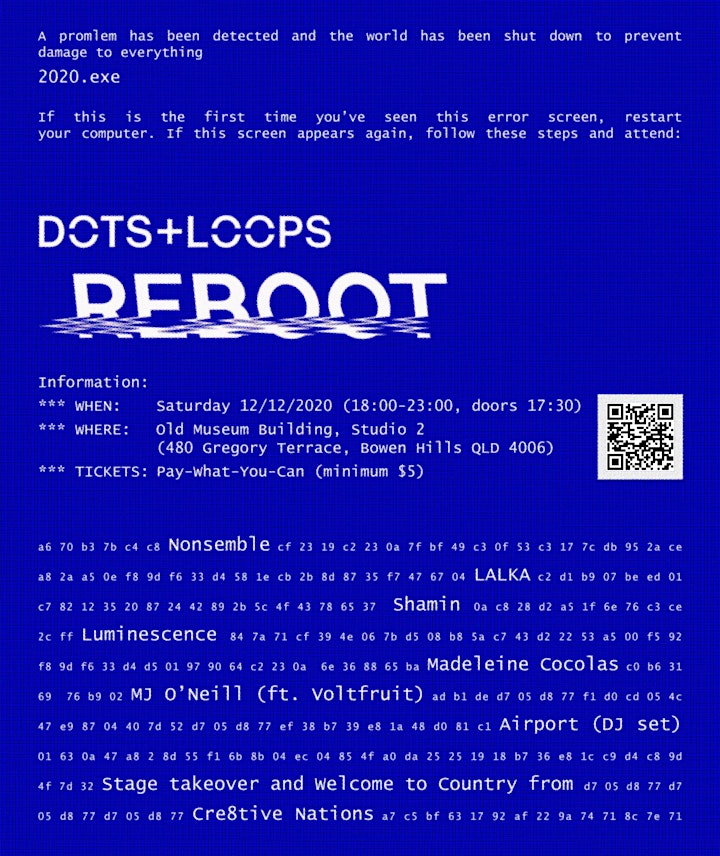 This project has been assisted by the Australian Government through the Australian Council for the Arts, its arts funding and advisory body, and is supported by Creative Partnerships Australia through the Australian Cultural Fund.