About this Event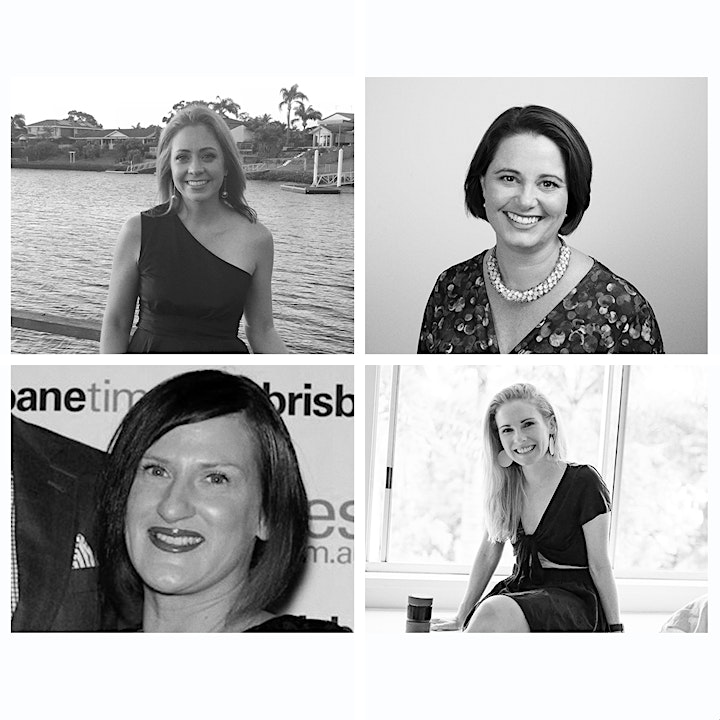 Calling all ladies whether in a startup, a woman in leadership, stay at home mums with a side hustle, entrepreneurs etc. Come along to this rooftop venue filled with food and champagne to launch Door 20A
How do we do it as women, only by having our 'A Team' with you all the way. Our 'A Team' will talk about Staying Relevant in this modern world & The Juggle is Real.
The event will be moderated by the genius Georgie King from The Women's Collective. Sitting on the A Team will be Kylie Byrne from The RaRa Agency, Sandra-Lea from Luxey Cup, Mel Kite from JLL & Gemma Alker from QUT
About our modertor, Georgie King - The Women's Collective
An Australian entrepreneur, business and Instagram coach, this all-round millennial powerhouse established two business at just 23. She has experienced the extreme highs and lows of entrepreneurship and, just 5 years later, has realised success that takes many people decades to build.
Based on the East Coast of Australia, Georgie spends her time city-hopping to coach, educate and serve her clients, Australia wide. Her digital shop, stocked full of cutting edge, on-trend products and services, help other small businesses owners with the daily problems of small biz life, without breaking the bank.
Georgie's direct yet light-hearted style is unique and infectious and as a result, attracts clients from all walks of life. What lights Georgie's day is watching her clients grow and succeed in their business; helping them become fully aligned with their purpose, passions and strengths, and to enjoying the ride and the view along the way.
Our A Team of awesome women
About Gemma Alker is a growth strategist, connector, advocate for women's leadership, and mother of three growing boys.
A senior leader with more than 20 years' experience leading strategic partnerships and communication portfolios for large organisations, not-for-profits and universities, Gemma has managed accounts with global brands including Business Chicks, Cisco, PwC, NAB, Bond University, Australian Wallabies, SIDS and Kids Red Nose Day, Nine News, HP Enterprise, Moose Toys, and all levels of governments. As CEO of a national social enterprise Gemma inspired more than 5000 primary school children through entrepreneurship education to generate $1million for charities for their choice.
Currently she is the Head of Engagement at QUT Chair in Digital Economy where she is responsible for the global partnerships strategy and brand management driving commercial outcomes and community impact for enterprise and state government.
She holds a Bachelor of Business (Public Relations) and has recently completed her Women in Focus AICD Company Directors Course. And is a former director of Volunteering Gold Coast, St Hilda's Old Girls' Association, and President of Wooloowin State School P&C Association
About Mel Kite - I have a strong background in management, marketing, communications and events across a variety of industries including retail, property and tourism.
As Centre Manager of Toowoomba Plaza (2004-2011) I built the centre profile, customer traffic, retail satisfaction and property income/valuation. I was involved in all stages of a $13M refurbishment of the centre during 2009-2010 while the centre remained trading.
In my role as Event & Marketing Manager Toowoomba Carnival of Flowers (2011 - 2016) I was responsible for the day to day operations including all logistics, risk management, work place health and safety, marketing, communications, brand campaigns, content development, digital offerings and key event delivery.
In my current role as Senior Retail Marketing Manager of Smith Collective I have delivered the transformation of the transformation of the Athletes Village to one of Australia's first build to rent precincts, incorporating $5.8M refurbishment to create a neighbourhood retail precinct. The environment is challenging, resulting in strategic thinking to create the best results/return for the properties.
I'm a perennial perfectionist with a sharp eye for detail and a high-level communication skill set with my work achievements always being at the highest standard. As a leader, I conduct myself in a professional manner at all times and thrive in creating a healthy, commercially successful team environment.
About Kylie Byrne | Director of The RaRa Agency | Branding Consultant, Designer & Strategist | Speakers Agent & Manager
Inspiring people and companies to move into action, is at the core of what Kylie provides through her various Management Consultancy roles within The RaRa Agency. She believes that through authentic communication, be it as an individual or business, the opportunity for true success is boundless. She seeks to work with those that do not settle for the status-quo and have the desire to explore and push the boundaries. The processes she employs involves challenging her clients by introducing them to new ways of thinking. She seeks to be a trusted adviser, moving her clients and their businesses out of their comfort zone to uncover the essence of what sets them apart. In doing so, establishing their true brand identity, forming rock solid foundations onto which she builds out strategies uniquely tailored to unlock their potential
About Sandra- Lea -super savvy business woman, co-founder of Luxey Cup & boss lady of What Barney Wore.
As a wife, mum of two little ones and being a driven, passionate business woman, running not one but two businesses with her husband Andy, Sandra-Lea is very in tune to the importance of setting boundaries & being present in the moment. Starting her first business when going on maternity leave, to recently rebranding this business PLUS launching a second one, Sandra-Lea's background in sales and really hearing what customers need and want plus ensuring outstanding customer service are all at the core of how she runs her businesses. Sandra-Lea is a bundle of energy, I love her entrepreneurial mindset, and tenacity but also knowing how to separate work and family to be completely present and balance both in a healthy way
Proceeds from the ticket sales will go to Pink Hope - a preventative health hub tht allows every individual the necessary tools to assess, manage & reduce their risk of breast and ovarian cancer, while providing personalised support for at risk women. www.pinkhope.org.au