Explore personal and professional boundaries and learn a best practice approach for communicating about mental illness and lived experience
About this event
This three-hour workshop explores our DoNOHarm Framework, a set of evidence-based principles designed to give everyone the confidence to talk about mental illness in a safe way while at the same time promoting mental health education and stigma reduction.
In this free session you will explore personal and professional boundaries to share and hear stories safely.
MIEACT believes that better learning comes from people with lived experiences sharing their personal stories. Told within the DoNOHarm Framework, stories can address stigma and discrimination and promote better understanding about mental health conditions. They can also strengthen the outcomes achieved within mental health education programs.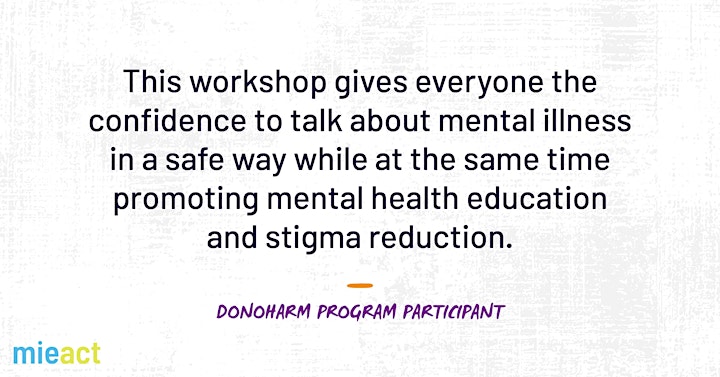 Organiser of DoNOHarm Training (F2F)
The leading mental health and well-being education provider in Canberra.
For 25 years we have delivered workshops that increase mental health literacy, reduce stigma, promote early intervention, emphasise recovery and, importantly, give participants the practical tools to manage, support and practice help seeking behaviour. 
Our current suite of programs cover stress, body image, PTSD and general mental health awareness reaching over 4,000 secondary students and 100 workplaces every year.
Book an open workshop or contact us to organise a session in your workplace or school.