A day for individuals & teams to come together to get it done. We also teach you science-based techniques for improved productivity.
About this event
Imagine a day spent 100% focussed on getting your priorities done with zero distractions. With music scientifically engineered for concentration, and a facilitator to teach you science-based productivity techniques and to hold you accountable.
Why? We spend a lot of time being busy, but not nearly enough of that time is focussed on completing the most important activities that will have the biggest impact. We tend to focus on the most urgent tasks, but leave the most important but less urgent tasks for another day. Many of us hide behind "being busy" while avoiding the true "hard work".
Done is a new event series for getting the shit done that matters most. Those important tasks that we just don't get to. It's a chance to remove yourself from the distractions of the office or day-to-day duties to work on a key focus.
How it works:
We provide a beautiful workspace, music for concentration, and a facilitator to hold you accountable.
Each participant brings their own "To Do" list for the day and works through them in a series of sprints. Perhaps for you it's building a new prototype or website, starting a new marketing campaign, booking yourself in to speak at events or on podcasts, designing new sales collateral, completing a grant application, or hitting a sales target. Perhaps you want to sort your life admin, or use the day to make big decisions. You can use it however you want.
As well as work sprints, you also have the option to use the power of the group to have short sessions for some brainstorming and co-creation for anyone that would like some fresh perspectives, new ideas, and new connections.
The schedule for the day:
0815 - Arrive
0830 - Welcome & training
0915 - Work Cycle #1 (3x short pomodoro sprints)
1045 - Morning tea
1100 - Work Cycle #2 (2x long pomodoro sprints)
1300 - Lunch (working lunch)
1330 - Work Cycle #3 (2x long pomodoro sprints)
1500 - Afternoon tea
1530 - Work Cycle #4 (3x short pomodoro sprints)
1700 - Wrap-up
1730 - Finish
Who should attend:
The event is targeted to anyone who want to get better traction on key activities or projects. We are charging a ticket price to attend for this event because we want participants who are committed to taking massive action and who are at a stage with their business or career or life where they need to get it done.
What we will provide:
Venue setup ready for you to work
Facilitator to guide you through the day
Some stationery and whiteboards for creative design work
Snacks for the breaks (BYO lunch)
Music and sweets to keep the energy up
Internet and power
What to bring:
Your laptop, charger and other required devices and work materials
A reusable water bottle and coffee keep cup
Your lunch (pro-tip: choose low GI foods and avoid carbs)
How to prepare for the event:
Identify one key activity or focus area that you want to get traction on - it could be implementing a new marketing campaign, building a prototype, hitting a sales target, completing a grant application, life admin, making some key decisions, video editing, content creation, etc.
Create a plan of the core actions needed so that you will use the work sprints to maximum effectiveness.
Get good sleep the night before. Arrive in the right mindset to GSD!
The venue:
The event is generously being hosted by the Startup Precinct in Noosa who will provide the creative workspace, power, and WiFi for the day.
Located in the heart of Noosa's CBD, the Startup Precinct is a dedicated space to foster the next generation of startups as well as supporting innovation and scale for high growth businesses.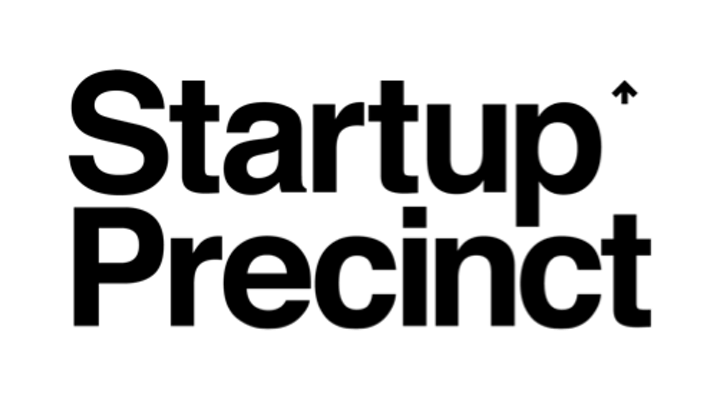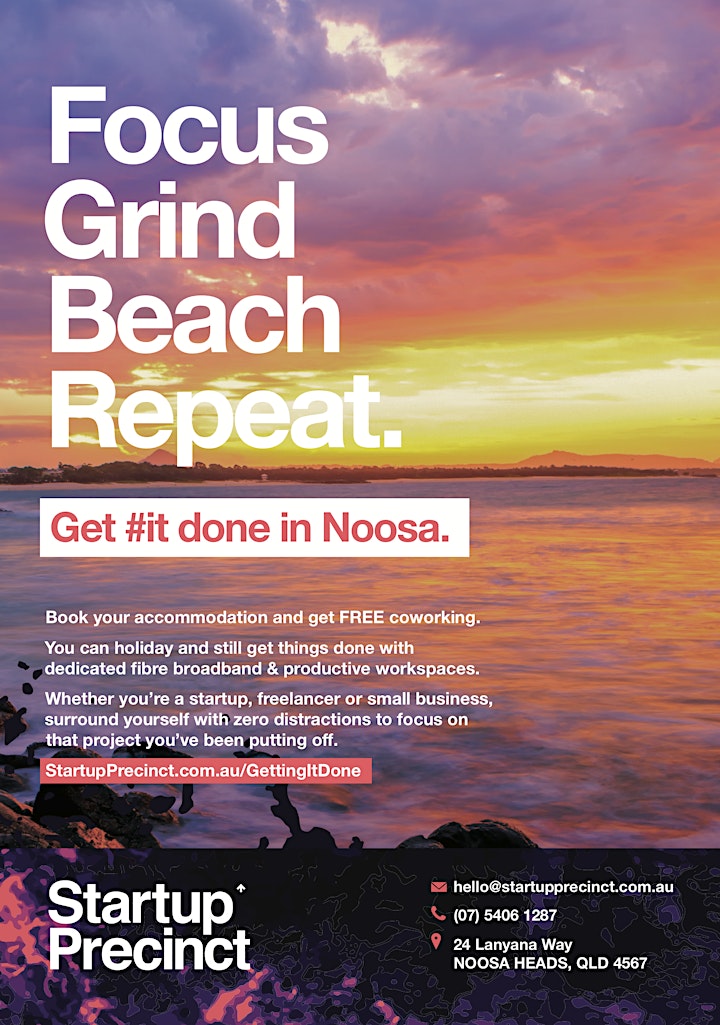 Organiser of Done @ Noosa