Description

Doing Business in China Webinar

This Step by Step Proven System shows YOU...
How to make a MILLION and not get burnt!

Lindy Chen, a world-renowned expert on importing from China, managing director of award-winning ChinaDirect Sourcing and author of "Importing From China: How to Start Your Own Import Business Without Losing Your Shirt," will let you in on her secrets! This seminar is a must if you are looking to start, keep alive or expand your business in today's economic climate, and see China as the solution to make that happen. If you think you are ready to do this…
BUT:
Don't know where to start,

Have heard horror stories from other importers and are afraid of making the same mistakes,

Have run into obstacles that you don't know how to solve,

Would simply feel more secure learning from an expert Chinese importing consultant before getting started on importing from China yourself, then this event is for YOU!
Lindy has spent the last 12 years perfecting this system which will put you on track to achieving the same results her 800 ChinaDirect Sourcing clients have already achieved through working with her and following her system.
Minimise your risks and maximise your profits when you import from China.
Here is a preview of what to expect in this packed 90-minute workshop:
Learn about Lindy Chen and ChinaDirect Sourcing and see what makes ChinaDirect very different from other consulting companies
Listen to 5 Success Stories of Importers from China
Know the 5 Costly Mistakes When Dealing with China
Understand the 3 Stages of the Importing Process
Sampling and Purchase Order Negotiation
Production and Delivery Management
Gain the advantage!
Plus!!! Get these bonuses!
Know the 8 Golden Rules in Dealing with China
Learn how to negotiate a price increase from your supplier: don't let a supplier get away with a price increase just because they say so. Learn how to minimize the risk of being controlled by your supplier.
Now is your chance.
Register NOW.


See below for a full agenda of the seminar and watch a short video of what previous attendees have to say about this event.

Time:
10:00am-11:30am - Australia, Brisbane Time
An invitation link will be sent to the participants 30 mis prior to the webinar.
Fee: $18.42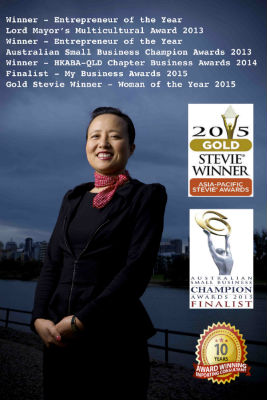 Full Agenda:
10:00 am Start Time
10:00am

-About Lindy Chen & ChinaDirect Sourcing
-Top 5 ways to make money by importing from China
-5 costly mistakes when "Dealing with China"
10:45am

The 3 Stages Importing Process
- Research and Tender
- Sampling and Purchase Order Negotiation
- Production & Delivery Management
11:15am
Audience Q & A
11:30am
Finish Time
ChinaDirectSourcing Ticketing Terms & Conditions

- The registration fee is non-refundable but transferable to another person for the same event.
- All cancellations or transfers must be communicated in writing.
- Failure to attend the event is considered a cancellation (no refund will be payable).