Description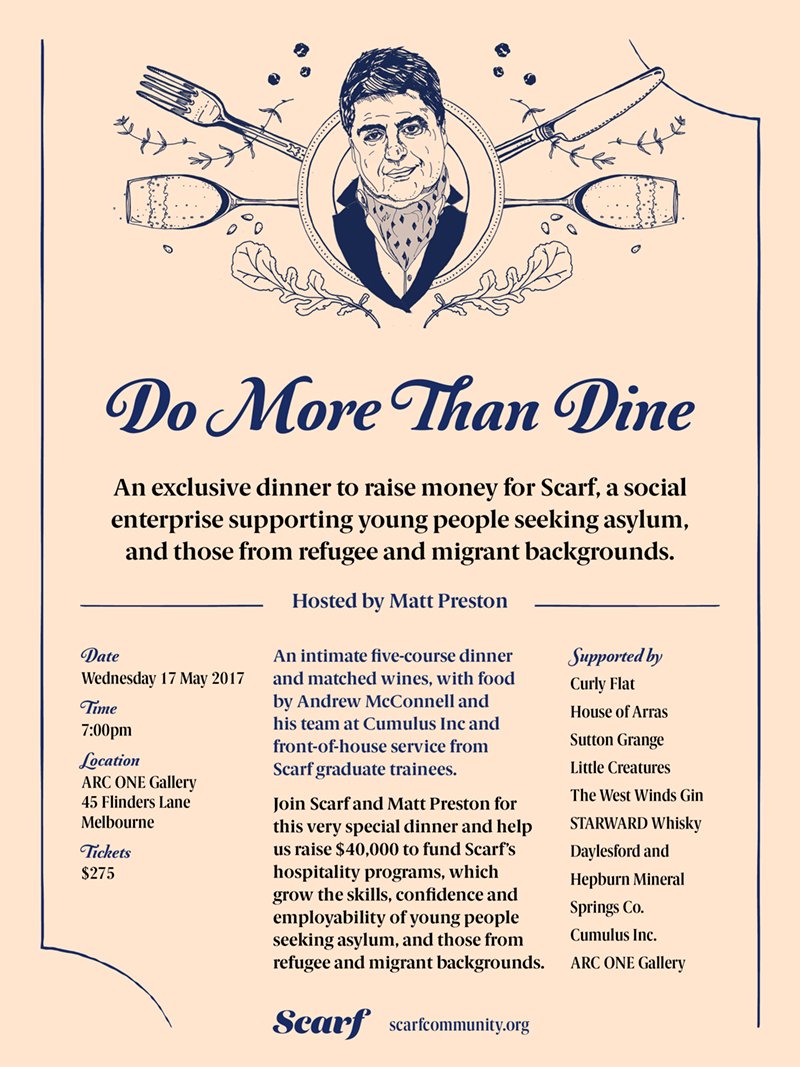 ---
Do More Than Dine '17
An exclusive dinner to raise money for Scarf, a social enterprise supporting young people seeking protection, and those from refugee and migrant backgrounds
Hosted by Matt Preston
Join Scarf for our second Do More Than Dine fundraising dinner and enjoy an intimate five course dinner with matched wines from some of Australia's best producers. Andrew McConnell and his team at Cumulus Inc. are doing the cooking, and some of Scarf's fabulous graduate trainees will be working the floor. This will be a night to remember.
Watch the Do More Than Dine '16 video.
Hosted by inimitable Masterchef judge and Scarf Ambassador, Matt Preston, Do More Than Dine will greatly assist Scarf in continuing to transform the lives of young people facing barriers to work. We're aiming to raise at least $40,000 to fund Scarf's hospitality training, mentoring and paid work experience programs. Our unique programs take place in Melbourne's best restaurants, and grow the skills, confidence and employability of young people seeking protection, and those from refugee and migrant backgrounds.
On the night, there'll be Mystery Envelopes for sale, as well as a 'Money-Can't-Buy' live auction with prizes from the likes of Movida, Anchovy, Lucy Liu, Ochota Barrels, STARWARD Whisky, Adelphi Hotel, Simon Johnson, Bistro Gitan and Trattoria Emilia. For the big bidders, there's a four-course dinner with matched wines in French Saloon's private cellar and a truly unique prize: a hand-crafted Gyuto Chef's and Paring knife by Doveton Fletcher complete with individual leather knife rolls lined with one of Matt Preston's favourite cravats.
Seats are extremely limited so get in early to avoid missing out. Seating-wise, there will be two long communal tables, so you may book for a group of any size.
This event is generously supported by: Curly Flat, Sutton Grange, House of Arras, Little Creatures, The West Winds Gin, Daylesford and Hepburn Mineral Springs Co, STARWARD Whisky, Cumulus Inc. and ARC ONE Gallery.
For specific event enquiries, contact Liz Grady: liz@scarfcommunity.org.