Connect Premium Growth Event – Goal setting and peer to peer mentoring at the $2M++ mark
About this event

What to Expect
Goal setting and peer to peer mentoring at the $2M++ mark
Professional networking opportunities
Premium lunch and canapés
Enjoy a five-star lunch, canapés and drinks while connecting with other ambitious, successful, and aspiring business owners.
Develop and maintain business relationships – our most significant assets in business.
Connect with Perth's movers and shakers in this dynamic and unique business growth event where you'll rub shoulders with like-minded, ambitious business leaders who meet regularly to:
Elevate Thinking
Drive Business
Establish and Leverage Relationships
Have Accountability to Goals
Peer to Peer Mentoring
Join Small Group Mastermind Forums
Join us in a mini-goal setting workshop before our small group mastermind forums where Members and guests will have the opportunity to:
Share information to learn, grow and support each other
Help a peer to take risks and make positive changes
Experience personal and professional sharing – share fears & wins
Access the collective wisdom and stretch possibilities
Discuss issues in a confidential, unbiased, and non-judgemental forum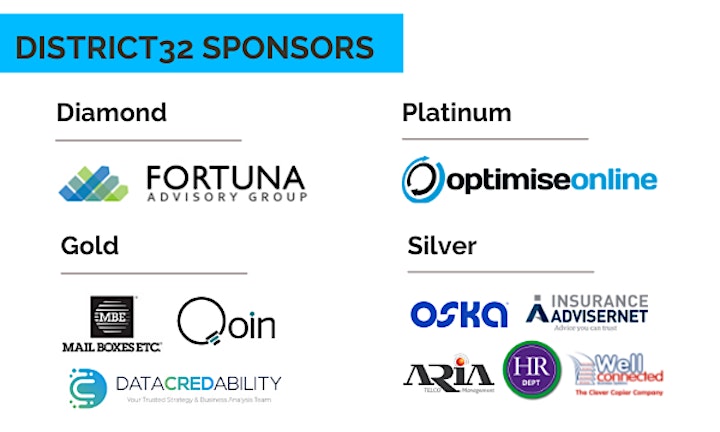 IMPORTANT NOTE: District32 is a business growth company, and we want to work with driven and ambitious business owners who we can help. Please Take our Growth Readiness Quiz HERE (rate you and your business in 9 areas) and book a welcome call at the prompt. This way, you will know what to expect at our events and also whether we are the right fit for you.
ALSO NOTE:
No refunds will be issued for cancellations made less than 48 hours before the event.
In the event of lock-down all events will be held online.
Organiser of District32 Connect Premium Business Growth Event – Thu 28 Oct