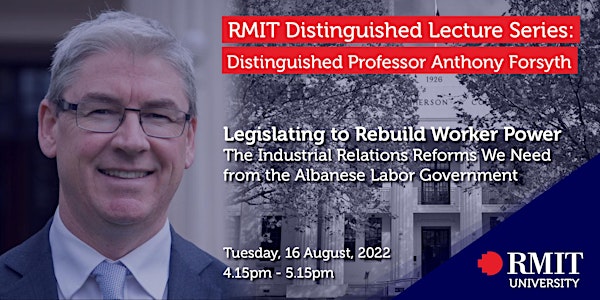 Dist Prof Anthony Forsyth RMIT Distinguished Lecture Series - Online Event
Legislating to Rebuild Worker Power: The Industrial Relations Reforms We Need from the Albanese Labor Government
About this event
We cordially invite you to virtually attend Distinguished Professor Anthony Forsyth's Distinguished Lecture hosted by RMIT's College of Business & Law and the RMIT Professorial Academy.
Event Details:
Date: Tuesday, 16 August, 2022
Time: 4.15pm-5.15pm
Online Platform: MS Teams Live (an event link will be send closer to the date)
Abstract:
The Labor Government elected to office on 21 May 2022 has prioritised lifting real wages and tackling labour force gaps as key issues to be addressed at the Jobs and Skills Summit in September. These are the early steps in Labor's implementation of its wider policy commitments on industrial relations reform.
This lecture will outline options for translating those policy proposals into legislation, focusing on the measures needed to fix the broken system of enterprise bargaining, bolster the right to strike, and counter insecure work and the gig economy. It will make out the case for a bold industrial relations reform agenda that places workers at the centre of the regulatory framework and reverses the effects of 30 years of neoliberal workplace reform.
We are looking forward to welcoming you.
Kind regards,
Deputy Vice-Chancellor (Business & Law) & Vice President
RMIT University
Distinguished Professor Anthony Forsyth
Anthony Forsyth is a Distinguished Professor in the Graduate School of Business & Law at RMIT University. His research focuses on collective bargaining, trade unions, union education, labour hire and the gig economy. In 2015-16 Anthony chaired the Victorian Government's independent Inquiry into Labour Hire and Insecure Work. He is a co-author of the 7th edition of "Creighton & Stewart's Labour Law" (Federation Press, 2022, forthcoming) and the author of "The Future of Unions and Worker Representation: The Digital Picket Line" (Hart Publishing, 2022). Anthony is President of the Australian Labour Law Association and runs the "Labour Law Down Under" Blog.