What role can design play in digital government transformation?
About this event
Design, design thinking, human-centred design, and user-experience design are all terms that are becoming commonplace in organisations across Australia, especially in the context of digital transformation. The digital transformation of government has increasingly drawn on design perspectives to ensure services are aligned with the needs and expectations of citizens. However, many perspectives, methods, and approaches to design can be applied to transforming the complexity of government and the public sector. In this seminar, Tim Kariotis, Lecturer in Digital Government at Melbourne School of Government, is joined by four experts with diverse experiences in design. This multidisciplinary team will take a deep dive into the why and what of design and how it can inform the work of governments undergoing a digital transformation.
Speakers
Professor Katja Hölttä-Otto | University of Melbourne:
Katja works in the area of design theory and methodology with specific emphasis on interdisciplinary topics linked to engineering design. Her expertise includes creativity in engineering, empathy and user-centred design, design thinking and design methods in general. She is also active in complex system design, including the design of product families and is interested in the circular economy for product development.
She is an expert in interdisciplinary design education and is known for her active hands-on approach to innovative product development. She also does corporate innovation and design thinking training.
Associate Professor Jenny Waycott | University of Melbourne:
Jenny Waycott is an Associate Professor in the School of Computing and Information Systems, The University of Melbourne, working in the interdisciplinary field of human-computer interaction. Her work broadly aims to understand how new technologies can be designed and used to foster social wellbeing in later life. A/Prof Waycott leads a program of research that is examining how emerging technologies, such as virtual reality and social robots, are used by caregivers and older adults to provide social and emotional enrichment in later life, especially for people living in aged care. Ultimately, this research aims to improve how we design and deploy technologies with older adults, especially in aged care, where a respectful and empathetic approach is critical to ensure new technologies provide benefit without causing harm.
Andrew Apostola | Portable:
Andrew is the CEO and co-founder of Portable (www.portable.com.au), a purpose lead tech and design company founded in Melbourne, Australia. Portable uses design and technology to help organisations transform the way in which they deliver services, particularly in the areas of justice, healthcare, education and government. Andrew's main areas of focus are in justice, government, education and retail, and he works actively in these areas through his various roles. He is the author of a range of publications, including Taking Back Retail (2012), which looks at how brands can move into the digital age; Hacking the Bureaucracy (2016), a guide to government innovation; Redesigning work (2017), a report into how design can respond to the changing workforce; and Data Driven Design (2019) which outlines the case for merging design and data analytics into the same discipline.
Luke Thomas | Portable:
Luke is passionate about creating interactions with the legal system that make things better for the people using the system. His work at Portable seeks to achieve this through designing products and introducing design solutions that increase equality and access to justice, including creating an online dispute resolution products for National Legal Aid and WorkSafe Victoria, and an online portal and legal aid grants tracker for Legal Aid NSW. Luke completed his Juris Doctor at Melbourne Law School.
Luke has contributed policy submissions and journal articles to multiple law and policy reform enquiries on the use of AI in legal technology, data discrimination, information privacy, and international human rights law. His work has been published in the International Journal of Online Dispute Resolution and Design Issues.
Facilitator
Timothy Kariotis | Melbourne School of Government:
Tim is a multidisciplinary researcher with work spanning law, governance, healthcare, design and sustainability. He is a Lecturer in Digital Government at Melbourne School of Government, where he co-leads the Fair Day's Work Project on preventing wage theft. Tim is also completing his PhD in digital mental health at the School of Computing and Information Systems.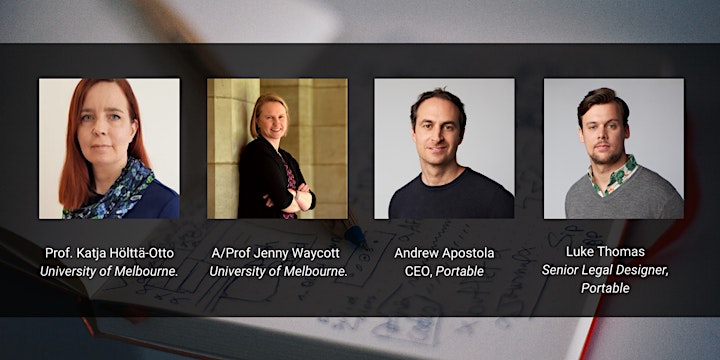 Organiser of Disruptive Ideas Seminar: Design and Digital Government
Melbourne School of Government's mission is to inspire and equip governments, businesses, social partners and individuals to meet the challenges of contemporary governance. Through interdisciplinary, innovative teaching and research, we seek shared and sustainable solutions to these challenges. The School's activities centre on three key thematic areas; regulation and design; renewing democracy; and 'troubling policy' (i.e. particularly complex issues that require multifaceted solutions). The Melbourne School of Government team comes from a range of backgrounds in law, public policy and community engagement, and bring a deep knowledge of civic engagement and education.