Disruptive Business Network: The Ideas Factory

Tuesday, October 1, 2013 from 6:00 PM to 9:30 PM (AEST)
Event Details
We're back! And it's time to talk about ideas...
We all have ideas - businesses we want to build, books/songs/blogs we want to write, that app/website that is going to change the world. But very few of us do what it takes to bring those ideas to fruition. There are constant roadblocks, doubts - what Steven Pressfield calls the 'dragon of resistance'. What does it take to execute an idea? What are the combination of attributes? What are the raw materials that go into 'the ideas factory' that deliver the expected results?
What do we mean by 'disruptive'?
'Disruptive' means questioning the way things are currently done, and delivering solutions to problems either not considered, or previously thought to be impossible to work through. We are creating a network of people who think along disruptive lines, and thrive on change for the better.
Who is this event for?
This event is for people who want to share ideas, ideology, advice, stories and anecdotes. Sure, the usual business connections can and hopefully will be made, but this is intended to be much more than a standard business networking event.
We know that there are thousands of people in Melbourne who refuse to just go through the motions, but instead choose to think, explore and develop themselves and their ideas. 
And who is presenting?
Steve Sammartino - Tomcar, Space Launch (yes, really), Rentoid, Startup Blog, Super Awesome Micro Project, and much much more.
Possibly the most energetic person we've ever met, Steve is the perfect person to speak to Melbourne's Disruptive Business Network because he personaifies the notion of the ideas factory. He knows how to look at things in a new way, discover solutions to problems that people didn't realise they had, and actually takes those first few nervous steps to test out his ideas and see what works.
We guarantee you'll walk away entertained, energized and brimming with new ideas after this presentation - so jump in and get your tickets!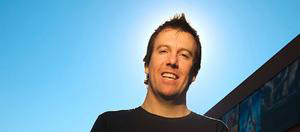 Format of the evening:
6:00 - 7:00 introduction of the evening and networking
7:00 - 8:00 Presentations and panel discussion
8:00 - 9:00 networking and close
Effortless donation
One of the great things about attending an event at Shebeen is that that every drink you purchase donates profits to the country of origin of that drink. 
So for the good of everyone, drink up and enjoy yourself!
When & Where

Shebeen
36 Manchester Ln
Melbourne, VIC 3000
Australia

Tuesday, October 1, 2013 from 6:00 PM to 9:30 PM (AEST)
Add to my calendar
Organizer
What if the status quo is wrong?
To us 'Disruptive' means questioning the way things are currently done. New ideas and technology are changing business. Standardized workers working in standarized jobs building standarzied products are becoming a relic of the past as we move from the industrial economy to what Seth Godin refers to as the connection economy.  If such a shift is on the horizon what are the tools we need to prepare? This event series is not about having the answers, but asking the questions. We are creating a network of people who currently think along disruptive lines, and thrive on change for the better. The three areas we look at are good business, meaningful work and disruptive innovation.
If you are one of the mavericks, game-changers and revolutionaries who care about these issues, we invite you to come along.