Disruption! In Business and Life with Peter Williams

Wednesday, 18 June 2014 from 6:00 pm to 9:30 pm (AEST)
Event Details
In 1995, Clay Christensen, a Harvard Business Professor - asked himself a very important question. 
Why do well managed, well run, smart companies fail?
His answer permanently changed business thinking. The research and the book that followed exposed an unanticipated phenomenon:
When big companies fail, it is not because they do something wrong, but that they do everything right. They look after their most profitable customer segments, generate great profit margins - but ignore and become vulnerable to 'disruptive innovations' that emerge in the shadowy dismal low margin bottom of the market.
This is the essence of Disruption. 
But how does this apply to our personal lives? We all start our professional lives and careers with the best intentions. School - University - Meaningful jobs/careers and hence meaningful lives.
But almost always our plans get 'disrupted'. 
Can looking at our lives through the lens of Clay Christensen's theories - help us lead more fulfilling lives?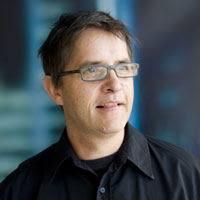 OUR SPEAKER
To discuss DBN is very proud to host Peter Williams - CEO of Deloitte's Centre for the Edge. Peter is a recognised thought leader and practitioner in innovation with a particular focus on digital innovation.
Although his professional training was as a Chartered Accountant, Peter started working with internet technologies in 1993 while in the UK and on his return to Australia in 1996 founded an eBusiness Consulting group within Deloitte Australia. Peter was also the CEO of the Eclipse Group, a Deloitte subsidiary that was one of Australia's largest web and mobile development firms, from 2003 to 2008 and then founded Deloitte Digital, a business pioneering the delivery of professional services online.
Peter has been the Chairman of Deloitte's Innovation Council since 2004 and been involved in numerous innovation projects for Deloitte and clients over the course of his career.
Peter is a sought after speaker and media commentator both locally and internationally and has worked with boards and senior executives of many companies helping them understand and adapt to the rapidly changing digital environment.
Peter is the obvious person to lead the newly formed Australian chapter of the Centre for the Edge, a Silicon Valley Applied Research Centre chaired by two technology luminaries John Hagel III and John Seely Brown. The Centre's mission is to identify and explore emerging opportunities related to big shifts that aren't yet on the senior management agenda, but ought to be. While it is focused on long-term trends and opportunities, it is equally focused on implications for near-term action, the day-to-day environment of executives.
Peter is an Adjunct Professor at RMIT and a board member of Circus Oz.
Event details
When: Wednesday 18th June
Where: Shebeen, 36 Manchester Lane (off Flinders lane, CBD)
Cost: Earlybird tickets are $20 (+ eventbrite fee). Price goes up to $30 on Friday the 13th
Time:  6:00pm - 9:00pm
Food: We are aware that our event runs across dinner time for many people. We strongly encourage you to try out the great food at Shebeen. Every dollar of profit goes to the developing world. Check the menu
Event format:

6:00pm - 7:00pm  Arrival and intro to the evening, networking

The event is listed as starting at 6pm, but the presentation isn't until 7pm. We do this deliberately, it gives everyone a chance to arrive, chat and relax before the action starts. Food and drinks at Shebeen are fantastic and 100% of profits go to the developing world.
7:00pm - 8:00pm Talk by Peter Williams with plenty of opportunity to ask your questions.
 8:00pm - 9:30pm Networking and close.
What is the Disruptive Business Network?
The Disruptive Business network was born out of a desire to bring together the mavericks, game-changers, revolutionaries who want to 're imagine the value of business'.
 We are a platform to inspire debate and educate. Business can be a force for good. Products should be inspiring, employees should be engaged, and value should be distributed not just to shareholders but to all stakeholders. Read more.
What do we mean by disruptive?
'Disruptive' means questioning the way things are currently done, and delivering solutions to problems either not considered, or previously thought to be impossible to work through. We are creating a network of people who think along disruptive lines, and thrive on change for the better.
When & Where

Shebeen
36 Manchester Ln
Melbourne, VIC 3000
Australia

Wednesday, 18 June 2014 from 6:00 pm to 9:30 pm (AEST)
Add to my calendar
Organiser
What if the status quo is wrong?
To us 'Disruptive' means questioning the way things are currently done. New ideas and technology are changing business. Standardized workers working in standarized jobs building standarzied products are becoming a relic of the past as we move from the industrial economy to what Seth Godin refers to as the connection economy.  If such a shift is on the horizon what are the tools we need to prepare? This event series is not about having the answers, but asking the questions. We are creating a network of people who currently think along disruptive lines, and thrive on change for the better. The three areas we look at are good business, meaningful work and disruptive innovation.
If you are one of the mavericks, game-changers and revolutionaries who care about these issues, we invite you to come along.