Description
Can you be an astronaut and a comedian at the same time? How about transitioning from professional latin dancer to a psychologist and performance coach? Or balancing academia, entrepreneurship and parenthood?
Join WiTWA and our fascinating panellists who have done just that!
Digital disruption, flexible work conditions, and the trend towards work-life integration has all contributed to the rise of portfolio careers.
Join us on Wednesday June 20 at 5.30pm for a panel-style Q&A conversation ranging from non-linear career paths, to side hustles to personalised career curation.
Ticket price includes plenty of food and a drink on arrival. Extra drinks available to purchase.
MEET OUR PANEL: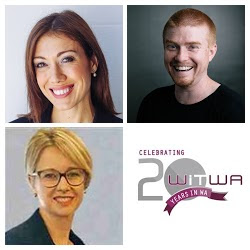 Dr Melissa Langdon (bottom left)
Dr Melissa Langdon is the Founder and Principal of BOSSMAMA. She works with businesses to achieve gender equity through innovative programs and advice. Melissa was an invited speaker at TEDxPerth on social activism, and researches on leadership and gender, digital culture, education and social change. She is a member of Curtin University's Gender Research Network and was a 2018 40 under 40 WA Business News finalist. Melissa has presented at conferences in Australia, Asia, Europe and North America, and will provide a keynote at EduTECH 2018 on gender and the need for disruption in education.
Josh Richards (top right)
Physicist, Explosives Engineer, Soldier, Comedian, Astronaut Candidate – one thing Josh Richards can never be accused of is being boring. In the last decade he's picked up booby traps with the Australian Army, slogged through mud with British Commandos, been science adviser to the richest artist in the world, and performed comedy wearing a giant koala suit to confused audiences around the world.
Josh found his true calling in September 2012 when he discovered the Mars One project. Selected from over 200,000 initial applicants, he's currently one of 100 astronaut candidates short-listed for a one-way mission to colonize Mars. Now an in-demand professional speaker, Josh's storytelling makes for compelling & entertaining corporate keynote presentations on leadership, small-team dynamics, and the challenges of life in space that are certain to leave any audience with plenty to think about.
Shona Rowan (top left)
Shona Rowan is a Peak Performance Consultant, Inspirational Speaker and trained Psychologist. Shona assists organisations to develop their talent, retain their clients and empower their female staff via inspirational events and her signature peak performance workshops. Shona worked across the UK and Europe for over 10 years and started her bespoke training and consulting business www.shonarowan.com in London in 2008. She relocated back to her home town of Perth, Western Australia in 2016 and works both locally and internationally. Her clients include Citi Group, Shell, Gold Fields, Ashurst, Hawaiian, DLA Piper, UWA and Corrs Chambers Westgarth. In her previous life, she was an international ballroom dancing champion and represented Australia in over 15 different countries.
Thanks to support provided by the Department of Communities for the WiTWA TECHXchange event series in 2018 we are able to offer a number of free tickets to women who are currently studying (part-time or full-time), unemployed or looking to transition into a role within the science or technology sectors. A limit of 2 tickets per person applies. If unsure whether this applies to you, please email donna@witwa.org.au. By registering to this event you will subscribe to our events mailing list (your details will not be shared with anyone). You are welcome to unsubsribe at any time. Thanks!