Discover Your PURPOSE & Share Your Message with the World, Become a Best Se...
Description
Discover Your VOICE & Share Your Message with the World with your own $2k $4k $10k Signature 8Week Program;
Many of my clients have the resoures, information and still struggle with getting paid what they are worth. After many years of seeing the same pattern with people about "feeling worthy" of charging the RIGHT PRICE for their coaching and consulting services.
Some people know what to write and how to brand themselves and some dont have a clue what they would offer others or how much to charge. I believe everyone has VALUE and unique and special contribution to the world. This workshop is designed to create your own BLUEPRINTS and discover your HIGHER PURPOSE and mission to the world. We offer 8WEEK SIGNATURE PROGRAM
working with me unique intimate setting at my home NOV 1st WEDNESDAYS x 8WEEKS 10-12pm, at the BetterLife Bookstore Applecross PLUS a further GROUP COACH TRAINING SESSIOS WITH KELLY SAYERS
Spiritual Life & Personal Branding Coach that includes the following:
* Discovering Your Life's Purpose / Building YOUR Personal Brand
* Accelerate Your Business Success with 5Ps Secret BluePrints
* Mapping Out Your Biggest Business Plans & Ideas
* Attracting Your Perfect Customers by knowing your target audience
* Self DIscovery TV / SD Magazine Articles & 2018 Soulful Awards Double Pass
* Clarity on Your "Niche" and YOUR Message to the World
* Eliminating Now What You Are Tolerating & Transforming Beliefs
* Tools and Tips for creating your ONLINE Webinar Series
* 12 Months Membership The Coaches Platform Weekly Group Zoom FAQ's
* Designing Your Ideal Lifestyle & YOUR Signature $2K, $4K $5k or $10k Program
* Creating GLOBAL Vision and travel the world as a Coach & Speaker...
PLUS: ADDED BONUS OFFER (OPPORTUNITY TO INVEST IN BECOMING A BEST SELLING AUTHOR) THIS MONTH IN OCTOBER - ONLY 2 SPOTS AVAILABLE!!! SEE OPTION 2; PLATINUM PROJECT BELOW...
Become a Best Selling Author with BetterLife Bookstore (Australia) Self Publishing House
and be one of 12+ Empowered Women to join in our book collaboration "The Coaches Platform" by simply writing one chapter for our book and become
an Ambassador for our "Women Empowering Women" Campaign in conjunction with the Soulful Awards 2018 and receive a DOUBLE pass to this amazing event & speaking opportunity.
and much more in a private setting together….
BOOK YOUR FREE COACH STRATEGY ZOOM CALL NOW
Imagine all the things we can accomplish together in private business coach training (Personal Branding Sessions) …plus
YOU will become the next best selling author of "The Coaches Platform"
Imagine all the new doors it would open for your business & paid speaking opportunities...
RESERVE YOUR SPACE TODAY
I am so looking forward to helping YOU and your business create the success you truly deserve.
OPTION 1: GOLD PROJECT:

Discover Your VOICE Share Your Message with the World

with Kelly's 8Week PERSONAL BRANDING Group Coach Training Program includes coaching YOU to create your own 8/12week $2k $4k or $10k SIGNATURE program and PLUS a 90m private business strategy session with Kelly Sayers & 8weeks of Group Coaching, BONUS 2 only left 250 books becoming a Best Selling Author.
(2hours Wed 1st Nov x 8weeks plus 12Month Membership The Coaches Platform weekly zoom webinars FAQ's support group)
Investment $10k AU ONE Payment (Includes gst, 5Ps self discovery blueprints & workbooks, journals)
OR Payment Option $5.5k x 2 months
OPTION 2
:
PLATINUM PROJECT
: PRIVATE COACHING
BUILDING A CELEBRITY BRAND become a BEST SELLING AUTHOR & everything in OPTION 1
(The Coaches Platform BEST SELLERS Book) 6Months fortnightly GROUP
coaching with myself (Plus YEAR LONG MEMBERSHIP The Coaches Platform Weekly LIVE Zoom group calls Q&As), Soulful Awards VIP Double Passes, Self Discovery Mag Articles & TV Interview, Self Discovery Network group membership, Auto Webinars & Online Systems TO create your own $2k $5k or $10k signature program, free tickets to all our live shows and more....
BONUS BECOME A BEST SELLING AUTHOR WITH THE COACHES PLATFORM RECEIVE 500 BOOKS ($17 475 MONEY BACK)
Investment $2.5k per month x 6 months (YEAR LONG SUCCESS PROGRAM WITH THE COACHES PLATFORM)
Here is a testimonial from one of our authors/coaches:
My Name is

Susana Lopez

I am Spiritual Life Coach/USA Published Author & Fitness Trainer thanks to Kelly Sayers & Betterlife Team. I highly recommend to you Kelly's Coaching Programs & Workshops and to anyone that need guidance to get to their next steps in business and spiritual growth, to feel empowered and motivated to fulfil your life's purpose. Thank You Kelly You are Amazing!! Susana xx
MAKE YOUR COMMITTMENT TO YOUR HIGHEST VISION OF SUCCESS TODAY...KELLY SAYERS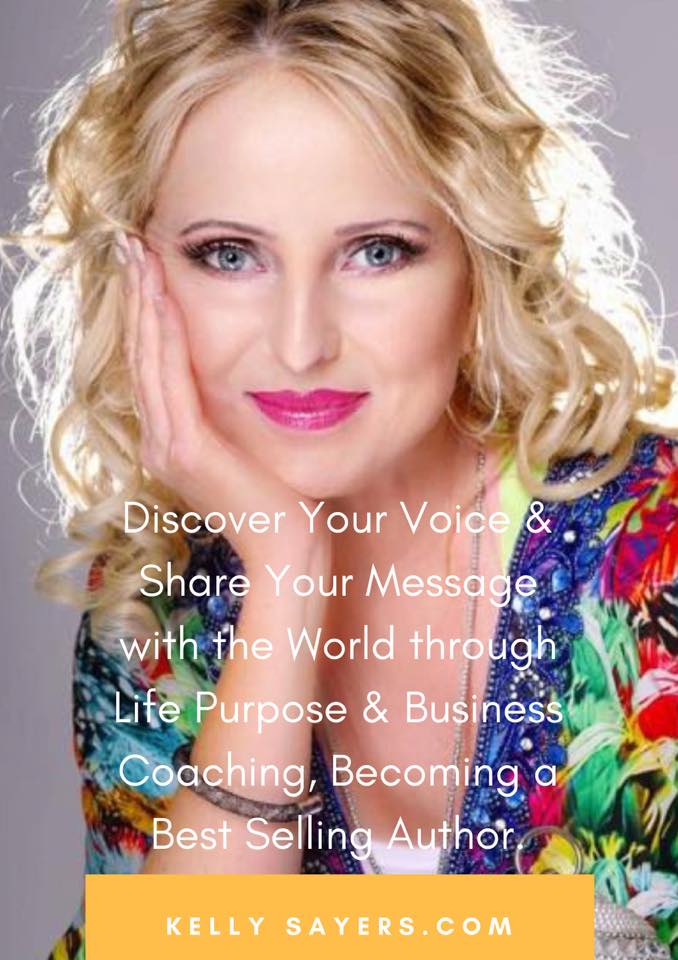 KELLY SAYERS
Date and Time
Location
Refund Policy