Sales Have Ended
Registrations are closed
Thank you for registering for our event. We look forward to seeing you. Have your questions ready!
Sales Have Ended
Registrations are closed
Thank you for registering for our event. We look forward to seeing you. Have your questions ready!
Looking to move into an apartment but have a list of questions you would like answered first?
About this event
Beulah International has teamed up with Apartment Advocacy Association to bring you a series of free informative events that will help you uncover misconceptions and confusion around multi-residential living.
Join Samantha Reece, Director of Apartment Advocacy Association as she answers all your questions about transitioning from a single dwelling home into an apartment. No question is off limits!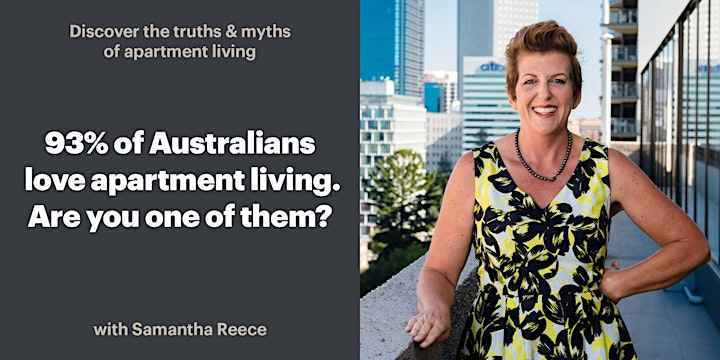 JOIN US FOR THIS FREE EVENT!
An informative session dedicated to discussions around apartment living.
Location: 890 Toorak Road, Camberwell
Dates:12 February 2020
Time: 5.30pm
Limited tickets are available, so be sure to get in early!
About Samantha Reece
Samantha Reece, Director Australian Apartment Advocacy (AAA), is recognised as a well respected property commentator. She has played a major role in the property sector for the past 25 years.
In November 2017 Samantha hosted the first pop up apartment Australia wide and commenced a 12 month social experiment trialling 12 sets of people through the newly completed Oracle apartments in Perth. She was the recipient of the Minister's Award at the 2018 State PIA Awards for Excellence. In 2019 Samantha formed the Australian Apartment Advocacy and commenced her education campaigns and research on a national scale.
Samantha is a regular commentator in the news including Today Tonight, Channel 7/9/10, Real Estate Conversation, Sunrise and The West Australian.
Australian Apartment Advocacy
Australian Apartment Advocacy is a not-for-profit agency that undertakes research with apartment owners and livers so as to advise government and developers about the needs of the apartment community. The AAA also focuses on educating the general public about the benefits of apartment living and about the need for housing choice across the nation.