Sales Have Ended
Registrations are closed
Hi there, unfortunately tickets have sold out for this event. For more AMSL Diabetes events coming soon, please visit our website here: https://amsldiabetes.com.au/events/
Sales Have Ended
Registrations are closed
Hi there, unfortunately tickets have sold out for this event. For more AMSL Diabetes events coming soon, please visit our website here: https://amsldiabetes.com.au/events/
About this Event
AMSL Diabetes is excited to announce the launch of the NEW Dexcom G6 - the latest generation in Dexcom technology!
Dexcom G6 has a number of great features:
ZERO fingerpricks for treatment decisions and calibration*
CGM system with a slimmer† design and longer life sensor†
More customisable alarms and alerts schedules and the new 'Urgent Low Soon'
No paracetamol interference
Up to 5 followers per user
Event Details
This session is being delivered virtually through Zoom. Two days before your nominated session you will be sent the webinar link to access this event.
Your local AMSL Diabetes representative, Tamara Mayfield, will be discussing these features and more, including our game-changing Dexcom G6 subscription program!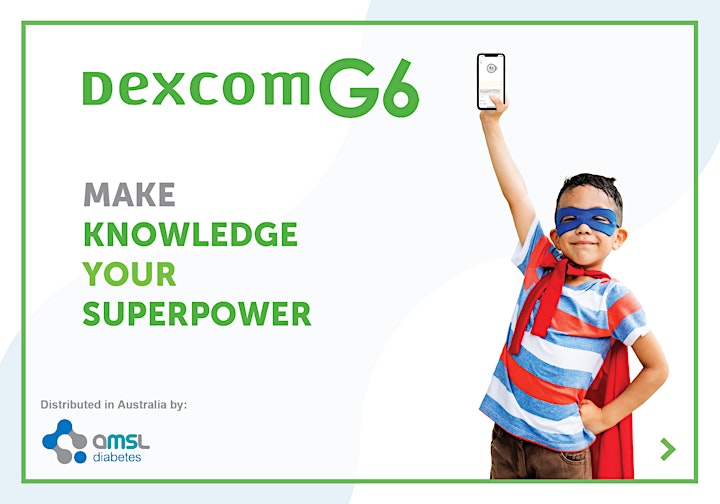 If you require assistance with registering, please contact AMSL Events at events@amsl.com.au or on 02 9882 3666.
If you would like more information on this event, please contact your local AMSL Diabetes representative, Tamara Mayfield, on 0438 405 177 or at tamara.mayfield@amsl.com.au
Always read the label and use only as directed. Read the warnings available on amsldiabetes.com.au/resources before purchasing. Consult your healthcare professional to see which product is right for you.
* If your glucose alerts and reading from the Dexcom G6 do not match symptoms or expectations, use a blood glucose meter to make diabetes treatment decisions.
† Compared to the Dexcom G5 Mobile CGM system.
Dexcom, Dexcom G6 and Dexcom G5 Mobile are registered trademarks of Dexcom, Inc. in the United States and/or other countries.