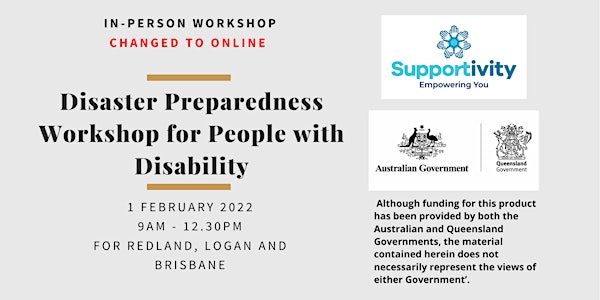 Disaster Preparedness Workshop for People with Disability (Redland City)
This workshop is targeted to participants, service coordinators, support workers, personal carers and disability service providers.
About this event
UPDATE on 6 JAN 2022:
This workshop has been moved from in-person to online due to the COVID-19 situation. Links will be provided to registrants as soon as it is available. You are registering on the understanding that this workshop will now be delivered online.
******************************************************************************************************
People with disabilities are extremely vulnerable to disaster (natural or man-made) for many reasons. Having a Disaster Preparedness Plan in place will minimise any likely difficulties that may arise as a result.
Service providers need to also ensure that they are prepared for any eventuality by having a Business Continuity Plan in place. An informed plan will assist greatly in ensuring that services to participants are minimally impacted during these periods. It is anticipated that at the end of this series of workshops, participants will be able to complete their Person-Centred Emergency Preparedness Workbook and disability support providers, have their business continuity plans in place.
The goals of these workshops are to engender effective disaster risk reduction and management by:
1. Building and strengthening resilience, capability and capacity with support staff and participants in planning how they mitigate, prepare, respond and recover from a disaster.
2. Ensuring that service providers are prepared and responsive during a disaster in how it manages participants, staff and operations so impact to service delivery is minimised.
Presenters: Queensland Fire and Emergency Services (QFES), Logan City Council, Brisbane City Council, Redland City Council and Queensland Disability Network.
Registering for this workshop closes at 5pm, 31 January 2022.
Service providers attending this workshop, may also like to attend Disaster Preparedness - Business Continuity (Online).
Download the poster with additional workshop information here.
Download the Person-Centred Emergency Prepared (P-CEP) Workbook here.
If you are located outside of these regions you are still welcome to register for the workshop.