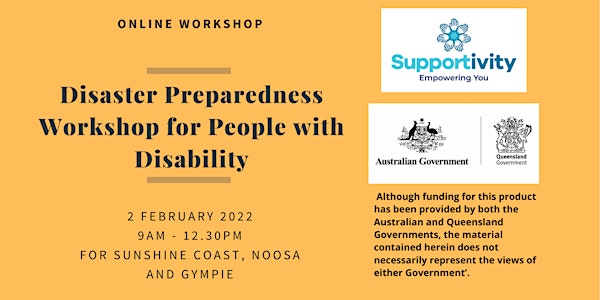 Disaster Preparedness Workshop for People with Disability (Online)
This online workshop is targeted to NDIS participants, persons with disabilities, service coordinators and disability service providers.
About this event
Service providers need to also ensure that they are prepared for any eventuality by having a Business Continuity Plan in place. An informed plan will assist greatly in ensuring that services to participants are minimally impacted during these periods. It is anticipated that at the end of this series of workshops, participants will be able to complete their Person-Centred Emergency Preparedness Workbook and disability support providers, have their business continuity plans in place.
The goals of these workshops are to engender effective disaster risk reduction and management by:
1. Building and strengthening resilience, capability and capacity with support staff and participants in planning how they mitigate, prepare, respond and recover from a disaster.
2. Ensuring that service providers are prepared and responsive during a disaster in how it manages participants, staff and operations so impact to service delivery is minimised.
Presenters: Queensland Fire and Emergency Services (QFES), Sunshine Coast Council, Noosa Council, Gympie Council and Queensland Disability Network.
Booking closes at 5pm, 30 January 2022.
Service providers attending this workshop, may also like to attend Disaster Preparedness - Business Continuity (Online).
Download the poster with additional workshop information here.
Download the Person-Centred Emergency Prepared (P-CEP) Workbook here.
Please note that this session will be recorded and made available to participants at the conclusion of the workshop. Participants may use the recording for future training or work purposes.