This workshop is targeted to disability service providers.
About this event
UPDATE on 5 JAN 2022:
This workshop has been moved from in-person to online due to the COVID-19 situation. Links will be provided to registrants as soon as it is available. You are registering on the understanding that this workshop will now be delivered online.
Please register via this online link if you are viewing this after 5 /01/22.
Please note that this session will be recorded and made available to participants at the conclusion of the workshop. Participants may use the recording for future training or work purposes.
******************************************************************************************************
This workshop has moved from in-person to online format.
The goal of this workshop is to assist disability service providers include disaster preparedness in the business continuity planning.
Disability service providers would benefit from also attending one of the participant's workshop, in addition to this one as the information shared by the local LGA and QFES will help inform your business continuity plan.
Download the poster with additional workshop information here.
See also:
Disaster Preparedness Workshop People with Disabilities (Redland Bay), 1 February 2022.
Disaster Preparedness Workshop for People with Disabilities (Online), 2 February.
Presenter: Community Services Industry Alliance (CSIA).
Registration closes at 5pm on 2 February 2022.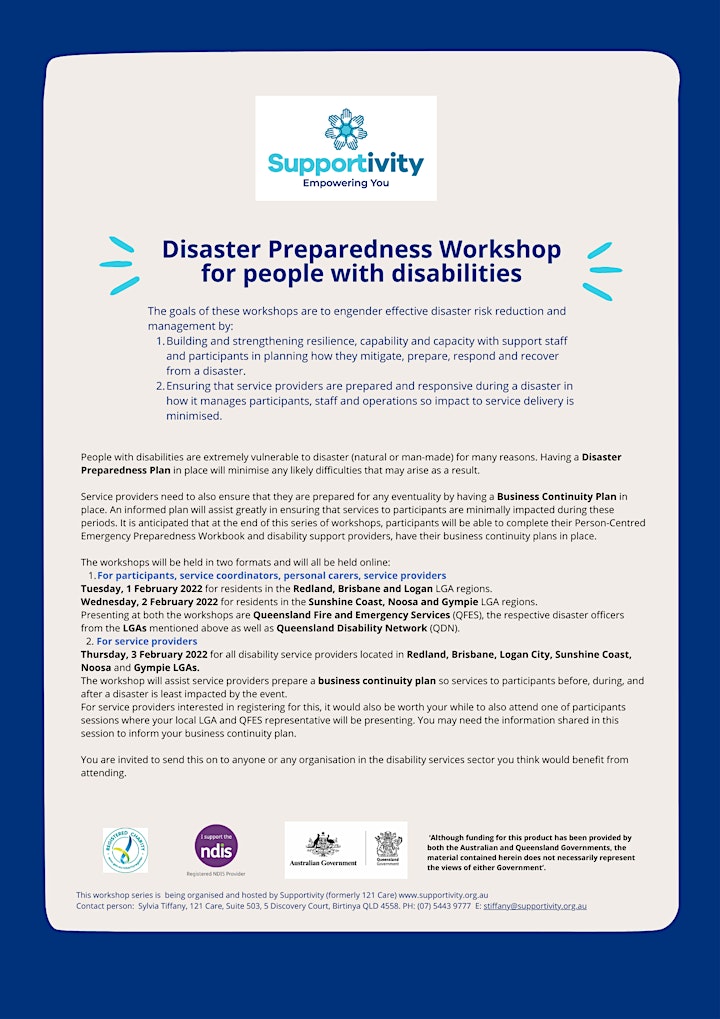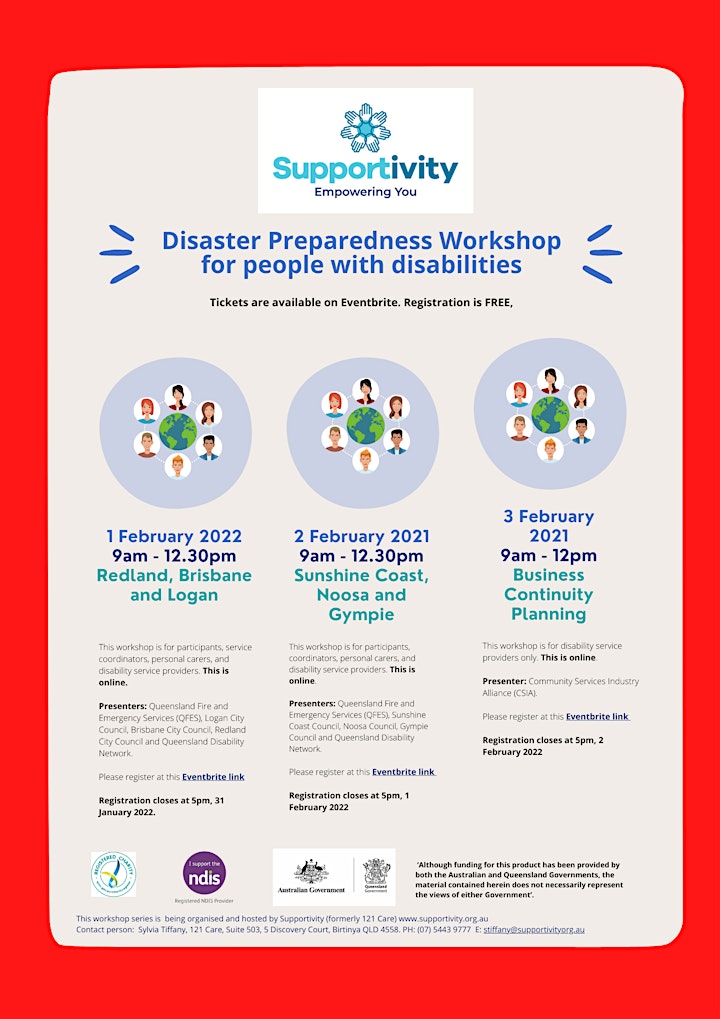 Organiser of Disaster Preparedness - Business Continuity Planning
From 1 December 2021, 121 Care will be known as Supportivity. As Supportivity, we will bring together our services previously known as Colville Lodge, Guardien Group, and 121 Care.
In the early 90s, Terry Chakley and Don Harrison worked with Kevin Cocks AM of Lifestyle Options in Brisbane to set up a not-for-profit that would provide self-directed supports on the Sunshine Coast for people living with spinal injury like themselves. The drive to establish this service meant that it would allow them to say how and when their supports were to be delivered, so they could live life independently.
In 1992, Supportivity (formerly Quality Lifestyle Alliance, later 121 Care), an accredited not-for-profit commenced and in the years since, we have embraced that vision and turned it into a range of support services for people living with disabilities across south-east Queensland including:
Personal care

Overnight supports

In-home assistance including meal preparation and domestic chores

Transportation

Holiday supports

Access to community and social services

Support Coordination

Community participation
Supportivity is a thriving entity that now includes management of 24/7 supported accommodation and supported independent living residences for people with mental health illness as well as intellectual and physical disabilities. The acquisition of Colville Lodge in Brisbane, Guardien Group in Redland Bay and the setting up of Cooloola House in Gympie as well allied health services, Suncoast Integrated Therapies between 2015 and 2017, has broadened the scope of services offered to people with disability.
Our supports for people with disabilities, also extend to the provision of transportation to clients so they can attend appointments as well as social gatherings. In addition, holiday support in terms of equipment, transport and personal supports is available for travelling non-clients.
Our vision is to support you choose the life you love!