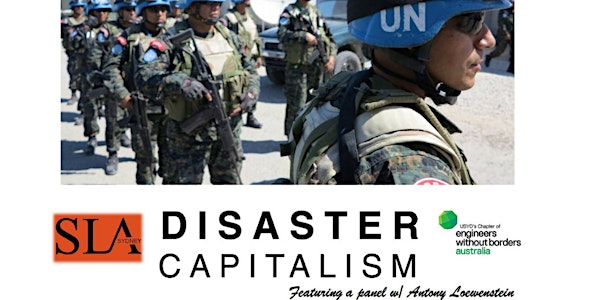 Disaster Capitalism: Screening + Panel Discussion
Description
The Student Leadership Academy X Engineers Without Borders presents an exclusive documentary screening of "DISASTER CAPITALISM" followed by a panel including the film's writer and co-producer ANTONY LOEWENSTEIN.
Trailer:
DISASTER CAPITALISM reveals the underbelly of the global aid and investment industry. It's a complex web of interests that spans the earth from powerful nations and multinational corporations to tribal and village leaders. This documentary offers unique insights into a multi-billion dollar world by investigating how aid dollars are spent.
Best-selling journalist and author Antony Loewenstein joins award-winning filmmaker Thor Neureiter on a six-year investigation into this world and the ramifications of disaster capitalism in Afghanistan, Haiti and Papua New Guinea. There are ideological,
economic, political and corporate connections between all three states.
Told through Loewenstein's eyes and with compelling local characters, we weave them together to show viewers the dark side of Western aid. How did we get here? How can it change and who is leading it? What role and responsibility lies with Western governments? As the long-term journey unfolds, DISASTER CAPITALISM will provide unique insight into one of the most challenging issues of our age.
Event details:
Date: 1st April
Time: 4pm
Venue: ABS2090
Program:
4pm-5pm: Film Screening
5-6pm: Panel including the film's creator Antony Loewesntein and prominent academics in Humanitarian engineering
If you are interested in learning more about aid and its flow throughout the world this film is for you!