Disability discrimination in education: webinar for advocates, community and support workers
About this event
People with disability often face multiple barriers to participating equally in educational settings such as school, TAFE or university. Navigating the system can sometimes feel isolating and overwhelming, and it can be hard to know when taking legal action is the right thing to do.
This webinar is designed to help participants recognise common types of unlawful discrimination and offer some tips on what to do about it. We will explore questions such as: When is it a good idea to complain? What outcomes can you achieve? What are reasonable adjustments? Join us to learn more about this complex area of law from a practical point of view.
Legal Aid NSW's Human Rights Group will present on disability discrimination in education.
Your Story Disability Legal Support will then explain how you may also be able to tell your story of discrimination to the Disability Royal Commission.
Human Rights Group
The Human Rights Group provides legal services that protect and promote human rights, with a focus on representing vulnerable and disadvantaged clients who encounter abuse of power and discrimination. Our areas of practice include police powers and intentional torts, discrimination law, administrative law and breaches of privacy. We also represent clients in public interest human rights litigation.
Your Story Disability Legal Support
Your Story Disability Legal Support is a national service that gives free information and legal advice about taking part in the Disability Royal Commission. We are independent and separate from the Royal Commission. Our priority is to support and empower people with disability, as well as their family, friends, carers, advocates and supporters, to safely share their story and connect with support services. Our staff work in partnership with communities to provide a person centred, trauma-informed and culturally safe service.
Date and time: Tuesday 26 October 2021 at 10:00am
Location: Online using Microsoft Teams (RSVP is essential to receive a link to the online event)
Cost: Free to attend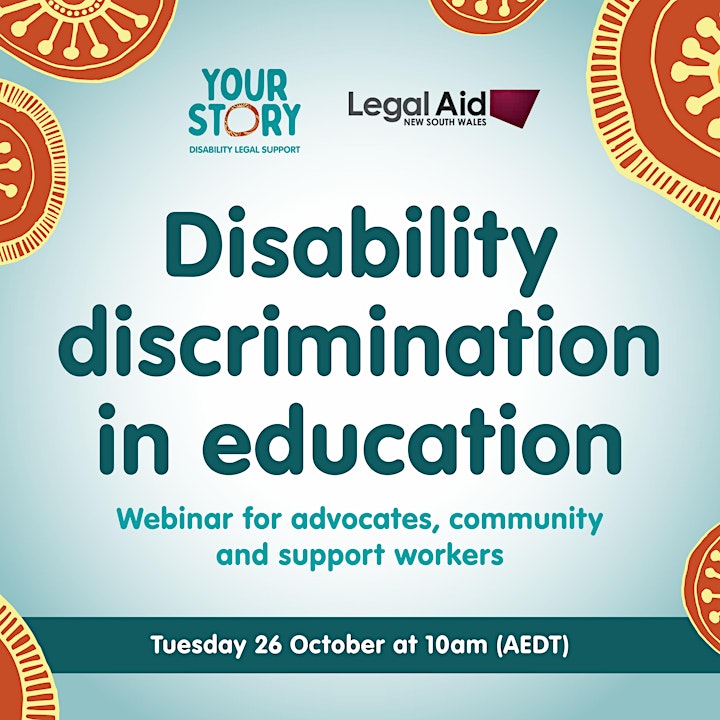 Organiser of Disability Discrimination in Education - Webinar