Description
Thursday 20 October, 5-6.30pm
Talk: 'Dirk Hartog's landing in Western Australia'

Four hundred years ago, Dutch mariner Dirk Hartog (1580–1621) sailed into history when, on 25 October 1616, he made the first documented European landing at Cape Inscription on the West Coast of Australia. His crew left behind an inscribed pewter plate as a testimony of their arrival and departure.
To commemorate this anniversary the museum, the Netherlands Embassy and Consulate-General are hosting Dr Wendy van Duivenvoorde, Senior Lecturer in Maritime Archaeology at Flinders University. Dr van Duivenvoorde present a talk about the on ships of exploration and Indiamen, including the archaeological remains of Western Australia's Dutch East Indiamen shipwrecks. This lecture is part of a series of Dirk Hartog lectures by Dr Van Duivenvoorde that mark this 400 year anniversary.

The museum is a proud participant in the Dirk Hartog 2016 anniversary activities that highlight the continuing friendship between Australia and the Netherlands.
Includes: Afternoon tea
Launch + Talk: A Chance encounter roof projection.
Launch: 6.30-8.30pm
In collaboration with the University of Technology Sydney, and funding from the Netherlands Embassy, the museum has produced a three-minute roof projection exploring the chance encounter that would put the West Coast of Australia on the map.
Enjoy drinks and canapes aboard HMB Endeavour as well as continuing the celebrations on The Lookout for the launch of the museum's latest roof projection. Supported by the Embassy of the Kingdom of the Netherlands in Canberra.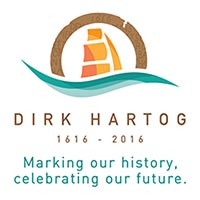 General Information
Enquiries: phone +61 2 9298 3646 or email members@anmm.gov.au.
Our Plan Your Visit page has everything you need to know about a trip to the museum.
Not a member yet? Joining is easy. Find out about the many benefits now!