Description
Spend a night at the Museum!
"An incredible night full of memories that I now have to share with my son." - Anna from Mummy Muckups
The Museum is a very different place after dark, when the hoards of visitors have left and the lights go out. Join us for an unforgettable overnight experience at the AM.
Sleep next to dinosaurs and get a private exhibition viewing of Mammoths: Giants of the Ice Age and screening of family favourite Ice Age the movie. Venture on a torchlight tour and meet some Australian megafauna along the way. In the morning you will wake to breakfast at our rooftop cafe overlooking Sydney skyline and Botanic Gardens, after which you can try your hand at creating your own Palaeolithic art carving of a soapstone mammoth, dire wolf or cave bear.
Ages: Families with children aged 6 -12 years (Children must be accompanied by an adult. Adults are not permitted without a child)
Time: 6 PM – 8 AM (following day)
Cost:
$120 members child; $150 members adult
OR
$140 non-members child; $180 non-members adult.
To become a Member of the AM and take advantage of the discounted ticket price, visit: https://australianmuseum.net.au/members/
Meeting Point: Please meet at the main entrance to the Museum, 1 William Street, Sydney. (The Museum entrance doors will be closed until hosts greet guests at 6:00 PM).
No refunds. Any date transfers need to be notified at least 72 hours before event. Changes are made at AM staff discretion. Kids at the AM mailbox will be checked weekly kids@austmus.gov.au. For any urgent matters phone the AM on 02 9320 6000.
Ticket price includes:
Buffet dinner and continental breakfast at our rooftop restaurant
Encounter live native Australian animals such as crocodiles, pythons and lizards oh my!
Torchlight tour of the Museum Galleries, including Wild Planet and Surviving Australia
Screening of a family friendly film
Sleep in a Dinosaur Gallery (bedding equipment NOT included)
Entry into the current special exhibition
Children receive a goodybag to take home which includes a soapstone carving kit!
What to bring:
All sleeping equipment i.e. camping mat, sleeping bag, pillow
Water bottle
comfortable sleeping clothes
Torch
Tooth brush, toiletries and wash cloth (no showers available)
Ear plugs and sleep mask (optional)
Please note that the museum is unable to store personal belongings. Please refrain from bringing unnecessary valuables with you and please keep your valuables with you at all times.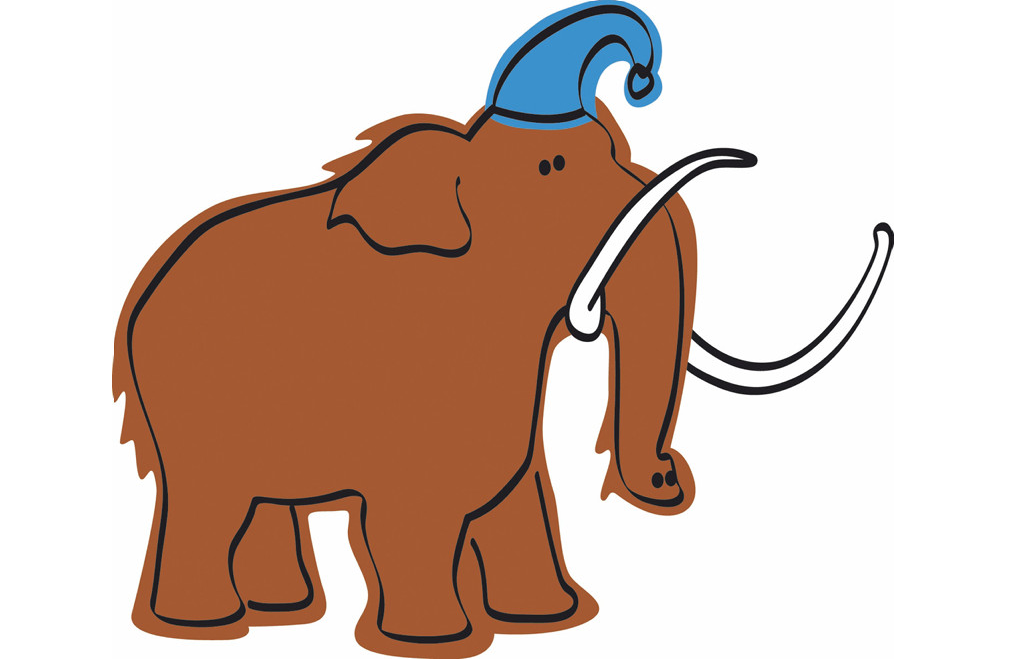 Frequently asked questions:
What is the general plan of events?
6:00 PM - Arrive and set up beds in the Gallery.
6:25 – 6:45 PM Introductions and meet Winny our Dinosaur Puppet in the Atrium
6:45 – 7:30 PM Dinner & Trivia, Level 4
7:30 – 8:15 PM Australian Wildlife Show
8:15 – 9:00 PM Torchlight tour of Museum
9:00 – 9:15 PM – PJ's
9:15 – 11:00 PM Screening of 'Ice Age' film in theatre with Mini-Magnums
11:00 PM – Bedtime in the Gallery
Following Day:
6:20 AM – Wake-up call. Pack-up gear, get dressed.
6:30 – 7:15 AM Breakfast, Level 4
7:15 – 8:00 AM Special exhibition or craft. Finish.

Can my child go to bed early if they are tired? Yes, however, this will only be possible from 8:30 PM and you will need to stay with your child. Please let staff know if any of your party get sick/hurt and need to leave the Museum early.
Can adults bring alcohol? No. We do not allow guests to bring alcohol into the Museum.
How do I get there? The Australian Museum is located on the corner of College Street and William Street in central Sydney, just across the road from Hyde Park and opposite St Mary's Cathedral. Bus, train and parking information can be found here: http://australianmuseum.net.au/location-parking-and-public-transport. Please note that there is no parking available at the Museum so we have arranged a special flat rate of $15 overnight parking at the Domain for Dinosnore guests. You must show your Dinosnore ticket for validation at carpark office on level 2A blue level.
Can I visit the Museum the day of the program? Yes. Your Dinosnore ticket includes Museum Entry, however, you will not be allowed in the Museum between 5 PM - 6:30 PM or 8:00 AM - 9:30 AM. Much of the Museum will be covered during DinoSnore.
Can younger or older siblings attend? No. The program is not suited to children under 5 years of age.
Do I need to stay with my child for the whole program? Yes. Parental or adult supervision is required at all times.
What if I am running late? If you are running late then please call Security on 02 9320 6335 who can radio event staff when you arrive.
What types of food will be served at the sleepover? Chefs from CREATE will serve a deliciuos:
Buffet Dinner
Spaghetti and meatballs (napolitana sauce availible for vegetarians)
Chicken schnitzel and nuggets
Roast veggies and salad
Juices, filter tea and coffee
Mini-magnums will be served in the Theatrette for the movie
Breakfast Buffet

Mini Danish and croissants
Individual yogurts
Cereal selection
Fruit
Juices, hot chocolate, filter tea and coffee
Please let us know in the booking form if you have any specific dietry requirements or allergies and we will try and accomodate.
Can we bring our own food and beverages into the Museum? No alcohol is to be brought on site by visitors but feel free to bring a water bottle or other beverage. We will be catering for dinner and breakfast so there should be no need to bring food/drink unless you have specific dietry requirements that we cannot cater for. If you think you will need extra snacks then you are welcome to pack these, but make sure you take all rubbish with you when you pack up your sleeping gear.

Where do we sleep? Guests sleep in a Museum gallery. Guests are required to bring all bedding and sleeping mat.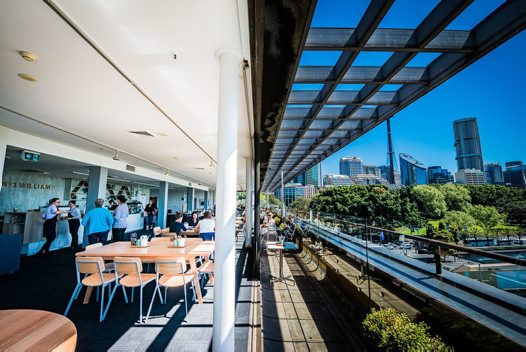 Image: Food with a view at the AM's rooftop cafe.
Blogger review: http://bit.ly/Dinosnore
For more information, contact programs: (02) 9320 9364 / kids@austmus.gov.au.