Multiple Dates
Dinner on KanyaKumari Express - An experiential dinner thru Southern India
An experiential plant-based degustation dinner event with Loki Madireddi (Founder, Trust the Loki & ex MasterchefAU contestant) - BOOK NOW
About this event
Whilst real travel is on hold, join Loki and his team on a virtual magical train journey from his home town, Chennai, Tamil Nadu to the tip of India, KanyaKumari . Indian food changes every few kilometres and there is no better way to experience the breadth and depth of flavours than a train journey.
Loki has taken the flavours he has grown up with to whole new level in the form of multi-course degustation menu.The food will be plant based showcasing the regional flavours of each station intricately woven with anecdotes and stories, so you really feel you are there!
Mondays no longer have to be mundane - this railway journey will be fascinating, flavourful and fantabulous. Limited seating so Don't miss out.
NOTE:All proceeds from the event go to Swadist, our venue partner, as we are on a mission to save hospo in Melbourne! Special thanks to Swadist, Indian craft kitchen and KAAPI Indian filter coffee proudly roasted and brewed in Melbourne.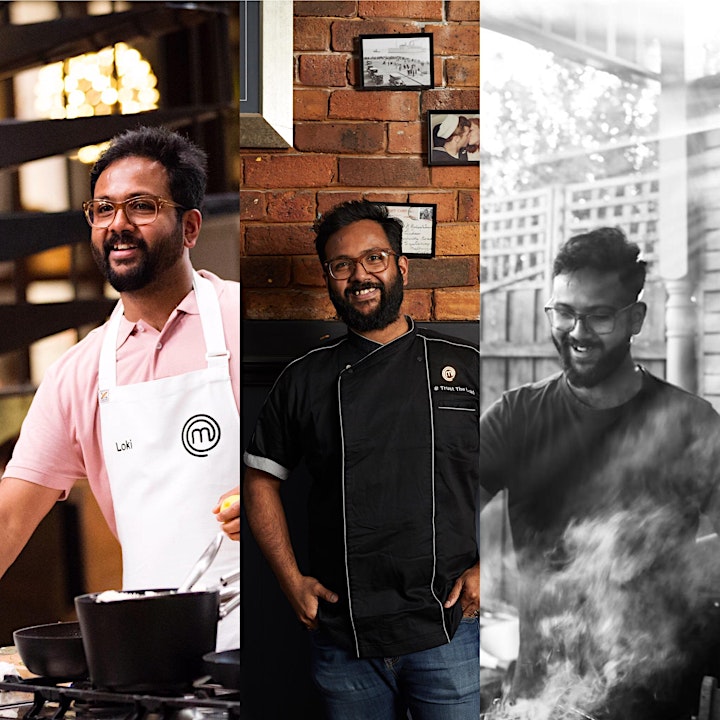 Organiser of Dinner on KanyaKumari Express - An experiential dinner thru Southern India
About Loki: Loki is the Co-Founder of Trust the Loki, a social enterprise focused on manifesting culinary dreams through scholarships, support and collaborative, community driven events. Loki participated in Masterchef Australia in 2018 and since 2019 he has dedicated himself to the service of other young culinary aspirants. Since 2019, The Fellowship, a culinary scholarship (AUD 5000 plus tailored support) has been helping individuals manifest their culinary dreams. Previous winners include Abinas Nayak who received the Fellowship and went on to win Masterchef India 2020 and has completely transformed his career from IT to food.
Trust the Loki organises experiential dinner events and pop-ups with a theme of "Virtual travel to India" through intricate train journeys. The food from the various stops are showcased with Loki's twist alongside a woven storyline from Loki's personal experiences of growing up in Southern India where his dad worked with the Indian railways.
Trust the Loki is currently focused on events in Melbourne and the state of Victoria by collaborating with hospitality businesses that are doing it tough due to the pandemic. Each event is carefully curated and the profit is given to the hospitality business Loki collaborates with. The events also aspire to work with young and upcoming chefs, international students from hospitality and culinary studies thereby combining an impact model with the food.