Trivia night with a 3-course meal designed to support local Canberra charity for Hartley Lifecare. Tickets only $50 per person
About this event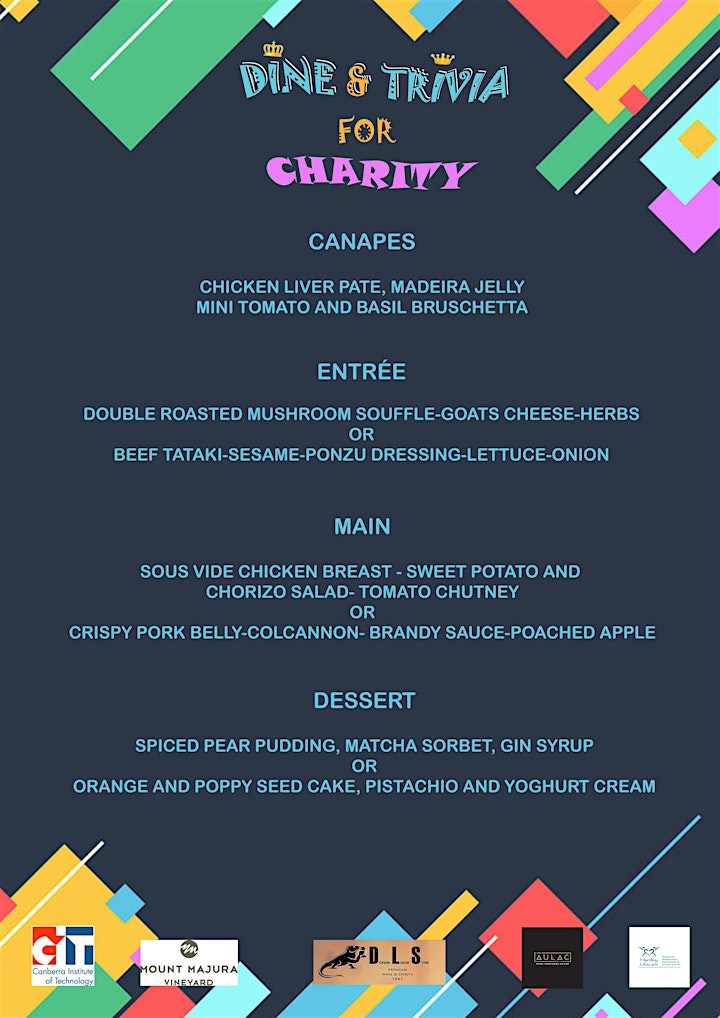 - Book your table now. Teams of 2 to 8 people
- 3-course dinner and Trivia
* Raffle tickets available to purchase on the evening
About Us
We would like to take a chance of introducing ourselves and our upcoming event 'Dine & Trivia for Charity'. We are students who are studying Hospitality Management at CIT and we like to invite you to enjoy a 3-course dinner and Trivia evening, held on Thursday 20th of May 2021 at CIT Restaurant. During the event we will also have a raffle with prizes donated from the local community. The event is to support Hartley Lifecare and all funds raised during this night will be supporting the services they provide to our local community.
* At the venue, due to COVID-19, there will be no cash accepted
By completing this online booking to attend our event you agree to the following:
MEDIA
To give full media consent for the event. By giving your media consent you are agreeing that we can produce, use and edit any pictures taken of our event. You give Canberra Institute of Technology (CIT) permission to use my name, image, footage and testimonial in materials produced by or for CIT and/or CIT Solutions Pty Ltd for a period of five (5) years. You understand that the materials may appear on the internet, in print, electronic or video media and that it may enable readers to identify me. You understand that if my name, photograph and/or footage are published on the internet then they will be accessible to users from all over the world, and that CIT has no control over its subsequent use and disclosure. My information can also be searched for using an identifier such as my name, and may be copied and used by any other person using the internet.
CANCELLATIONS
Any cancellations made before 9am on Friday 6 May can receive a full refund (less booking fees). Any cancellations after this time are non refundable. If for any reason, inclusive of COVID-19, that the event is cancelled, a full refund (less booking fees) will be given.
COVID-19
By attending our event you agree to follow the COVID-19 safety requirements, such as sanitising your hands regularly, following social distancing regulations and not attending the event if you have recently returned from a COVID-19 hot spot or if you are showing any flu like symptoms. You also agree to check-in to the event using the Check-in CBR App.