Dilemmas of Socio-Political Transformations in the Middle East

Wednesday, 18 November 2015 from 10:30 am to 12:00 pm (AEDT)
Event Details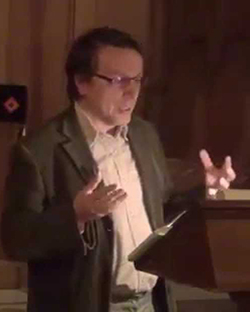 The capacity to analyze and explain (in exchanges with fellow scholars and students, with policy makers and media personnel, with area specialists and socials scientists) the transformations occurring in the societies and polities of the Middle East depends on the quality of data collection but also on their interpretation through viable conceptual grids.
By exploring processes of change unfolding in the Muslim-majority Middle East within the modern era and until the present, the presentation will suggest how the modern conceptual triad of the state, civil society and the public sphere can help (or inhibit) the process of interpretation and explanation. The goal is to navigate the narrow strait between the Scylla of any alleged Islamic exceptionalism and the Charybdis of purported Western universalism.
Armando Salvatore is a sociologist of religion, culture and communication in the Faculty of Religious Studies, McGill University, Montréal. He has taught at Humboldt University, Berlin and at the Oriental Studies University, Naples (L'Orientale) before joining McGill. He earned his PhD from the European University Institute, Florence, in 1994 and his professorial habilitation from Humboldt University, Berlin in 2006.
Salvatore's work emphasizes connectedness, comparison and theory. His current project focuses on the notion of the 'civilizing process' in inter-Asian and global perspectives, within the background of debates on axial civilizations and the underlying transformations and interactions of faith traditions. He has just completed the book The Sociology of Islam. Knowledge, Power and Civility which is intended to be the first volume in a trilogy and will be published by Wiley-Blackwell at the beginning of 2016. He is also editing the Wiley-Blackwell History of Islam, a new reference work condensing historical, comparative and sociological perspectives on the study of Islam.

When & Where

CAIS Lecture Theatre, Centre for Arab and Islamic Studies (127)
Ellery Crescent
Acton, ACT 2601
Australia

Wednesday, 18 November 2015 from 10:30 am to 12:00 pm (AEDT)
Add to my calendar
Organiser

Building 127,
Ellery Crescent,
The Australian National University