Location
WMC Conference Centre
44 MacDonald St
(Building 408) Curtin University, Western Australian School of Mines
Kalgoorlie, WA 6430
Australia
A deep dive into the role of digital tech to solve challenges across the mining industry
About this event
An event hosted by the WA School of Mines for the wider Kalgoorlie mining community to connect with Innovation Central Perth (ICP). The session will deep dive into the role of digital technology to solve challenges across leading mining operators and METS companies in the Goldfields.
Featuring subject matter experts, academic and industry leaders, as well as student interns, the session will explore how industry can leverage ICP and WASM to support digital transformation in the Goldfields. We will discuss the benefits of cross-discipline collaboration and showcase how valuable this is within digital transformation projects.
This session is also an opportunity for local organisations to find out about a fully funded project opportunity to work with ICP and WASM to digitise a manual process within their organisation. Sponsored by METS Ignited, a local organisation will have the opportunity to undertake a rapid prototype, proof of concept or business model innovation project with ICP valued at $10K.
This event is free and open to everyone in the WA Innovation Ecosystem.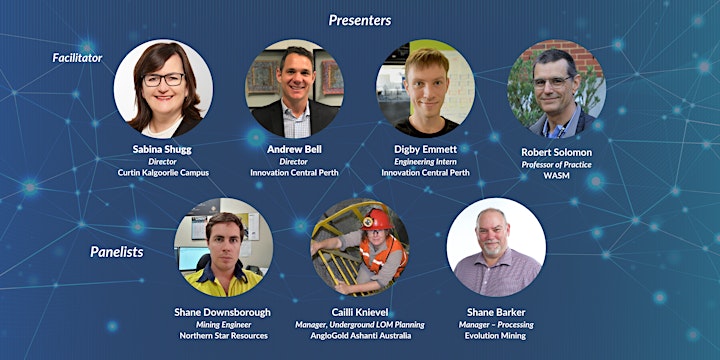 AGENDA
1.00pm: Arrival
1.05pm: Event Open & Welcome - (Facilitator) Sabina Shugg, Director – Curtin Kalgoorlie Campus
1.10pm: Presentations Commence
ICP Overview - Andrew Bell, ICP Director
ICP Intern Perspective - Digby Emmett, ICP Engineering Associate
Digital Innovation: Goldfields mining sector - Robert Solomon, Professor of Practice – WASM
1.45pm: Panel discussion exploring challenges within the industry featuring:
2.05pm: Q&A
2.15pm: Networking & Refreshments
3.00pm: Event Concludes
*Registrations are mandatory and seating is limited, please follow the links to register.
*Please note that images and footage will be taken throughout the event. These will be used by ICP for marketing purposes on our website and social media or other third party publications. Please contact the event organiser if you wish to be exempt from this.
COVID GUIDELINES:
The wearing of masks is mandatory for this event. Proof of vaccination is also required upon entry as per Curtin Guidelines. Please scan in via the SafeWA QR code on arrival.
If you are feeling unwell or are experiencing COVID-19 symptoms, please do not attend this event.