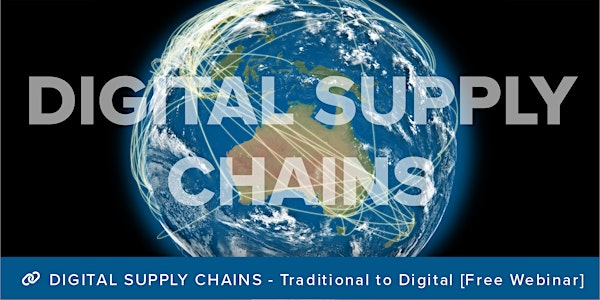 Digital Supply Chains - Traditional to Digital - Webinar
Hear from leading industry experts discussing the evolution of the traditional supply chain to the modern digital supply chain.
About this event
Optimise performance, productivity and profits
Hear from nationally recognised manufacturing industry experts on the importance of moving from traditional, linear supply chains to integrated digital supply chains.
Digital supply chains enable real-time feedback on performance and agility in response to changes of circumstance. This leads to increased efficiency and productivity and the potential to create new revenue streams. The process requires new technology adoption and an investment in infrastructure and skills.
COVID-19 has supercharged the digital trend, but more is needed to accelerate digital supply chain adoption for manufacturers on the Gold Coast. In this free webinar we'll cover:
Practical first steps in integrating digital supply chain and Industry 4.0 technologies into your operation
A case study from a business who has successfully made the transition
How to capitalise on existing supply chain relationships
Creating and sustaining competitive advantage.
Led by Estella Rodighiero (Moderator), Director of Regional Development, RDA Gold Coast with speakers:
Shay Chalmers, Managing Director, Strategic Engineering Australia and Non-Executive Director with Queensland Manufacturing Institute
Simon Dawson, Director - Industrial Transformation, The Innovative Manufacturing Cooperative Research Centre.
Sponsored by Regional Development Australia Gold Coast and the Queensland Government.
Enquiries: Estella Rodighiero, RDA Gold Coast, 0411 558 834, director@rdagoldcoast.org.au
Registrations are essential. A link to register and attend will be forwarded to you.