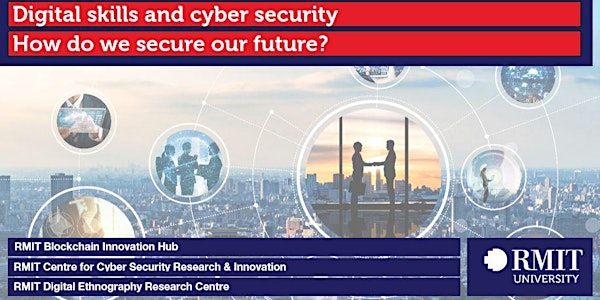 Digital skills and cyber security - how do we secure our future?
Join us for the release of Report 4 in the Digital CBD series highlighting current gaps in digital skills and recommendations for the future
About this event

The fourth report in the Digital CBD project series examines the current gaps in digital skills and what is required in order for cities to evolve into secure and sustainable Digital CBD's.
Featuring a panel of industry and academic experts, this online live report launch event will unpack:
findings from a 2022 Melbourne survey of digital professionals
digital skills research and how Melbourne stacks up as a potential Digital CBD
the importance of government support to implement recommendations
Panelists:
Founder of Australian Women in Security Network
Jacqui is a cybersecurity expert with over two decades of global experience in IT and information security. She is passionate about security and collaborating with others to drive innovation and change within industry.
Jacqui is the Founder and the Executive Director of the Australian Women in Security Network (AWSN), which aims to connect, support and inspire more women to pursue a career in security.
She is often invited to speak and write about her drive to increase the number of women in security in Australia and is an advocate for career changers and small business security.
Jacqui is the recipient of several awards, including most recently the AUSCERT Information Security Excellence Award in 2021 and ranked #11 in the Global IFSEC Association Figures/Academics/Thought Leaders in 2022.
Executive Director - Information, Communications and Technology, Victorian Chamber of Commerce and Industry
Glenn is the Executive Director of Information, Communications and Technology and is responsible for the Victorian Chamber's technology systems.
Prior to joining the Chamber, Glenn was Chief Information Officer of the Royal Agricultural Society of Victoria, overseeing all technology located at Melbourne Showgrounds.
Glenn brings to the organisation more than 20 years' experience in developing software and implementing infrastructure. He is a member of the Project Management Institute (PMI) and holds a Bachelor of Science (Computing).
Author of Report 4 Digital skills and cyber security. How do we secure our future?
Dr Ahmad is a Research Fellow at RMIT Blockchain Innovation Hub & Centre for Cyber Security Research and Innovation. He is part of the Digital CBD Project team and an author of Report 4 Digital skills and cyber security. How do we secure our future?
Before joining RMIT, Dr Ahmad worked as a research associate and sessional lecturer within the Cybersecurity Lab and Blockchain Technology Centre in the Faculty of Information Technology (FIT) at Monash University. Dr Ahmad received his PhD in cybersecurity from the FIT at Monash University, joint work with CSIRO's Data61. Dr Ahmad has worked for over ten years in Cybersecurity and computer networks. His research, teaching and private consulting interests focus on Cybersecurity and Blockchain, including access control, blockchain, distributed systems, edge computing, internet of things and digital health.
Director Bachelor of Business, Head of Teaching & Learning and author of Report 4 Digital skills and cybersecurity. How do we secure our future?
Dr Peszynski's specific research interests include supply chain management and associated technologies, eBusiness, eProcurement and the social aspects of information.
His PhD titled "Power and Politics in a System Implementation" was awarded in 2006 at Deakin University (Victoria, Australia). His PhD had a strong focus on the social issues surrounding systems implementation. The study aimed to identify the role of power and politics in systems implementation.
Since joining RMIT, Konrad has been involved in the School of Business IT and Logistics and teaches into the Masters of Strategic Procurement, Masters of Logistics and Supply Chain Management, Masters of Business (Information Technology) and the Masters of Commerce.
Professor Matthew (Matt) Warren
Director RMIT Centre for Cyber Security Research and Innovation
Professor Warren is the Director of the RMIT University Centre for Cyber Security Research and Innovation and a Professor of Cyber Security at RMIT University. He has held roles such as Deputy Director of University Research Centre, Head of School, Deputy Head of School, Program Leader for several programs during his tenure at Deakin University.
Matt is a researcher in the areas of Cyber Security and Computer Ethics. He has received numerous grants and awards from national and international funding bodies, such as: Australian Research Council (ARC); Engineering Physical Sciences Research Council (EPSRC) in the United Kingdom; National Research Foundation (NRF) in South Africa.
Report 4 background:
Since the pandemic, many organisations have invested heavily in technology to address immediate concerns such as falling revenue, interrupted supply chains as well as building longer-term competitiveness and resilience.
Research indicates an evolution of 'in-demand' skills and an increasingly growing gap in this space over the next five years. In order to ensure Melbourne's CBD transforms into a digital leader, businesses need to develop a better understanding of the digital skills labour market including:
the types of roles
certifications and qualifications required
skills shortages and gaps to be addressed
Digital CBD Project background:
Three renowned RMIT digital research center's have come together to conduct large scale research and produce a series of five reports that consider the acceleration of digital technology directly impacted by COVID-19 and consequently, the opportunity areas for a digital CBD.
Visit the project website here to view previous reports, events and access more information.