Description
This is a free one-week Digital Methods Training event, open to anyone interested (staff and students from any university, or people working in relevant industries) in upgrading their skills in digital research methods. It may be particularly of interest to people working in galleries, libraries, archives or museums. Places are limited.
Training is offered by four experienced researchers in Digital Humanities, including two distinguished international visitors:
Professor Ray Siemens, Distinguished Professor in the Faculty of Humanities at the University of Victoria, Canada
Associate Professor Lynne Siemens, from the School of Public Administration at the University of Victoria, Canada
Dr Rachel Hendery, Senior Lecturer in Digital Humanities at Western Sydney University
Dr Jason Ensor, Research and Technical Development Manager, Western Sydney University
Topics covered are:
Text mining
Network analysis
GIS - Digital mapping
Understanding and Engaging Knowledge in a 'Social' Context
Digitisation of cultural heritage
Project management
Schedule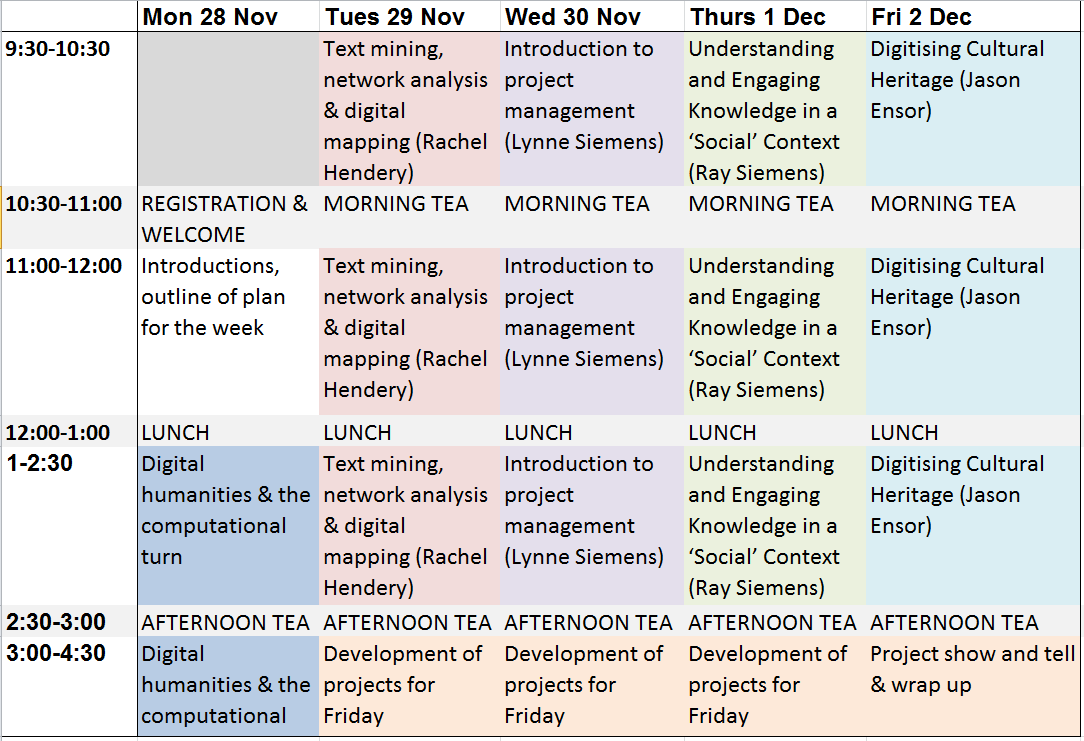 Each day will include presentations from the presenter (in the morning), interactive exercises (in the afternoon), and time for participants to develop group or individual projects where they try applying a method or methods of their choice to data or a topic that interests them. The instructors will circulate during these periods to assist as necessary. On the Friday we will wrap up the week with a show-and-tell session for people to demo the projects they have worked on.
Where and when
The workshop runs from 28 November to 2 December at the Bankstown campus of Western Sydney University at Milperra. The room number is BA-12.G.02, which means it is in building 12, on the ground floor. A campus map can be found here. The campus is accessible from the M90 bus, which can be caught (among other places) at Burwood or at Liverpool station.
Can I attend for only one topic?
Places are limited for this workshop, and so we would prefer to accept registrations for people who will attend every day. If you wish to attend for only one or two topics, please email the organisers to discuss.
Is catering provided?
Because we wanted to offer the training at no charge, we will not be providing catering. Food and beverages can be purchased from several outlets on campus, or you are welcome to bring your lunch.