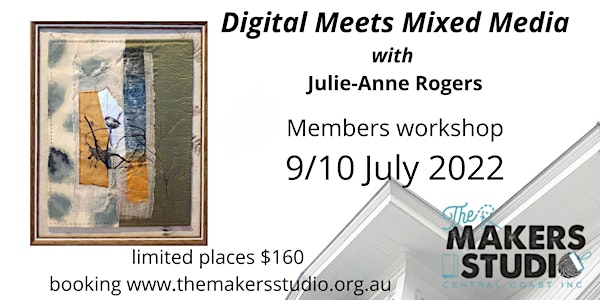 Digital Meets Mixed Media/Members only w/s with Julie-Anne Rogers
Location
The Makers Studio Central Coast Inc.
8 Russell Drysdale Street
East Gosford, NSW 2250
Australia
Refund policy
Contact the organiser to request a refund.
Eventbrite's fee is nonrefundable.
A variety of techniques - products to transfer your images onto many different substrates use your laptop/ printer to create mixed media.
About this event
Dear Member
Thank you for registering for The Makers Studio Central Coast Inc. Members Only workshop – "Digital Meets Mixed Media". Please find below all the information you need regarding workshop attendance.
Date: 9/10 July 2022
Time: 10 am – 4 pm
Venue: Building 3, Lions Community Hall, 8 Russell Drysdale Street, East Gosford (entrance at the rear of the building)
Do you have a stash of wonderful photos that you are itching to include in your art?
Do you have ideas bouncing around in your head for them but don't know the techniques for putting them onto the substrates?
Julie-Anne has learnt from renowned artists such as Wen Redmond, Sue Hotchkiss, Cas Holmes and Cordula Kageman. She has also experimented herself to adapt the products and techniques used by these artists in ways that make them less expensive and more suitable to products available in Australia. Over the two days you will use a variety techniques and products to transfer your images onto many different substrates. Learn to use your laptop and printer in different ways to create mixed media art.
Day 1 will be preparing the substrates for printing and
Day 2 will be learning a few tricks for printing onto fabric, tissue paper, metallic surfaces and other substrates that you may have never thought of before.
TMS will provide these but we will give links to get them yourself after the class –
• Black plastic
• Bubble Jet Set 2000
• Terial Magic
• Black and white Gesso
• Inkaid Clear Gloss Type II – precoat for metallic surfaces
• Liquitex Light Modelling Paste
• Lutrador
Students bring –
• A selection of vintage papers, handmade paper, sewing pattern paper, silver metallic plumber's tape, tissue paper. I will bring extras if you don't have some things.
• Tools to imprint the modelling paste – credit cards, tubes, fork, comb, stamps – use your imagination.
• A selection of several weights of Lutrador or similar fabric stabiliser from Spotlight, Lincraft, etc. Total of ½ metre is fine. You can get a great mix of weights here - https://www.thenile.com.au/books/ct-publishing/lutradur-mixed-media-sheets/9781571209368?gclid=CjwKCAjw_tWRBhAwEiwALxFPoaTBzsJetSs86WNtC-dWEixe8pvav2B99WAxYALp_6t0dIRB48RIIRoCDbQQAvD_BwE $20.33 for mixed weight pack of 10 A4 sheets. Make sure you have time for delivery though.
• Laptop/tablet, smart phone and printer.
o The printer should be connected to the laptop/tablet by a cord, otherwise connect them by Bluetooth to your phone's internet. Your kids can show you how if you don't already know. I might be able to help on the day but would prefer that everyone is ready to go at the time.
o I will bring 2 printers attached to my laptop in case we have issues on the day.
• A selection of fabrics, papers, etc to print on. Think of texture, weight, etc. Don't make the colours and pattern too vibrant as your photos will have to show through. Try to include scraps of silk and sheer organza if you have it. Don't go out to specially buy fabric. Use what you have. I will bring extras in case. You will be working with A5 sizes of fabric.
• A selection of your photographs. Have a play with apps to manipulate them. Try playing with the colours, posterising them, convert to black and white, sepia, etc. You are going to be working artistically so don't expect to get a true reproduction of an unaltered photo. (Although you can work like that if you wish)
• USB stick to transfer your photos in case you have issues
• Double-sided tape
• At lease 20 sheets of A4 paper. Just normal stationery shop paper. The $5/ream paper is fine.
• A tub of gel medium. Small tub is fine.
• Masking tape – doesn't matter what kind.
• A selection of cheap acrylic paints – student grade is fine. Use up your old folk art paint, your kids' paints, a set of news agency paint – anything will do.
We look forward to seeing you on 9/10 July 2022.
PLEASE WEAR CLOSED IN SHOES.
BRING YOUR OWN LUNCH/FOOD/CUP.
Covid safe Rules apply.
If you are unwell you must not attend.
Please read the website for cancellation policy.
Kind Regards, TMS Committee
E. info@themakersstudio.org.au