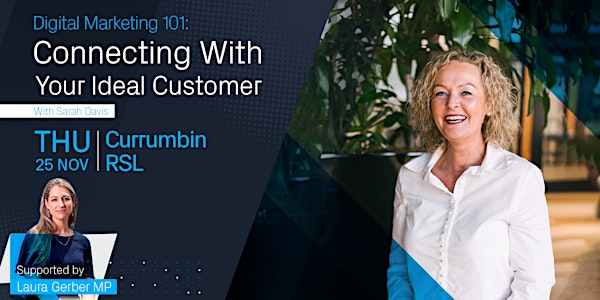 Digital Marketing 101:Connecting With Ideal Customer by Sarah-Currumbin[FW]
Sales Have Ended
Registrations are closed
Thank you for your registration to our ASBAS Digital Solutions Event.
Sales Have Ended
Registrations are closed
Thank you for your registration to our ASBAS Digital Solutions Event.
The digital marketing world can be confusing. Let me show you some simple tips to bring your business and customers together.
About this event
PLEASE NOTE: To register for this event you must be a business (0-19 employees) and provide your ABN.
Delivery Method: Face to Face Workshop
Level : Beginner
Date/Time:
Thursday, 25 November 2021
QLD:06:00 PM to 07:30 PM (AEST)
A simple digital marketing plan
Discover your ideal customer
Create a Buyer Persona to find your ideal customer
Free digital tools to assist with marketing
How to reach your ideal customer
What is SEO and how to grow organically
What social media should you use and how
Measuring results
Supported by:
Laura Gerber MP
Laura Gerber has been the Member for Currumbin since March 2020.
Mrs Gerber is the Shadow Assistant Minister for Justice and Youth and the Shadow Assistant Minister for the Night-time Economy and Cultural Development. She is also the Deputy Chair of the Legal Affairs and Safety Committee.
Prior to entering Parliament, Laura forged a successful career in the legal profession as a lawyer and barrister. She holds a Bachelor of Laws (Hons) from Southern Cross University.
Laura started her legal career at a local law firm in Coolangatta. She went on to become a Federal Prosecutor with the Commonwealth Director of Public Prosecutions and then a Disciplinary Prosecutor with the Office of the Health Ombudsman.
This workshop is brought to you by Business Station and AusIndustry under the Digital Solutions Program.
ABOUT THE PRESENTER
Sarah Davis is an award-winning marketing professional with a friendly and approachable nature. Having worked in marketing for over 25 years, 13 of those years in shopping centres, she has extensive knowledge of the retail industry. Sarah likes to think outside of the box, developing creative and successful initiatives that give a good return on investment.
Retail is becoming an exceptionally tough gig, but Sarah comes with a wealth of knowledge and experience and is dedicated to helping businesses develop and move forward.
With her innate insight and intuition, keen understanding of human nature, and practical marketing and communications skills, Sarah can help you see what to focus on to ensure your company grows.
She can help you implement necessary changes to your marketing and provide coaching to keep you on track for success.
#simplemarketingplan #Basicmarketingplan #marketingplanforsmallbusiness
About Digital Solutions - Australian Small Business Advisory Services
Digital Solutions is one of the most generously supported digital transformation programs for small business by the Commonwealth Government. This iteration of the program has been run by Business Station in QLD, WA and NT for three years and has had a significant positive impact on the small business community.
This event will give you the chance to learn about the details of the program, what's on offer and who can access the free or highly subsidised support, training and resources! Perhaps you will find them beneficial for yourselves, your network or your clients.
To better understand what's on offer, we will encourage each attendee to register themselves to the program before the event, or otherwise by attending this workshop, you will be registered.
Important – Participating businesses must be aware that this information will be provided to the Commonwealth Department of Industry, Science, Energy and Resources for program evaluation and reporting purposes; and businesses may be approached by a representative from the Department to complete a survey on the services provided.
Organiser of Digital Marketing 101:Connecting With Ideal Customer by Sarah-Currumbin[FW]
BUSINESS STATION
Business Station is a not-for-profit organisation providing small business services across Australia.
Business Station is run by an energetic bunch of professionals who are passionate about empowering Australian businesses. The core purpose of Business Station is to help small businesses thrive. We facilitate, encourage and promote economic development across WA, QLD and NT by enabling and supporting the establishment, growth and ultimate success of new and small businesses. To find out more about our amazing team of superhumans, visit one of our spaces or explore our programs.
Our visions is to see business owners be successful, individuals flourish and communities grow.
 Visit www.businessstation.com.au for more information.
Aspiring and current business owners are invited to follow Business Station on Facebook, Twitter and LinkedIn @BizStationInc