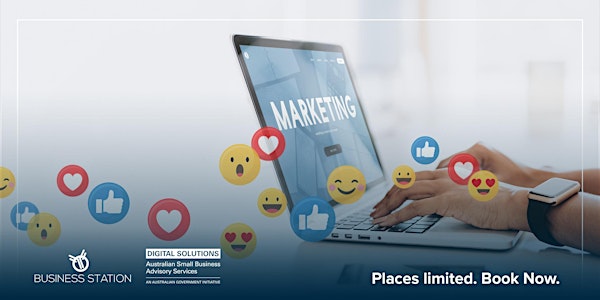 Digital Marketing 101- Identify and find your customers by Sarah D [2OW]
Sales Have Ended
Registrations are closed
Thank you for your registration to our ASBAS Digital Solutions Event.
The digital marketing world can be confusing. Let me show you some simple tips to bring your products and customers together.
About this event
PLEASE NOTE: To register for this event you must be a business (0-19 employees)  and provide your ABN. 
This session will be recorded and sent to everyone who has registered. Register now!
Level : Beginner
1. Let's start with understanding your current situation
2. Who are your competitors and how are you different?
3. What are your strengths, weaknesses, opportunities and threats?
4. Who is your ideal customer?
5. Create a Buyer Persona
6. Your "Go To Market' Strategy – Product, Price, Place & Promotion
7. Smart Goals
8. Marketing Action Plan
9. Measuring results
This workshop is brought to you by Business Station and AusIndustry under the Digital Solutions Program.
ABOUT PRESENTER
Sarah Davis is an award-winning marketing professional with a friendly and approachable nature. Having worked in marketing for over 25 years, 13 of those years in shopping centres, she has extensive knowledge of the retail industry. Sarah likes to think outside of the box, developing creative and successful initiatives that give a good return on investment. Retail is becoming an exceptionally tough gig, but Sarah comes with a wealth of knowledge and experience and is dedicated to helping businesses develop and move forward.
Holding several senior strategic and management positions in marketing, Sarah has been a regular speaker for the Property Council of Australia, offering advice and guidance to peers. She has worked with well-known ASX50 listed brands and today brings her thinking and discipline to businesses just like yours, making it easy, understandable, and affordable.
With her innate insight and intuition, keen understanding of human nature, and practical marketing and communications skills, Sarah can help you see what to focus on to ensure your company grows. She can help you implement necessary changes to your marketing and provide coaching to keep you on track for success.
With experience in all areas of marketing from branding and strategy, web design and social media to content creation, advertising and SEO, Sarah can assist with just the services your business requires.
#simplemarketingplan #Basicmarketingplan #marketingplanforsmallbusiness
About Digital Solutions - Australian Small Business Advisory Services
The Digital Solutions program is built to help small business owners develop their digital marketing skills, from social media to building a better website, making online sales, creating Google and Facebook Ads, and more. All with the advisory and guidance of experienced industry experts who keep you on the right track and help you learn with step-by-step support and check-ins.
In almost four years we've helped over 15,000 small businesses in QLD, WA and NT to become more confident with digital marketing. With generous support and sponsorship from the Australian Government, you can access over $1,000 value in business advisory, training and online resources for only $44.
At this event, we'll discuss how our program works and how we can help you to build a more resilient business.
Important – Participating businesses must be aware that this information will be provided to the Commonwealth Department of Industry, Science, Energy and Resources for program evaluation and reporting purposes; and businesses may be approached by a representative from the Department to complete a survey on the services provided.