Description
On Saturday 2nd September 2017 10am you're invited to a morning coffee at the Workers Hut Torquay to hear the lastest trends across Victoria and Australia on digital and innovation.
What is digital innovation and how it can help Torquay and the Surf Coast?
What is coworking and what are the latest trends across Victoria, Australia and the World?
What does the future of work look like and how this will play out in the Regional / Metro context.
What opportunities will this present for Torquay and the Surf Coast
Come and hear...Taylor Tran (with Rebecca Scott who runs the Workers Hut Torquay).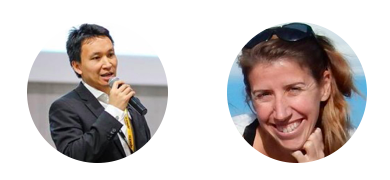 There will also be a book launch / giveaways and book signing of the book Innovation Coworking.
Taylor Tran is an author, strategist and tech and community founder with 20 years global experience in technology and services. He is also a thought-leader and speaker within the coworking industry. Taylor teaches at RMIT University and Mentors startups with the Founder Institute of Silicon Valley and several start-ups, including blockchain, robots, environmental, big data and services start-ups.
Taylor is passionate about building entrepreneurship ecosystems and designing pathways for connecting to start-ups, coworking spaces and accelerators. Following his recent book, INNOVATION MELBOURNE and upcoming book INNOVATION COWORKING, Taylor has played a major role in advising government on building smart city and startup strategies and is currently involved in a number of key ecosystem initiatives. This includes travels abroad to research best practices and running tech hackathons to activate innovation and collaborations.
Brought to you by: Workers Hut
In conjunction with Innovation Coworking and Victoria State Government Digital Innovation Festival (#DIFvic)
ABOUT #DIFvic
The Digital Innovation Festival is proud to work with Innovation Coworking to run a series of Regional Events. Check out for one close to you on www.innovationcoworking.com.au
There is something happennning all the time, get in touch with your local coworking space / initiative during 23rd August - 6th September 2017 #DIFVic
Below are some upcoming event near you...
23rd August Cohoots Castlemaine: Put Your Business on the Digital Map
23th August Mallee Rising Swan Hill: Rural v City Does Size Matter When Creating an Entrepreneurial Ecosystem
24th August Upstart Mildura: Social Media Secrets Workshop
26th August Kyneton Business Hub: Talking Digital and Book Launch (with Taylor Tran)
29th August Cobrew Thornbury: Innovation in the Hospitality Industry
30th August Echuca Kagan Institute: Leaders Roundtable on Local Innovation
30th August Jewellers Coworking, Wangaratta: Hack Night (IoT, Arduino, Rasberry Pi, Slackbot, Website, App)
31st August North East Digital Innovation Festival in Benalla: Think Tank on Innovation & Google Garage
1st September Gippsland Initiative Leongatha: Economic Development and Innovation in South Gippsland
2nd September Workers Hut, Torquay: Talking Digital and Book Launch (with Taylor Tran)
4th September BizBuddyHub, Werribee: Innovation and Designing the 20 Minute City
5th September Deakin Warrnambool: Great South Coast Regional Partnership Digital Innovation Workshop (inc. Taylor)
5th September Startup Cloud (tech coworking space): Talking Digital and Book Launch (with Taylor Tran)
6th September Manningham Business: Women Inspiring Business Lunch
6th September Lab79, Ballarat: Blockchain Workshop and ConnectHack
Continuing after the festival
8th September Synergize Hub Bendigo, Leaders Roundtable on Innovation and Problem Solving