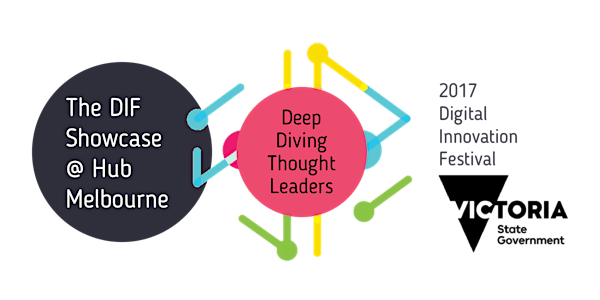 DIF@Hub Deep Dives: Imagine Aust's healthcare system in 2050 ANDHealth A3.0
Location
Hub Melbourne
696 Bourke Street
Level 2/3
Melbourne, Victoria 3000
Australia
Description
'Imagining Australia's healthcare system in 2050' ANDHealth + A3.0
Participate in an open innovation collaboration between industry, government, academia, and community. Thrash out ideas and explore digital innovation.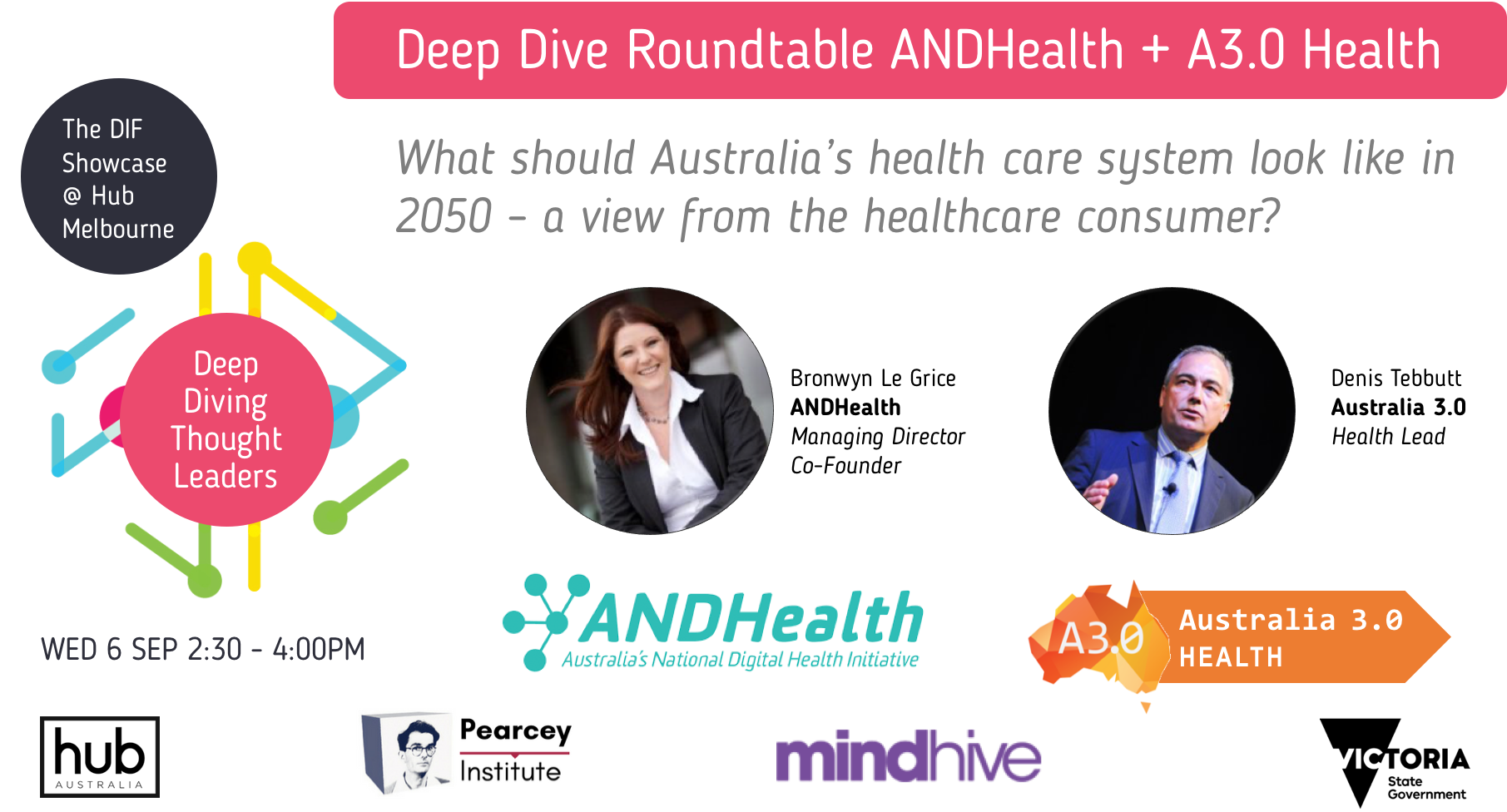 The Digital Innovation Festival, ANDHealth and Australia 3.0 are looking forward to your presence on Wednesday 6th of September for a facilitated discussion of topics such as:
Where should the balance of payment and responsibility lie with respect to preventative health and re-admissions?

To what extent should patients be able to choose which technologies are used in their health care- especially considering the current lack of appreciation for evidence and the fact that only around

40% of Australian's are health literate

.

Ethics around health data storage and patient empowerment.
The comments and ideas generated in this session will be captured live, and also followed up using the Mind Hive platform.
Background
Can the current structure and processes of disease identification and management as well as the daily advice and service given to the population at large stand the test of time? What sort of health system will we see in 2050? What innovations are going to naturally take a controlling position and how can Australia capitalize on its unique geographical and population mix to become leaders in this sector on a world-wide scale?
Our technology economy is in defecit and dominated by large overseas companies that have long recognised Australia as a good test market and a place to ship technologies for incremental revenue. Australia has developed some significant software skills and also shown its capability to punch above its weight in a number of segments with leading research and innovation.
Our climate, education system and the lifestyle of a geographically challenged island have all contributed to an innovation drive that in the past has seen intellectual property acquired cheaply by the overseas giants through acquisition. Our challenge is to remodel Australia with smart businesses that can show real value in the transformation of the health sector. To do this we need to vision our children's world in 2050 and develop the partnerships that will position us as leaders, not followers.
Too often such debates result in a focus on what federal government needs to do, but as technologists we need to focus on what we can show we can do and how the value will be created. We need to create the challenge or we will be consumed in a market of high priced external technologies that our economy may not be able to afford, resulting in a spiraling down of healthcare delivery and upwards in cost.
Over the past fifty years the healthcare sector has demonstrated how it can incrementally discover new ways to deal with all manner of conditions and yet the structure has changed little. Today the emphasis is on the citizen who needs to take responsibility for their Health. It is happening in some sectors but must become a cultural imperative with supporting structures to be successful.
Coupled with the maturity of smart machines, robotics, artificial intelligence, data mining, biologics, organ and now limb replacement, we have a unique opportunity to create the partnering structures that will bring the best minds to work on new innovations to change our healthcare system for all Australians. Let's stop trying to play catch-up and use our industrial knowledge across all sectors to identify the segments in which we can lead the world and make 'Leapfrog' discoveries.
---


2017 HEALTH CHALLENGE VIRTUAL ROUNDTABLE
Once again the Australia 3.0 team challenge the ICT industry to address the key issues facing our country in meeting our digital potential. As part of a new partnership with ANDHealth we are collaborating in a roundtable as of the Digital Innovation Festival Thought Leaders series.
Online roundtables will be online in August to September in the MindHive community signup or let us know and we will send you an invite once the roundtables open. Deep Dive Discussions will run as part of The DIF Showcase @ Hub with sessions 2.30-4pm from 28 August to 6 September.

---
ANDHealth are the lead partner for The DIF @ Hub Melbourne on the final day of the Festival. Showcasing how an integrated ecosystem for the development and commercialisation of evidence-based digital health products can create positive outcomes for Australia. andhealth.com.au

---


Innovation Coworking Book Giveaway
Everyone who attends a session of The DIF Showcase @ Hub Melbourne gets a copy of the latest Innovation Coworking book value $30 Check out all the Innovation Coworking program across Victoria's coworking spaces here >>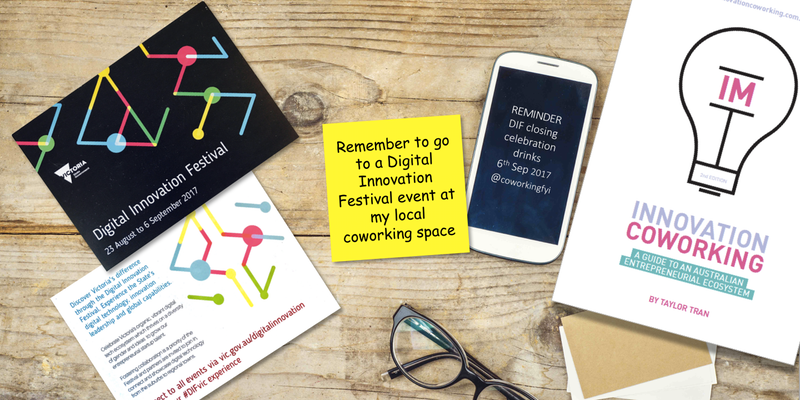 ---
ANDHealth + Australia 3.0 are pleased to host this event as part of the Digital Innovation Festival Victoria. Join in and celebrate the 'Victorian Difference' that drives industry, entrepreneurs and students to not only be different but make a difference through digital technology. The Festival runs across Victoria from 23 August to 6 September.