Diamond Dogs Music Lounge & bar and 5150 Agency presents
About this event
Lax Charisma
DE/4D
Post Punk Jazz and Noise with some nods to traditional songwriting, DE4D and an eccentric duo from Kiama
BhangLassi
Proper Music from Down Under. - Described as having, "a unique surf tinged brit-rock sound" - Their music is punchy, upbeat & infused British influences on account of the lads all growing up in England...
"They serve up infectious, upbeat tunes with a British twang." -
"The harmonies flow together seamlessly, and the music has quite a unique, diverse edge."
Merchants of Panic
Merchants of Panic's vibrant brand of alt rock/pop punk can vary in mood from elated to manic to reflective but their high energy sound is always infectious (in a good way) and likely to have you dancing!
Blistered Minds
Sydney's Northern beaches has been the birthpace of a hell of a lot of great rock and roll over the years!
The Blistered Minds is what happens when Sydney Surf/Punk Rock (ie The Rifles, Lime Spiders, Hoodoo Gurus) collides with Geelong Rock (Bored!, Warped, Magic Dirt) head on!
Their debut EP 'Sin' is a taste of what's to come from this 3 piece punk/rock powerhouse! New album coming early 2021.
Their new single 'Wall of Sound' out soon!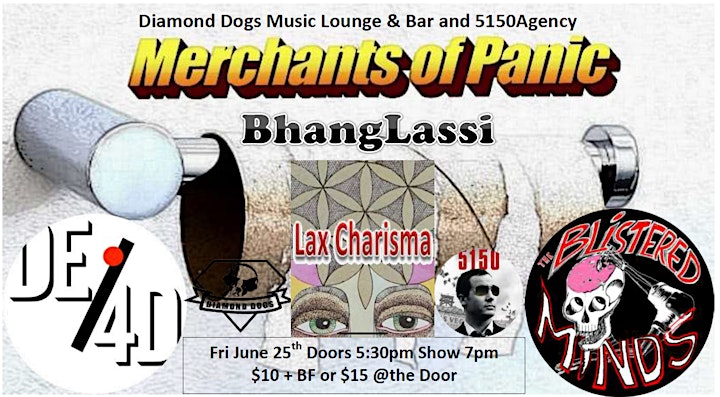 Organiser of Diamond Dogs Music Lounge & Bar and 5150 Agency Presents
Diamond Dogs Music Lounge & Bar, formally Little Joe's Kitchen & Bar was bought by Neil & Claudelle Townsend in June 2019. Neil & Claudelle have transformed the restaurant into a full time entertainment venue, with an emphasis on good food and atmosphere, hosting Music Soloist, Duo's & Bands as well as Comedy and Theatrical Performances. DDML&B is committed to the promotion and encouragement of local talent as well as bringing Australian & International acts to the Illawarra. DDML&B also host Karaoke & Open Mic events weekly and is child friendly. DDML&B is also available for private functions and parties.
It is 10min south of Wollongong in the Main Street of Dapto. DDML&B pays homage to the area in its name as well as to one of the world's greatest musicians iconic album. Diamond – Coal is commonly know as the "Black Diamond". Dogs – The famous, or Infamous "Dapto Dogs" racing. Diamond Dogs – David Bowie. Released on 24 May 1974 by RCA Records. Thematically, it is a marriage of the novel Nineteen Eighty-Four by George Orwell and Bowie's own glam-tinged vision of a post-apocalyptic world.
DDML&B is fully licenced to Midnight and full Restaurant to 9:30pm. Limited menu available after 9:30pm.
Minors are welcome as long as they remain under the supervision of a responsible adult until 9:30pm.
Please notify beforehand if your performance or event is not suitable for minors. NO Outside food or drink to be consumed on the premises. Intoxicated or drug affected people will not be admitted.