Please note this event has been postponed due to advice from health officials.
About this event
We have tentitively set a future date for the last weekend in November. As soon as we have confirmation we will let all attendees know.
If you have not received an email regarding this event please contact us at membership@dhaa.info
________________________________________________________________________
DHAA and ADOHTA are holding a combined two-day CPD event in Victoria to coincide with World Oral Health Day.
Saturday 21st March will include a number of presentations covering a range of topics as well as research presentations by the BOH graduate students.
Registration opens from 8:15am
Sunday 22nd March features a choice of workshops - these have very limited tickets so grab one fast.
Registration opens from 8:30am
ADOHTA Member tickets are available on the ADOHTA member platform and can be accessed at the link below.
Saturday Topics
Total CPD 5 hours scientific
Airways, Sleep apnoea, Bruxism and TMD
Presenter: Dr Damian Teo
An Introduction to Evidence Based Complementary Medicine and Safety
Presenter: Dr Lesley Braun
Silver Fluoride materials - the facts behind the confusion.
Presenter: Ms Cathy Boyce
Oral Health Promotion
Presenter: Cathryn Carboon
Graduate Updates:
Use of SDF in remote Aboriginal Communities
Preception of the learning environment and stress of Oral Health Students
Dental Board of Australia Practice Update
By Dr Murry Thomas, DBA Chair
Sunday Workshops
Sunday AM Workshop 1: 9am - 12pm
Sunday PM Workshop 1: 1pm - 4pm
Atraumatic Extractions: Periotome, Luxator and Elevator Training
This session will consist of:
Lecture
Practical Demonstration
Hands-on Training
Practical Assessment
Theoretical Assessment
This 3-hour training covers the issues of safety and the physics behind how a lever works before comparing the conventional and atraumatic techniques for extraction of primary teeth. It then describes and explains the use of periotomes, luxators and elevators for extraction of primary teeth. The training then involves a Practical Demonstration, Hands-on-Training, Practical Assessment and Theoretical Assessment.
CPD: 3 hours scientific
Sunday AM Workshop 2: 9am - 12pm
Silver Fluorides: the new(old) way of providing minimally invasive dentistry
Exploring silver fluorides
- historical use
- differences between the different products available in Australia
- how incorporating into the modern-day clinical practice can benefit the individual client and clinician.
The seminar covers all aspects of clinical application:
- case selection
- use protocols
- patient acceptance
- informed consent and risk management issues for the child and adult patient.
Cathy Boyce will introduce you to the 'ARM-ER approach to caries management', a proven method of integrating silver fluorides into caries management plans for the individual with client understanding and acceptance.
The participant will obtain an appreciation of the nature of its efficacy and gain confidence to offer silver fluoride materials to in their clinical practice.
CPD: 3 hours scientific
Sunday PM Workshop 2: 1pm - 4pm
Financial Literacy
This workshop will focus on two areas of financial wellbeing and help you to get your financial future on track.
My Budget – walk out with an understanding of what budgeting really is and how it can re-shape your future. You will have an almost complete budget and the tools and knowledge to finalise it later. Importantly, you will gain insight into you and/or your families spending habits, where more discipline is required and we will bring to life how this can allow you to reset achievable savings and lifestyle goals for the future. ​
My Super - Come along to our My Super workshop and we will help you understand your Super and the finer details of how they work, how you are invested and how to maximise your super. By the end of the workshop you should walk away with a general knowledge and understanding of where your superannuation can be invested and what questions to ask your fund to determine accurate fees and performance. ​Our workshop discusses the key elements of your super funds including:
Investments - Asset classes and options
What are the fees you should look out for on your super
Insurance options inside super
Beneficiaries and how to nominate
Tax rates on your super
Types of contributions and how to maximise your super savings
Planning for Retirement and Super calculators used by the industry
Super consolidation
CPD: 3 hours non scientific
Speaker Biographies
Dr Damian Teo
Airways, Sleep apnoea, Bruxism and TMD.
Damian is a holistic dentist with a focused interest in snoring, sleep disorders, teeth grinding, TMJ disorders and airway focused orthodontics. In his dentistry, Damian is passionate about looking "beyond the mouth" and treating the body as a whole. He believes dentists play an important role in being able to recognise airway/breathing issues, sleeping problems, and craniofacial pain (such as headaches, neck pain, and TMJ disorders). This led him to undergo extensive postgraduate training with world renowned specialists in the field of sleep medicine and TMJ disorders.
Damian is a member of the Australasian Sleep Association (ASA), and has a Post Graduate Diploma in Dental Sleep Medicine with the University of Western Australia. He also worked in Darwin's first official TMJ & Sleep Therapy Centre, where he exclusively treated patients for snoring, sleep apnoea, teeth grinding and TMD. Damian understands the value in working with skilled allied health practitioners outside of dentistry. He has presented talks and held seminars to medical and dental professionals to spread the knowledge that dentists can help one's health and quality of life "beyond the mouth."
Ms Cathy Boyce
Silver Fluoride materials - the facts behind the confusion & Silver Fluorides: the new(old) way of providing minimally invasive dentistry
Cathy is an Oral Health Therapist, Orofacial Myologist and educator, who has enjoyed a long and rewarding career in the dental profession working in many aspects of dentistry in both public and private clinics.
Cathy's use of silver fluorides began in NSW in the early 1980s, and she quickly adopted the use of silver fluoride materials in both public and private clinical settings when they again became available for use in Australia. Used alone or combined with modern dental materials, silver fluoride became an integral aspect of her approach to caries and sensitivity management challenges in even in the youngest and most anxious of patients. Since 2017 she has educated clinicians across Australia and New Zealand on all aspects of silver fluoride and is a knowledgeable advocate for this minimal intervention approach for active caries management in clients of all ages.
Cathy has developed the 'ARM-ER approach' to caries management and sensitivity (using silver fluorides), a clinical pathway and resource centre to help guide fellow clinicians (and their clients) through the option to offer silver fluoride materials within the contemporary clinical setting.
Assoc. Prof. Leonie Short
Atraumatic Extractions: Periotome, Luxator and Elevator Training
Leonie has been awarded a Bachelor of Arts degree (Wollongong), a Diploma of Clinical Hypnotherapy and a Master of Health Planning (NSW) and is a registered dental practitioner – dental therapist – with the Dental Board of Australia. She has worked at six universities and has helped establish Australia's first dual-skilled Bachelor of Oral Health degree at the University of Queensland in 1998, Australia's first new dental school for 57 years at Griffith University in 2004 and the Bachelor of Oral Health degree at CQUniversity in 2012.
Leonie has been awarded over $1.1m in competitive research grants and numerous publications in referred journals.
Leonie was the first dental therapist to be appointed as a Director to the Australian Dental Council in 2004 and was the first dental therapist to become a member of the Australasian Council of Dental Schools in 2012. Leonie is keen to progress the oral health therapy profession in terms of research, knowledge and skill development.
Dr Lesley Braun
An Introduction to Evidence Based Complementary Medicine and Safety
Pharmacist and research academic Dr Lesley Braun is the Director of the Blackmores Institute. Dr Braun is also an Adjunct Associate Professor at the National Institute of Complementary Medicine (Western Sydney University) and has held research positions at The Alfred Hospital, Monash University. She was Vice President of the National Herbalists Association of Australia, an Academic Board Member of Endeavour College, and former member of key industry groups including the Australian Therapeutic Goods Advisory Council, Advisory Committee for Complementary Medicine (TGA), the Advisory Committee for the Australasian Integrative Medicine Association, and the National E Health Transition Authority (NeHTA) medicines terminology group.
Dr Braun is a current member of the Clinical Oncology Society of Australia's Complementary and Integrative Therapies Group Executive, Pharmaceutical Society of Australia, Australian Institute of Company Directors, Australia-China Business Council Health, and Medical Research working group, plus on the course advisory committees for nutrition courses at Endeavour College and the Think Group.
She is the main author of four best-selling textbooks including Herbs and Natural Supplements – an evidence based guide, founding Editor-in-Chief of the journal Advances in Integrative Medicine, and was a regular columnist for the Australian Journal of Pharmacy for 20 years. In 2018 she was named The CEO Magazine's Health & Pharmaceutical Executive of the Year.Ms Kirby Smith
Ms Kirby Smith
Financial Literacy
Kirby Smith, a born and bred local, has developed into an extremely passionate, dedicated Financial Adviser with Two Mile Bay Financial Planning in Torquay over the last eleven years.
Kirby's family has managed a small business in Bellbrae and her love of the Surf Coast led to the purchase of her home in Torquay with her Irish partner in 2015.
As Kirby's career and client base expanded rapidly, it became very clear that there was vast potential to improve the overall knowledge and understanding of financial matters within the community​.
She was approached to conduct evenings to educate Women with the aim to improve their financial literacy in areas such as the family budget, banking structure, superannuation, debt, insurance and estate planning.​
And so, it began... her vision to deliver "Women's Financial Education", a six week introduction to core elements of your finances, to as many Women as possible
​Kirby now offers six week seminars in Torquay and also has established corporate workshops in Torquay and Geelong.
Ms Cathryn Carboon
Oral Health Promotion
Cathryn graduated as dux of the Associate Diploma of Dental Hygiene at Gilles Plains College of TAFE in Adelaide in 1989. In 2010 Cathryn was awarded an Australian Rural and Remote Health Professional Scholarship to complete her Masters in Health Promotion with La Trobe University.
Cathryn's extensive career in dental hygiene has covered many facets of dental hygiene care including experience in general practice, orthodontics, oral surgery, periodontics and special needs dentistry. Cathryn has practiced as a hygienist in Adelaide, Brisbane, Ballarat, Wangaratta as well as Neuss (Germany) and Wellington (New Zealand).
Since 2006 Cathryn has presented oral health education modules as part of the Colgate professional education network at Melbourne, La Trobe and Charles Sturt Universities. Cathryn also speaks at dental and allied health conferences throughout Australia.
In 2007 Cathryn became the National Network Coordinator for Oral Health with SARRAH (Services for Australian Rural and Remote Allied Health) and has served on SARRAH's Advisory Committee.
She is the author of an oral health promotion picture book "Who is the Tooth Fairy's Best Friend' which has been distributed around the world since its launch in 2017.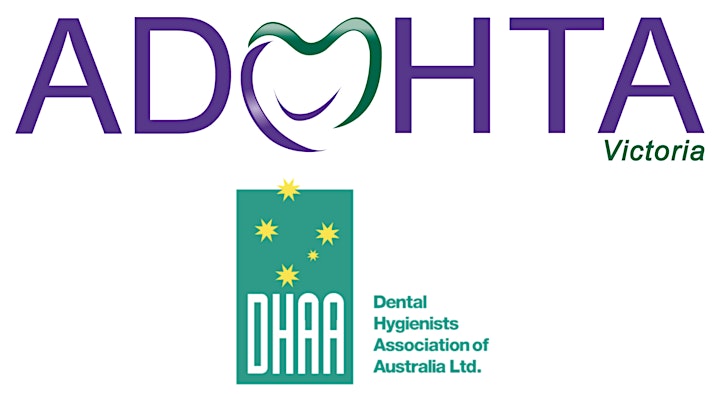 Event contacts:
ADOHTA - Michelle Weekes: admin@adohta.net.au
DHAA - Christina Zerk: membership@dhaa.info
Event Terms:
DHAA Members - To obtain the discounted DHAA Ltd Membership price you are required to be a financial member of the DHAA Ltd at the time of the event.
ADOHTA Members - ADOHTA members tickets can be purchased throught the ADOHTA website (link in event details). You are required to be a current member at the time of the event to ADOHTA inc.
Student Members - Student Members must be an eligible and current student member at the time of the event. Student Membership to the DHAA Ltd is Free.
Dietary Requirements - We will attempt to accommodate all dietary requirements. Please ensure you enter dietary requirements when registering or send through any restrictions to membership@dhaa.info at least seven (7) days prior to the event.
Cancellation Policy - Ten (10) days notice must be given in writing, if you cannot attend, to receive a refund. Reimbursements will not be made after this time. Registration can be transferred to another person of the same membership status.
Photography - The DHAA & ADOHTA reserve the right to take photographs and videos for publicity, illustration, advertising, web content and reports on events and symposia. These images will not be shared directly with any other business without prior consent. If you would prefer your image NOT be used, then please notify us in advance, in writing, of the event that you are attending.
Organiser of DHAA VIC & ADOHTA - Unite for Mouth Health