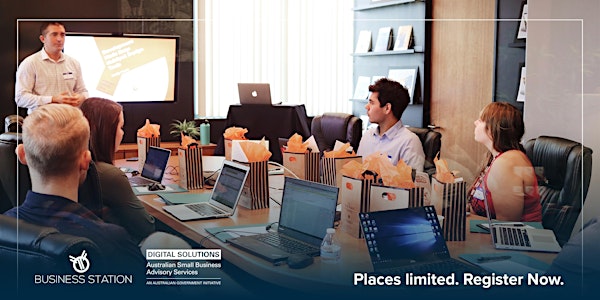 Developing an Occupational Health &Safety Management System by David A[WEB]
Sales Have Ended
Registrations are closed
Thank you for your registration to our ASBAS Digital Solutions Event.
Sales Have Ended
Registrations are closed
Thank you for your registration to our ASBAS Digital Solutions Event.
Understand the requirements of AS/NZS45001 to develop and implement an OHS management system.
About this event
PLEASE NOTE: To register for this event you must be a business (0-19 employees)  and provide your ABN. 
This session will be recorded and sent to everyone who has registered. Register now!
Level : Beginner
Date/Time:
Monday, 29 November 2021
WA: 09:00 AM to 10:00 AM (AWST)
NT: 10:30 AM to 11:30 AM (ACST)
QLD: 11:00 AM to 12:00 PM (AEST)
This session will give participants and understanding of the new OHS standard 45001 and give them confidence to be able to develop policies and procedures to improve workplace safety and health.
Matters discussed will include setting the organisational context, leadership and worker participation, planning the system, establish supporting and operational systems and evaluation and continual improvement.
This workshop is brought to you by Business Station and AusIndustry under the Digital Solutions Program.
ABOUT PRESENTER
David is an experienced business manager and board director who has held senior commercial, operational and general management positions across a range of industry sectors overseeing corporate business functions.
He has significant experience with the development of long-term strategies, governance and management systems, policies and procedures that deliver to client's tangible corporate benefits in the way they manage their organisation and information. He has worked with many organisations to develop and implement policies and procedures for safety health and environment and risk management.
#Safety #Health #Workers #Workplace #Standards #Hazards #Risk
About Digital Solutions - Australian Small Business Advisory Services
Digital Solutions is one of the most generously supported digital transformation programs for small business by the Commonwealth Government. This iteration of the program has been run by Business Station in QLD, WA and NT for three years and has had a significant positive impact on the small business community.
This event will give you the chance to learn about the details of the program, what's on offer and who can access the free or highly subsidised support, training and resources! Perhaps you will find them beneficial for yourselves, your network or your clients.
To better understand what's on offer, we will encourage each attendee to register themselves to the program before the event, or otherwise by attending this workshop, you will be registered.
Important – Participating businesses must be aware that this information will be provided to the Commonwealth Department of Industry, Science, Energy and Resources for program evaluation and reporting purposes; and businesses may be approached by a representative from the Department to complete a survey on the services provided.
Organiser of Developing an Occupational Health &Safety Management System by David A[WEB]
BUSINESS STATION
Business Station is a not-for-profit organisation providing small business services across Australia.
Business Station is run by an energetic bunch of professionals who are passionate about empowering Australian businesses. The core purpose of Business Station is to help small businesses thrive. We facilitate, encourage and promote economic development across WA, QLD and NT by enabling and supporting the establishment, growth and ultimate success of new and small businesses. To find out more about our amazing team of superhumans, visit one of our spaces or explore our programs.
Our visions is to see business owners be successful, individuals flourish and communities grow.
 Visit www.businessstation.com.au for more information.
Aspiring and current business owners are invited to follow Business Station on Facebook, Twitter and LinkedIn @BizStationInc