Destination Dubai - Dubai Advantage Webinar : Legal Route for Investments in Dubai
About this event
Destination Dubai - Dubai Advantage: Legal Route for Investments into Dubai
 MUSTHAFA AL MANA GLOBAL CONSULTING & LEGAL INNOVATION with our Global firm Musthafa & Almana Consulting Dubai , UAE & Sydney in association with Dubai FDI , Dubai International Financial Centre (DIFC) , DIFC Courts and Dubai Financial Services Authority(DFSA) invite to an exclusive invitation-only Webinar on Tuesday 22nd June 2021 between 6pm and 7:30 pm (Sydney Time) on Zoom Webinar. There will be a short presentation about doing business in and with Dubai, panel discussion and interactive Q&A opportunity at a very high level.
Specifically, the evening will include a talk by both Musthafa Zafeer, founder of global consulting and legal firm Musthafa and Almana, together with Mr Ibrahim Ahli, Director, Dubai FDI, who will talk about investment opportunities into Dubai and the "Dubai Advantage". This will be followed by presentation from senior leadership at Dubai International Financial Centre (DIFC) , DIFC Courts and Dubai Financial Services Authority(DFSA) focusing on investment and growth opportunities in Dubai.
We look forward to having you onboard this exclusive session.
Best Regards,
Irfan Malik
Director
MUSTHAFA AL MANA GLOBAL CONSULTING & LEGAL INNOVATION
Sydney, Australia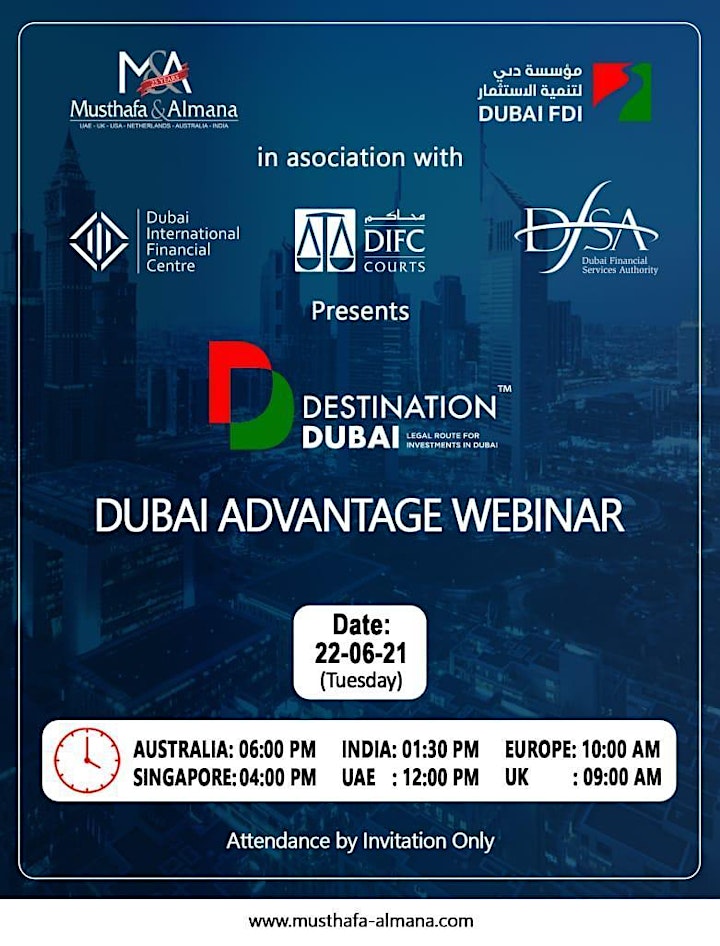 Organiser of Destination Dubai - Dubai Advantage Webinar
Musthafa & Almana is a global consulting firm that serves a diverse mix of institutions in both the public and private domains. We enable our clients to unlock the massive potential of emerging markets. Our global presence along with nearly three decades of experience makes our firm uniquely suited to this task.
 Our diverse team of professionals spread across the globe enable our clients to make meaningful decisions that helps them achieve their global goals in the markets in which we operate. Our growth trajectory spanning nearly three decades is true testament to our commitment to innovation and service excellence. We operate as single global entity united by our values and ethos.
 Musthafa & Almana has pioneered the investment gateway between South Asia and the MENA region, which are growth markets that we have been present in for the best part of three decade. Our specifically designed platform gives potential investors the legal, commercial and technical tools required to successfully invest in and exit out of opportunities in Dubai.
 Destination Dubai is Musthafa & Almana's flagship platform for facilitating inbound investments into the UAE. We have partnered with a range of state and federal institutions that share the same global goal and we work closely with some of the major players in the private sector in order to create and identify opportunities for our clients.
 Tax free incentives, ease of business, access to many of the fastest emerging markets and a quality of life that is ranked among the best in the world make Dubai a commercial oasis in a desert of international uncertainty.
 Musthafa & Almana's global teams are connected on the ground level in India and the UAE to the legal, political, economic, social, cultural, linguistic and environmental intricacies of these geographies, holistically bridging the divide between opportunity, potential and implementation.
Please contact Malik on 0434606329 if you may need further info,