Description
What does the future hold for your organisation?How can you get more clarity of where things are heading in these complex, uncertain times? And how can you design the future of your organisation?
In this workshop you will learn some basic futures thinking tools and frameworks, to help you anticipate the future of your organisation. You will also be introduced to the concepts of a human-centred design thinking approach. These will allow you to create innovative, effective, and sustainable solutions that will facilitate a culture of innovation and positive change within an organisation.
In the first part of the session we will explore a challenge, which is relevant to your organisation, and build a number of scenarios for how this might play out in the future. In this hands-on workshop you will learn how to scan the horizon, spot early signs of change as you explore and discover important events, interesting trends, and special relationships that are a part of your organisation's external environment.
With the information you have gathered in the first part, we will use human-centered design also known as design thinking to find solutions to this challenge in the second part. Design thinking has long been used in the industrial world to create products and is now beginning to gain traction as an important methodology for creatively solving challenges and problems while placing people at the heart of the solution.
Adam Jorlen is enkel's resident futurist and a member of the global Association of Professional Futurists. He will assist you in scanning the horizon and make sense of what might happen in the future. Stephanie Yoong is an expert on human-centred design thinking. She will use her extensive background in science and education to bring to life design thinking applications for delivery of government services.
---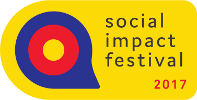 An Impact Sparker Event – Social Impact Festival 2017
For further information on The Social Impact Festival, please visit www.socialimpactfestival.org
This event is hosted by enkel collective in partnership with Inspiring Australia, an Australian Government Initiative, State Government of Western Australia and Scitech