Designing Planning Schemes for Flood Management
At this event we will build a road map of planning measures and institutional arrangements that enable a flood resilient city.
About this Event
Background to the event
The Flood Community of Practice collective invites you to the 3rd installment of our Flood Fundamentals series. We previously looked at the role of modelling and insurance to better prepare and respond to flood risk. And now at this workshop, we add the final fundamental piece of "DE"signing Flood Risk into a Planning Scheme where we look at Flood Risk to Roll Back the Flood and collaborative Institutional Governance.
Together all 3 elements are preparing the Flood CoP for a busy 2021, when we will busy with a 10 year anniversary program of reflections on how we have progressed since the Qld - wide floods of 2011.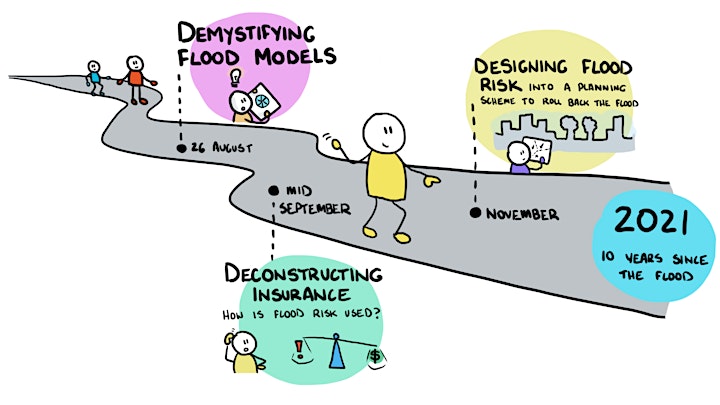 What is on offer?
At this participatory workshop we will have key note speakers to describe:
the strategic and fiscal responsibility that a Local Government needs to consider when responding to flood risk and what role does a planning scheme play in this mix of strategies: Stephen Dredge - Director at Meridian Urban
the mix of planning scheme measures, ways to incorporate flood risk into the design of specific measures and options to achieve consistency across a floodplain managed by multiple local government: Shannon Haines - Director Planning at Ethos Urban
the way organisations can best collaborate, internally and externally, to align and integrate their efforts of land use planning with green and blue infrastructure that matches the liveability needs of a local community: Local Government Speaker TBA
In response to each of the presentations, all participants in small groups will use their own experiences to build a road map of the steps needed to enable flood resilience outcomes to be built into the planning scheme measures and responsibilities of flood plain authorities.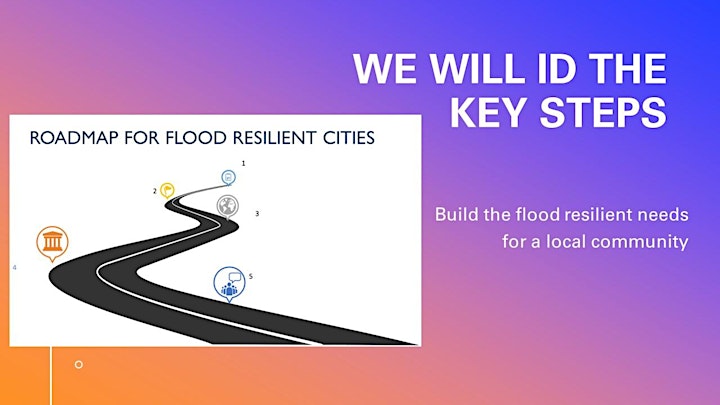 In the second half of the workshop, we look more closely at local solutions and case studies, such as:
Roll back the Flood in Norman Creek - a quick snapshot on how water smart infill design is better accommodating flood risk: Speaker TBA
Local Floodplain Management Plans - progress update and characteristics of the plans being developed by Local Governments for the the Brisbane River Floodplain: Richard Sharp - Senior Planner at Water Technology
Planning Scheme changes - what is involved? Pradesh Ramiah - Supervising Natural Hazard Planner at City of Gold Coast
This will allow the final adjustments to the collectively built road map to be made by our event graphic notetaker Hayley Langsdorf which will then be presented to our Panel for review and refinement. On the Panel we plan to have:
Land use planning specialist from Local Government
Water integration specialist
Planning Historian
State Government Natural Hazard Policy leader
and when we have their availability confirmed this will be updated.
What this event offers for you?
A full day event - with registration from 8:15 am to ensure a 8:30 start and working through to a 3:00pm finish and continuing with networking at the pleasant water front surrounds of this City of Gold Coast venue.
Throughout the day you will have ready access to the various speakers, who will also participate in the small group activities and networking with a broad range of local and state government, research and consulting colleagues. The Flood CoP network is diverse in its membership and new connections are common at all our events.
Throughout the day you will be catered on arrival, at morning tea and over lunch. The Flood CoP team will be there to guide you throughout the day - with your small group activities being supported with engaging and interactive tasks - where your experiences and insights into flood resilience will be readily sought.
On display in the breakout areas, will be the latest research from the Adaptation Science team from the Cities Research Institute of Griffith University - a great chance to see what research can offer to your planning needs and the latest insights on responding to climate risk.
After the event, you will receive a bundle of materials shared on the day - presentations, links to key resources and highlight note taking images that will summarise the day.