DESIGNERS GONE WILD

Monday, 25 May 2015 from 7:00 pm to 9:00 pm
Event Details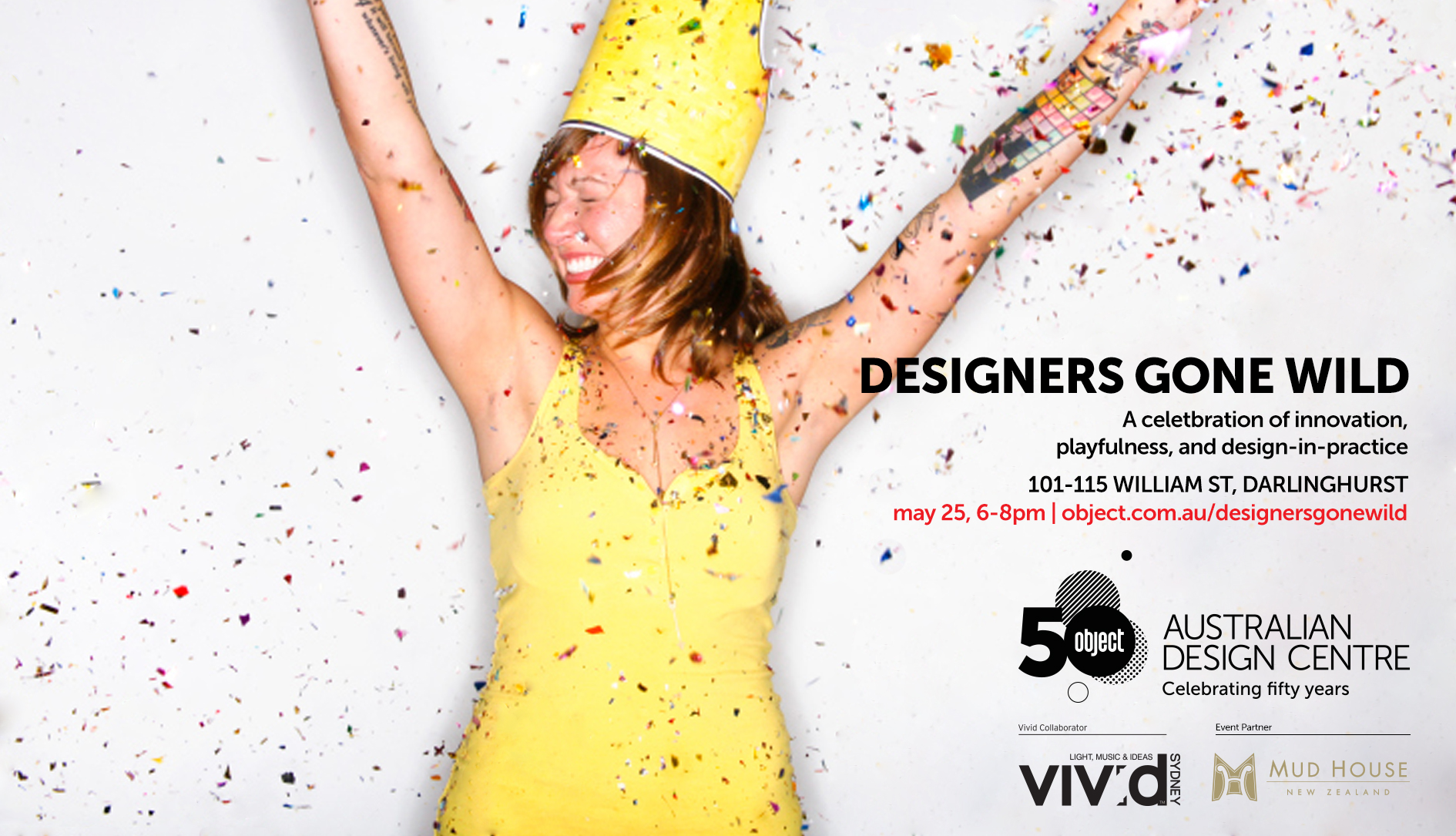 Join us as we launch a new landmark space for design culture in Sydney.
Part housewarming party and part designers-gone-wild, we're inviting you to a live battle of rapid conversations. Witness some of Australia's best design minds challenge each other's creativity, resourcefulness, and ingenuity.
We want you to join us for a unique opening night gala befitting our unique new home – a celebration of innovation, playfulness, and design-in-practice.
On May 25, eco-designer Michael Alvisse, architect Tim Horton, creative thinker Simone LeAmon, and digital producer Lisa Gray will duke it out in a series of rounds set to challenge their creativity, resourcefulness, and ingenuity under pressure in a battle of cross-firing ideas and creative curveballs hosted by the hilarious Michael Hing.
Only one designer will be crowned the winner on the night – and hecklers are more than welcome.
A Vivid Ideas event, tickets include a lucky door prize entry and a drink upon arrival thanks to our event partner Mud House Wines.
Designers Gone Wild is part of the Vivid Ideas program during Vivid Sydney, an event owned and managed b the NSW Government's tourism and major events agency, Destination NSW.
Featuring...
TIM HORTON

Tim Horton is nationally recognised as an architect and advisor for smart policy that enables good design. He has worked in Sydney, Canberra, Adelaide and Los Angeles in small and large practice, with executive-level experience in both the private and public sector. In 2014, Tim was appointed Registrar of the NSW Architects Registration Board; an independent statutory authority that exists to inform people on issues of architecture in NSW.

LISA GRAY

As the Head of Content at The Feds, she has instigated the development of long form television productions and interactive initiatives. Lisa is passionate about the online space, and has been a guest speaker at MipTV, MipCom, SPAA and Mumbrella 360, as well as a guest lecturer at AFTRS on multi-platform Media and a mentor at X Media Lab. Lisa has been working in Media Production for over 15 years.

MICHAEL ALVISSE

Michael remains an active director of design studio Schamburg + Alvisse. Through his consultancy The Nimble Co, Michael consults with the Australian Design Centre, Telstra, Deloittes and the NSW Department of Education teaching innovation and holistic problem solving skills to corporate executives, software engineers and school children.

Taschen Publishing ( Germany ) listed Michael amongst the world's 100 leading designers in the book "Designing the 21st Century". His work has been exhibited at Milan's Triennial Museum and Silicon Valley's San Jose Museum of Modern Art.

SIMONE LEAMON

A leading Australian artist and designer, Simone LeAmon's protean inventiveness has been applied to a vast array of commercial and cultural production, including product design, site specific and interior design, jewellery, limited edition collectibles and design & art for exhibition. Simone has also lectured at RMIT and Monash Universities in Melbourne.
And your host...
MICHAEL HING

Comedian. Radio Host. Writer. Aspiring Global Taste Maker.

Hing's brand of intelligent, unapologetic comedy has carved out a dedicated fan base against all odds.

He's been invited to perform at the World's Funniest Island, Homebake and Harvest festivals, and has performed to sold-out audiences at the Sydney Comedy Festival, Melbourne Comedy Festival and Sydney Fringe, where he also helped produce over 30 different shows by emerging comedians.

When he's not touring niche, elitist, comedy shows, Michael also runs and is a regular host at what has been described as Sydney's Best Comedy Night, Project 52, which he co-founded in 2009.

He might not be good at life (his words), but apparently he's good at sandwiches... and he's going to be more than good as the MC of Designers Gone Wild!
When & Where

The Australian Design Centre
101-115 William Street
Darlinghurst
Sydney, NSW 2010


Monday, 25 May 2015 from 7:00 pm to 9:00 pm
Add to my calendar
Organiser
Australian Design Centre
 Australian Design Centre is a leading centre for contemporary craft and design and play a critical role in building a significant design culture for this country.
We nurture a nation of innovative makers and thinkers and we aim to inspire audiences to use design in their lives.