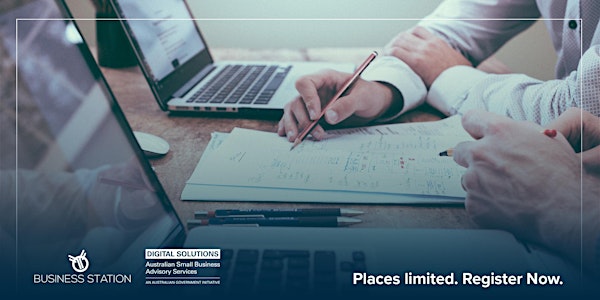 Design Thinking for Innovative Small Businesses by Eunice [2OW]
Sales Have Ended
Registrations are closed
Thank you for your registration to our ASBAS Digital Solutions Event.
Learn fundamental and hands-on techniques to apply Design Thinking in your small business to improve your products and customer services.
About this event
PLEASE NOTE: To register for this event you must be a business (0-19 employees) and provide your ABN.
This session will be recorded and sent to everyone who has registered. Register now!
Level : Intermediate
Design thinking is a human-centric approach and methodology to innovation. A small business needs to innovate to thrive in this challenging situation continuously. With the Design Thinking approach, your business will thrive and explore innovative solutions to address your customers' needs.
In this workshop, you will learn fundamental and hands-on techniques to apply Design Thinking in your small business to improve your products and customer services.
This workshop is brought to you by Business Station and AusIndustry under the Digital Solutions Program.
ABOUT THE PRESENTER
Dr. Sari is a leading global expert on User Experience with more than 18 years of experience in industry and academia. She started the first UX company in Indonesia in 2002 (UX Indonesia) and another in Australia in 2019 (Customer Experience Insight Pty Ltd).
She currently focuses on helping organizations and individuals in the Asia Pacific region accelerate digital transformation. She has been part of the earliest Product Design and Strategy expert mentors in the Google Accelerator Program since 2015. She has helped hundreds of startups and small businesses in Asia, Latin America, Africa, and Europe. In addition to that, Dr. Sari has also been actively helping small businesses locally in Indonesia and Australia.
Her passion is to grow awareness and understand the importance of User Experience (UX) to improve many business areas, technology, society, and design. She has helped companies design better products and services that people (users and stakeholders) love and excellent business value. She believes that small businesses can achieve this when they receive appropriate direction.
#designthinking #innovation #business #smallbusiness #product #service #customerservice
About Digital Solutions - Australian Small Business Advisory Services
The Digital Solutions program is built to help small business owners develop their digital marketing skills, from social media to building a better website, making online sales, creating Google and Facebook Ads, and more. All with the advisory and guidance of experienced industry experts who keep you on the right track and help you learn with step-by-step support and check-ins.
In almost four years we've helped over 15,000 small businesses in QLD, WA and NT to become more confident with digital marketing. With generous support and sponsorship from the Australian Government, you can access over $1,000 value in business advisory, training and online resources for only $44.
At this event, we'll discuss how our program works and how we can help you to build a more resilient business.
Important – Participating businesses must be aware that this information will be provided to the Commonwealth Department of Industry, Science, Energy and Resources for program evaluation and reporting purposes; and businesses may be approached by a representative from the Department to complete a survey on the services provided.