This one-day online program is specifically designed for HR leaders and teams to design fabulous 'employee experiences'.
About this event
Become a HR Leader that is comfortable operating in ambiguity with sophisticated design tools
Traditional HR teams are often populated by people who see their role to protect the organisation, avoid risk and ensure consistency. This type of HR function is becoming less valued. What is valuable is a HR function that can improve the employee experience so talented people work at their most productive. One way HR can transform itself is to incorporate design thinking into its people-design strategies.
"Design thinking" has been increasingly embraced by the world of business and business education over the last decade. During a time of intense change, this is a positive development." - Deloitte
It is time for HR to reinvent itself by incorporating Design Thinking into its people strategies. This one-day fast-paced program will equip HR Leaders with the necessary tools and skills to move away from "process design" to "human-centred design".
Design Thinking isn't just a 'nice to have', it's a necessity for the modern 21st Century HR Leader who wants to drive organisational change and remain competitive in a highly competitive profession.
Learning Outcomes:
Shift your mindset away from designing top-down, centrally distributed HR programs.
Understand the value of designing all HR programs with the employee at the centre.
Analyse and discuss design thinking and implications across the HR context.
Create and communicate end-user driven solutions to HR problems or opportunities such as employee engagement, organisational design and attracting talent.
Map the Employment Lifecycle from the employee's point of view to improve all employee experiences.
Reduce risk and accelerate learning through rapid testing and feedback loops.
Problem-find and reframe problems in a way that enables HR to develop a culture of innovation.
Map the employee journey to identify touchpoints and needs and redesign the employee experience.
Workshop Topics:
Outline the new 'HR Value Proposition' and its strong link with Design Thinking.
Practical explanation of the 5-phase Design Thinking Model.
Experiential exercise to practice using the Design Thinking model.
Interactive Exercise to learn the 8 Mindsets of Design Thinking.
Experiential Exercise to design two 'Empathy Maps' using pre-work materials.
Group exercise to map the full employment lifecycle from the employee's perspective.
Experiential exercise to design 'Employee On boarding' experience using a live journey map.
Group exercise to design an onboarding storyboard to implement at work.
Group feedback exercise to share designs and gather ideas for the next iteration.
Dynamic Workshop
This workshop is fast-paced, fun, interactive, creative and wildly different from many classroom training programs. You will be up on your feet one moment conversing around a design thinking board and in another you'll be cutting and pasting a neat feature on your very own design.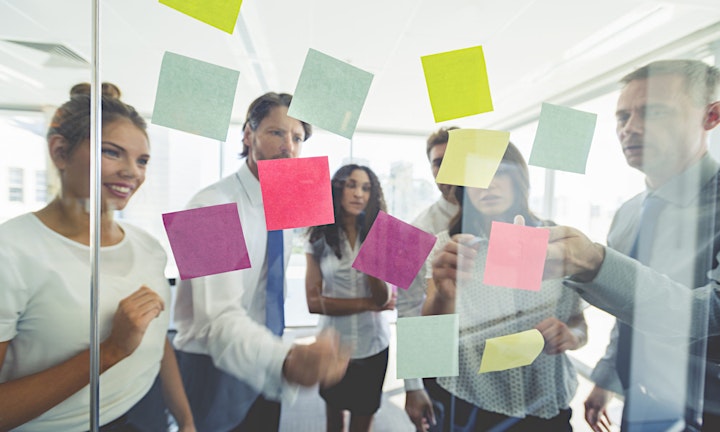 What others are saying about this program:
"HR is being disrupted and design thinking is key to the employee experience. This workshop kept a great pace and was engaging and practical. Loved it!" - Liz Duncan - Manager, Talent Acquisition at UniSuper
 "A hands-on, practical day breaking down design thinking theory in a way that can bring problems to life in an organisation." - Yvette Cachia - Group Executive, People and Legal at Primary Healthcare
"A practical workshop with tools and techniques that can be applied immediately. I learned how to take Empathy and use it to design employee experiences. An energetic, inspirational day. Thank you!" - Zena Boaks - CHRO, Audi Australia
"A fantastic introduction to design thinking for HR. A 'must do' to remain competitive in our field." - Kimberley Calabria, HR Business Partner, Thales Australia
"Great program - very insightful. The facilitator is very knowledgeable and passionate." - Maria Lytsioulis, National Human Resources Manager, Primary Healthcare.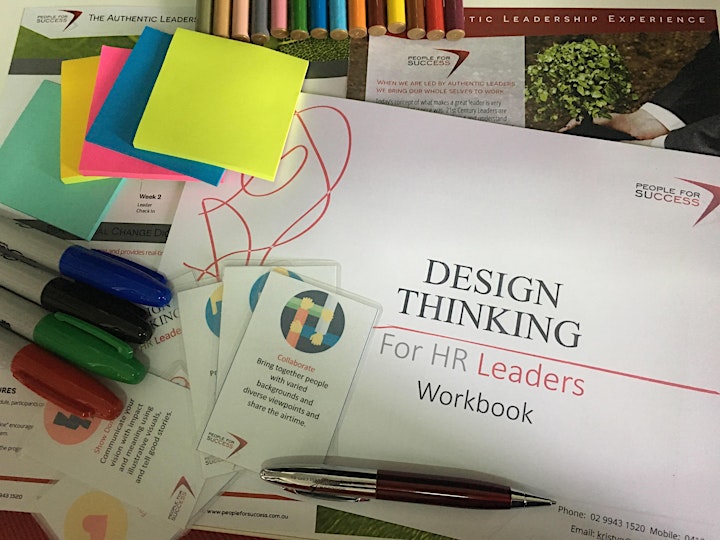 Who is the workshop for?
This workshop is specifically for HR professionals including L&D, OD, HR generalists and Remuneration and Benefits Managers who want to accelerate innovation within their organisation and to learn about Employee-Centered Design to improve the Employee Experience across the employment lifecycle.
What organisations send people to our workshops?
Our public workshops typically draw a lively mix of people from business, non-profits, government and education, all eager to update their HR skills to include employee-centred design.
Pre-work
Before the commencement of the workshop you will receive the pre-work. The pre-work involves interviewing friends and colleagues. It doesn't take up much time and it's fun!
What should I bring?
All materials are supplied including plenty of brightly coloured post-it notes and sharpies. Design Thinking for HR leaders is a new way of designing HR programs so the most important thing you can bring is an intention to learn something completely new. Come with an open mindset and we supply the rest (morning tea, lunch and afternoon tea).
What if I have questions?
Email the program director Kristyn Haywood at kristyn@peopleforsuccess.com.au or call her directly on 0419421332. After you register, we'll send you additional information about workshop logistics.
We invoice
If you would prefer to be invoiced for this program we are happy to. Simply email kristyn@peopleforsuccess.com.au.
Inhouse Programs
We have delivered this program in-house to many whole HR teams and leadership teams. It's a wonderful way to experience the program with the added benefit of choosing which part of the employee lifecycle you would like to redesign.
After the Workshop
We believe that a course is only as good as what happens afterwards. Therefore, an individual follow-up coaching session with the Facilitator of this program is included in your fee if you select the course + coaching option.
You will get loads of resources including e-books to use back in the workplace to help start your design thinking journey straight away.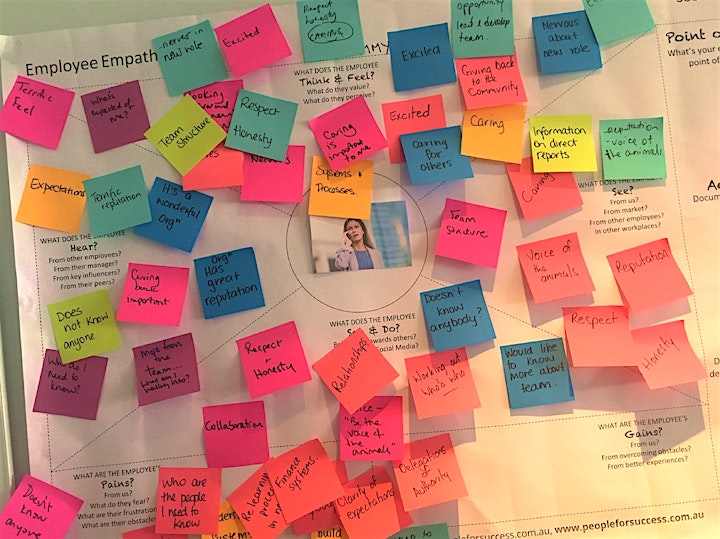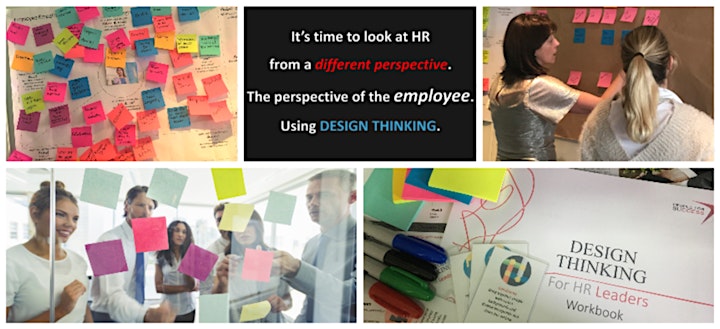 Date and time
Location
Refund policy
Organizer of Design Thinking for HR Leaders - Australasia
I am an experienced leadership educator, executive coach, and facilitator. I work in partnership with organisations that want to develop strong leaders capable of building agile, human-centred and customer-centric workplace cultures. Obsessed with human performance, I am fulfilling my life's purpose by "Supporting HR and Executive teams to build inspiring places to work where each person's unique talents are directed towards making a difference." It's a purpose that is 50 years in the making. 

I have personally educated over a thousand leaders, across 3 continents including Executives from the ASX 200. I've now delivered dozens of top-team alignments and supported many teams to reach extraordinarily high levels of performance.  Seasoned with C-Suite executives, I can eloquently sell a transformation journey by including compelling evidence and strong metrics for success. If the data won't win them over then my passion and enthusiasm will. 

Let's have a conversation if you are looking for ways to: 
Use design thinking to create fantastic employee experiences;
Develop 21st Century leadership and HR capability through modern leadership training;
Educating HR Teams on how to incorporate Design Thinking
Include digital learning solutions for leadership development;
Help teams learn how to talk through their issues and find that ideal conflict point;
Transform team cultures to agile, human-centred and customer-focused;
Develop strong Executive teams who can transition from hierarchical to collaborative leadership;
Breakdown silos that keep their organisation stuck in the dark ages;
Develop emotional intelligence in the entire workforce.
Call 0419421332 or email: kristyn@peopleforsuccess.com.au to chat.