Sales Have Ended
Ticket sales have ended
This event is now closed. If you would like further information on QMI Solutions activities please contact events@qmisolutions.com.au.
Sales Have Ended
Ticket sales have ended
This event is now closed. If you would like further information on QMI Solutions activities please contact events@qmisolutions.com.au.
Description
On behalf of the Department of State Development, Manufacturing, Infrastructure and Planning
Design in Manufacturing Seminar and Factory Tour
This Hands-on Seminar will help you:
realise the potential that design offers for increased sales, margins, exports and growth

understand how design can make your business more agile and sustainable

learn 3 useful techniques to assist your design effectiveness and returns

understand how other Australian manufacturers use design to lead their markets

meet other local manufacturing businesses advancing their business model through design and

see how international success, Cascade Australia, has embraced digital design systems.
Tour the Cascade Australia factory to see how they use smart design and manufacture for success.
Take control of your business future. Applying the latest thinking in design will help you develop a winning product and service strategy, improve manufacturing, lower costs, generate repeat business and help you bring your new ideas to market faster. It will help your business become more competitive, giving your business the edge it needs to compete and thrive.
Cascade Corporation is a global leader in the design, manufacture and marketing of materials handling equipment and related technologies. During the past 70 years, the field of materials handling has developed into a highly sophisticated and important part of industry. Cascade Corporation has played a significant part in this growth and development. From our beginnings as a small machine shop in the early 1940's to the leading worldwide manufacturer that we are today, Cascade continues to grow as the premier supplier of lift truck attachments and related products. Cascade has expanded its horizons and designs and manufactures a variety of materials handling products that enable mobile equipment such as forklifts, tele- handlers and construction equipment to become a more versatile and efficient materials handling tool. These products enable a lift truck to pull, push, clamp, lift, side shift, position, tilt, extend and rotate practically any load imaginable.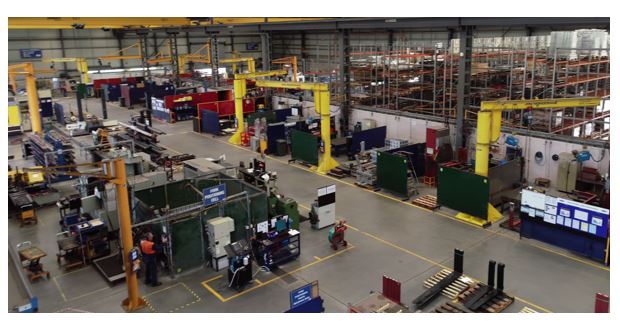 PRESENTERS:
Our industry presenters will share their insights and knowledge around the application of design and how it can transform your business.
Robert Geddes, (Senior Consultant - Innovation, QMI Solutions, Brisbane)
Robert will share his 30 years of industrial design practice to help local manufacturers harness the power of design to transform their businesses. Rob will showcase Australian Design successes, explain the design process and how to harness rewards on investing in design.
Harish Rajanna, (Operations Manager, Cascade Australia, Darra)
Harish has worked with Cascade since 2007, when he joined as a Design Engineer. During his time with Cascade, Harish has been promoted from Engineer to Engineering Team Leader and is currently overseeing operations and manages the Engineering, Manufacturing & Supply Chain teams. According to him the future for cascade is intriguing, forklift attachments and related technologies are growing, we are evolving into a highly integrated and collaborative industry that is providing tailor made solutions to our customers. Innovations are being promoted which are being influenced by the need for cost reduction and reduced lead times. Material handling attachments are being made to be more versatile, productive and efficient. Industry is moving towards digitalisation, robotics, virtual reality and advanced materials. Harish holds a Bachelor degree in Mechanical & Manufacturing Engineering and a Masters degree in Advanced Manufacturing Technology.

The advanced manufacturing design program is a key action of the Queensland Government's Advanced Manufacturing 10-Year Roadmap and Action Plan as part of the Advance Queensland Initiative.

---
Places are limited - maximum 2 attendees per company

NB: Taking of photographs onsite is strictly regulated. Approval is required prior to any photography.
Includes: seminar, workbook, action based learning, design resources directory, host presentation, facility tour and catering, including lunch
For more information, contact QMI Solutions on 07 3364 0700 or via email:events@qmisolutions.com.au.