About this Event
Let's meet behind the screen and spend a crafty Sunday with this online class program. You'll be carefully guided step by step step trough the making process of the bag, and individually assisted like in a real class.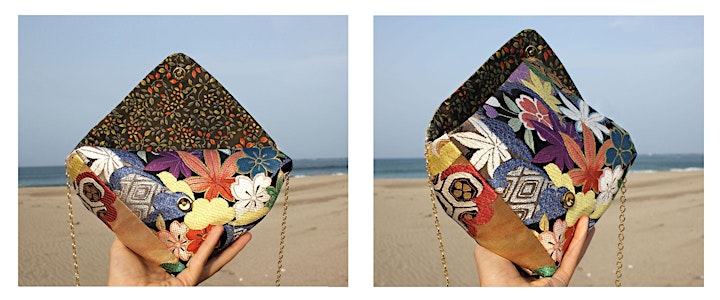 * WHY ONLINE ? *
I am Clémentine Sandner, designer and founder of an up- cycling fashion brand based in Japan. I create bags and accessories from discarded kimono fabrics under the name of "Mikan". (www.clementinesandner.com)
With a background of four years as Fashion design professor at Esmod Japan, I now share my passion for creativity and teaching trough sewing workshop. In the past two years I have been hosting several workshops in Melbourne as well, and due to the current situation, I have decided to offer the chance to take part to this experience trough an online class.
* CONCEPT *
We will meet online in a virtual classroom where I will give you detailed explantions and make demonstrations of what will be done during the day. This way, each participants can work at their own pace and request individual assistance at anytime. We will Zoom.us , don't worry if you are familiar with it, I will show you the basics before the class starts.
* DESIGN & MATERIAL *
Have your basic sewing material ready , and choose your fabric. I will send you tips and indications so you can even create it 100% recycling what you have at home.
Unable to ship the material myself from Japan , due to the COVID-19 and long delays, I put together a shopping list that you will be able to get online from Australian-based shops, which I checked availability of the material and shipping delays with.
>The main fabric
I usually use vintage Kimono and Obi to create my bags. You can shop Japanese vintage fabrics form Australian online Kimono dealers (I can recommend some), but you can also use any other fabric you like to make your bag! (Detailed instructions will be provided to help you choose the most fitting material )
>Specific material for bag-making
You will need a magnet button or a snap button. If you need to buy one online, I can recommend where to buy.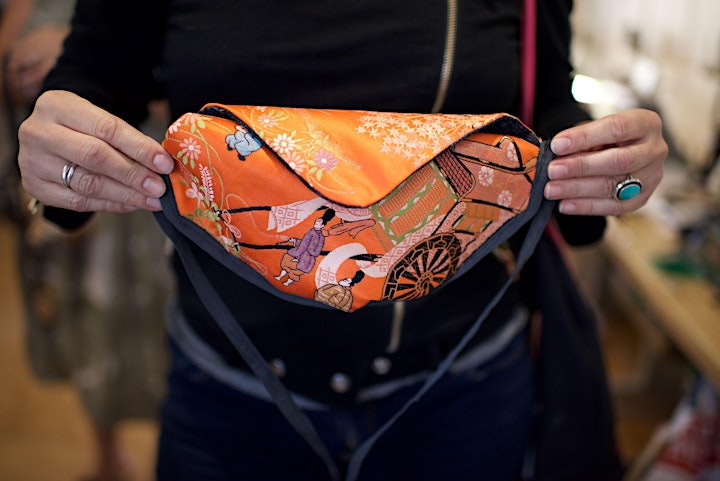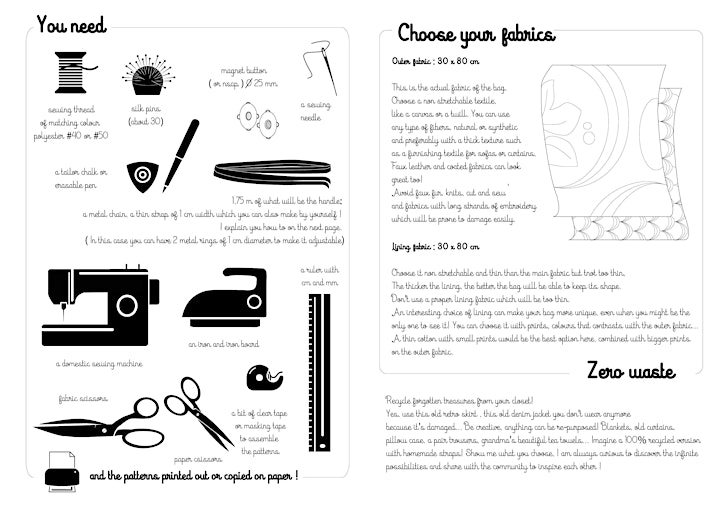 If you need to buy buttons , straps or any other material I have prepared a shopping list for you and you can order online 2 weeks prior to the workshop.
* SCHEDULE *
Please be available to join the daily group class from 10:00 to MELBOURNE TIME. *
11:00-13:00 : brief presentation of Zoom - construction and pattern explantation - preparation of fabrics- review basic sewing.
14:00-16:00 : preparation of small parts (strap, pocket...) assemble the bag. Most of you might finish at this time. but you might as well be fastner or slower according to your sewing level, material conditions...
*You will receive all detailed informations about how to choose your fabric , detailed schedule s well as the patterns to print out once your registration is confirmed.
All detailed informations will be sent within 48hours after registration.Please make sure to provide a valid email address as you purchase your ticket!
I look forward to meet you online!