Learn about the key ownership structures available to you when setting up your business or investments.
About this event
As part of the WOW (Women's Optimal Wealth) Program, Optimal Wealth Solutions, in conjunction with Murchinsons, Chartered Accountants and Business Advisors, are delighted to present the second in a series of workshops on Women's wealth creation and protection.
Women, now more than ever, are achieving more, living longer, shattering ceilings, and breaking certain traditional roles, while simultaneously embracing others, (sometimes without support). While taking on the world, many women are neglecting their own financial self-care.
This webinar will enhance your understanding of ownership structures for business and investments, which amongst other things, involves asset protection, tax efficiency, ease of obtaining finance and other considerations.
We will provide real life examples of how to appropriately structure your business and personal assets.
The aim is to provide you with peace of mind that you have the best possible structure in place to achieve your financial goals.
Speakers on the webinar are leaders in their respective fields being:
John Walker - Optimal Wealth Solutions
John is the Founder & Principal of Optimal Wealth Solutions and a Certified Financial Planner providing bespoke advice to clients on wealth creation and protection strategies.
Before establishing Optimal Wealth Solutions, John held senior management positions with premier international banking institutions, including Citigroup, BNP Paribas, Deutsche Bank and Bankers Trust, advising other banks and multi-national corporations on their finance and structuring activities.
The strength of John's engagement with clients lies in creating bespoke financial plans considering client's long-term goals, financial resources and ever-changing life circumstances, to help them confidently plan for the future.
Lisa Salmon - Accountant Murchinsons
Lisa has worked in public practice for the past seven years. Before that she spent more than a decade working as a company accountant. Lisa had the honour of receiving the Australia and New Zealand Chartered Accountant Association's award for most outstanding graduating student. Lisa sees accounting's purpose as much more than completing tax returns. She sees her role as assisting clients achieve their personal goals through the wise use of accounting strategies and structures. When not working, Lisa may be spotted on the sunny Central Coast running after her children.
Luke Mitchell - Director Murchinsons
Luke is a Senior Director and Partner at Murchinsons, Chartered Accountants and Business Advisors, based in North Sydney. Alongside providing accounting and business advice to many commercial and family clients, Luke donates his accounting experience in the not-for-profit sector, supporting the Grameen Foundation Australia and the Manly Women's Shelter. When not spending time with his two young sons, Luke advises clients on how to improve corporate structures and grow their businesses. Formerly as a Partner of Crowe Horwath and more recently as Principal of Beacon Advisory Partners, Luke's career includes extensive experience assisting clients with taxation, accounting and advisory services in the SME market and family groups.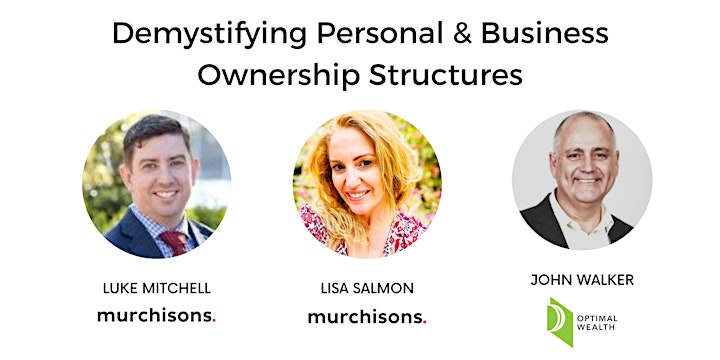 Organiser of Demystifying Personal and Business Ownership Structures