Description
Globally the lack of affordable housing is estimated at 330 million urban households and forecast to grow by a further 30 percent by 2025.

Locally, the Australian housing supply and affordability crisis is light as day, but the solution isn't. Innovative thinkers are developing new sustainable development models to tackle these issues.

Our social licence is at risk.

Planning and built environment professionals need sharpened skills in designing viable strategies for accommodating population growth which include and support affordable housing as part of wider supply.

This touchstone function will explore how we can balance the needs of society and the commercial realities of the corporate world.
Speakers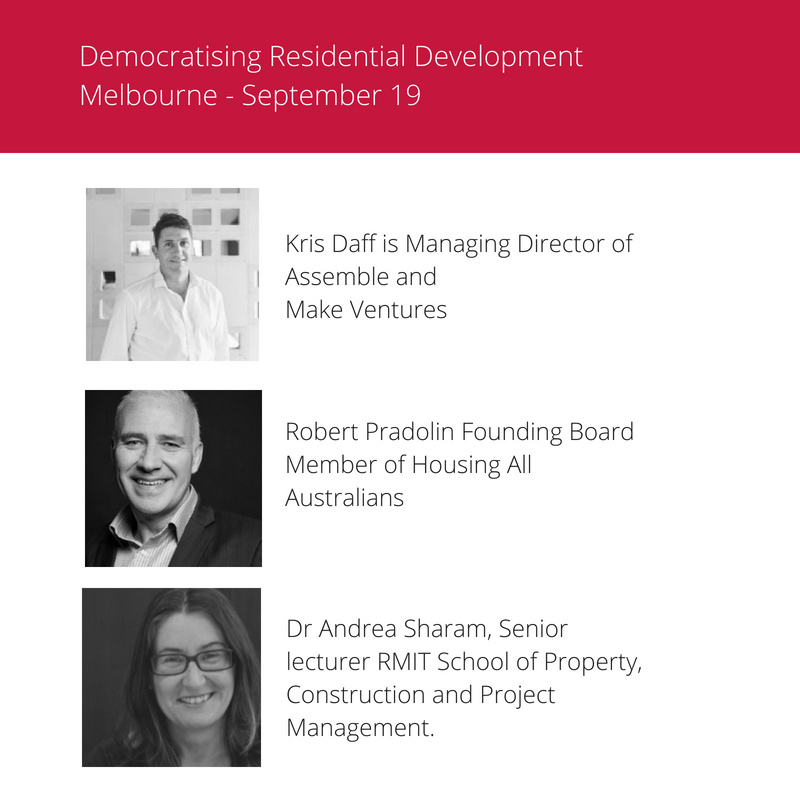 Kris Daff is Managing Director of Assemble and Make Ventures (MAKE). In 2018, the team at Assemble and MAKE launched the Assemble Model – a new pathway to home ownership. The Assemble Model is the culmination of three years of research, both locally and overseas – and applying these learnings to the Australian context. The model aims to address the fundamental desire for the majority of Australians to own their own home – and is a direct response to multi-level government policies on housing affordability.
For the past 30 years Robert Pradolin has lived and breathed residential development. From land subdivisions and medium density housing through to high-rise mixed use apartment complexes. Robert is Founding Board Member of Housing All Australians, he recently launched Australia's first Pop Up Shelter, in a building that would have remained empty for several years, it now houses women over 55 and is managed by the YWCA.
Dr. Andrea Sharam is a Senior Lecturer at the School of Property, Construction and Project Management at RMIT University. Andrea has extensive experience in social research on housing and homelessness, but is also highly experienced in other areas of social research including public policy and urban governance, with a focus on social and economic disadvantage. She has held roles in the community housing and homelessness sectors and was an elected councillor at the City of Moreland between 2004–2008 where she was an influential member of council's Urban Planning Committee and held the portfolios for affordable housing and women. Her work over the past decade has raised the profile of single older women as a new cohort at risk of homelessness. Her highly innovative conceptual and theoretical work on housing as a matching market is a significant scholarly, public policy and practical contribution to improving housing affordability. It has resulted in for example the ground breaking financing deal between not-for-profit housing provider Nightingale Housing Ltd and its social impact investors. Prior to starting at RMIT University in February 2017 she spent six years at the Institute for Social Research at Swinburne University. She is currently a member of Strategy Board for the Melbourne Housing Exposition.