Description
Looking To Start A Business But Don't Know Where To Begin?
Afraid of the statistic that 90% of businesses fail in the first few years?
Don't want to waste years and thousands of dollars on the wrong idea?
Looking for a non biased community of like minded people who can guide you in the right direction?
Then this workshop (and the POVAR community) is perfect for you!


Unfortunately most Meetups and business community groups want to you to buy into their model, regardless of how suitable it is to you, your life story, your community or your vision of the future for the world.
Unfortunately most people look to start a business with the intention of making money as their focus. These almost always fail.
---
At POVAR we believe that a business can, and should, be an extension of your life purpose. We believe that you can make money while doing your part to make the world a better place.
We believe that your business should reflect your personal values. And as it grows, it should position you to become a force for the positive change you'd like to see in the world.
Design a dynamic and scalable business
That not only sells your products or services
But also builds your public profile
So that in the coming years, you can leverage that profile
And create the change you want to see in the world.
All while doing work that you love, for people you love.
In summary - we want to assist you in designing a business that serves your life purpose.
Discover your business & your life purpose. We can help you with both.
It's for disrupters. It;'s for social change agents. It's for thought leaders.
* All tickets (deposits) must be purchased no less than 72 hours before the event begins.
---


Learning Outcomes
How to convert the story of your life into lessons that become the core assets of your business

How to design a long term dynamic business model that can adapt and grow as you do throughout your life

How to design your products and services that create the maximum impact for your customers

How to manage your business and personal finances so that you can sustain the long game of a purpose based business

You will know the cost of your life: per day, week, month, quarter and year - so you know your real targets for financial freedom

You will learn how to automate your finances so you never have to worry about money ever again

How to prevent your unwanted habits from getting in the way of your business success

You will have a timeline of the things you need to do now so you can launch asap

You will create a vision board and goals list specific to your business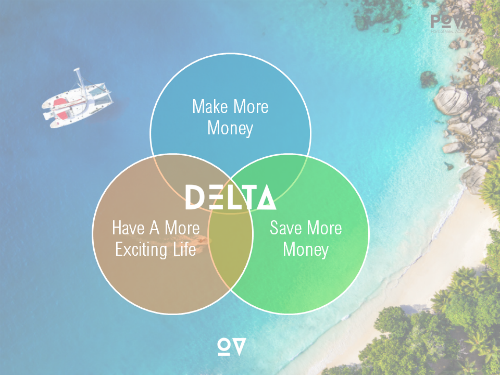 Workshop Outline
PART 1 (pre workshop)
Completion of the 'discover my personal micro niche questionnaire'

Completion of FOLDERS - your first step to financial mastery
PART 2
Review of your life story and identification of what you already have to sell from the lessons of your past

Identification of your unique selling points (your micro niche)

Product design and the keywords to use to market them

Group review of your proposed business model and it's offerings
PART 3
Identification of your money mindset and it's limiting beliefs

Assessment of your financial systems and how you can improve them

Exploration of how to make and save more money in your current life

Installation of the POVAR Smart Banking System for early retirement

How to keep your living costs separate from your startup costs
PART 4
Define the problem your business solves

Define the solution you propose

Identify your target market

Lock in your ideal customer ('avatar' for marketing purposes)

Draft your top 10 content pieces for your launch

Review your existing public profile

Prepare for business launch
PART 5
Short term business launch plan

Long term business goals timeline

Vision board for your business and lifestyle

Agreements for 7 day launch support group
---
You should attend this workshop if you:
Believe it's time to start your business but aren't sure where to start

Are looking for a support community of thought leader entrepreneurs

Are ready to stop wishing and actually make a start on your purpose and business

Wish you had something amazing to share with the people in your life

Want clarity on your business model and it's offerings

Want to know how to enrol your friends and community in your new business


---
What To Bring:
Your laptop and completed worksheets:
- FOLDERS - the money and banking worksheet
- Point of View Questionnaire - your micro niche discovery worksheet
Any graphics and business concept notes for group review
Everything else is supplied on the day.
FAQ (Frequently asked questions):
What are my transport/parking options getting to the event?
The venue is in The Change Room, POVAR House, 82 Bondi Road. There is free parking available in the surrounding blocks.
There are also numerous busses that travel down Bondi Road from the Junction interchange.
Cancellations/Refunds
We offer a full money back satisfaction guarantee. If for some reason you need to cancel your attendance then a full refund is only available up until 3 days prior to the event. 50% more than 2 days prior and no refund after that. The workshops do sell out and are designed for a specific number of people. All seats need to be full for each session. The refund amounts enable us to fill at short notice.
Is my ticket transferrable?
Yes you can pass your ticket on to someone else or sell it, but it can not be changed for another day with less than 3 days notice. If you need to change the date please call us to arrange and we will send you a code for you to register on another date at no extra charge.
What do I need to bring to the event?
Your laptop and completed worksheets
FOLDERS - the money and banking worksheet

Point of View Questionnaire - your micro niche discovery worksheet
Any graphics and business concept notes for group review
Everything else is supplied on the day. We assume you have a smartphone with access to your social media profiles. The rest of the work comes from your memory, so be sure to get a good sleep and arrive fresh. We provide all course materials, worksheets, as much coffee as you need plus refreshments throughout the day.
Can I have a private session?
Private full day sessions are available on request at $1497. Please contact Stacy directly for availability (see below)
More questions:
CALL STACY DIRECTLY BETWEEN 10am and 6pm ON 0415 086 046