Delivering successful intranets

Friday, April 15, 2011 from 9:00 AM to 5:00 PM (AEST)
Event Details
What is a succesful intranet?
An intranet's success depends on how well it is accepted by the people that matter most - the intranet end users. No matter how nice the intranet might look, how much effort has gone into it or how good the content might be, if staff are not using it, it's a big waste of time and money.
This highly interactive worskhop looks at what it takes to build and deliver a first class intranet - one that staff will use!
Using over 20 case studies from intranets that have obtained positive feedback from their own end users, you will discover tricks and tips to deliver a successful intranet. The workshop is based on comprehensive research and analysis over a 2 year period from the Worldwide Intranet Challenge (WIC) including feedback from:
Over 15,000 intranet end users
From 50 organisations,
In 13 countries.
Who should attend?
Anyone interested in designing, building, maintaining or managing a more useful intranet or delivering a new intranet.
This includes communication managers, IT managers, intranet owners, SharePoint managers or consultants, internal communicators, content management professionals, knowledge managers, business process professionals, HR managers, organisational development professionals, information architects, usability specialists and people responsible for managing intranet software or a content management system (CMS).
Note: This is a hands on interactive workshop so you will need to bring a WiFi-enabled laptop. If you don't have access to a laptop, you will need to purchase a ticket that includes laptop hire.
Bring screen shots of your current intranet (or new designs) as well for discussion.
What you will learn
During this workshop you will learn:
What staff want from an intranet (and it's more than just news, documents and a staff directory!)
Techniques to deliver an intranet that will keep your staff coming back
How to keep your accountant happy - 8 ways an intranet can add bottom-line value to your organisation 
The 9 phases of intranet delivery
How to bullet proof your navigation by identifying information types, properties, relationships and multiple navigation paths
'Contextual integration' - what it means and how it can transform your intranet
How to identify & deliver:

A contextual view of business tasks, and
Information and tools needed to support these tasks

The power of prototyping to obtain stakeholder buy-in
How to improve emplyee engagement through effective management of news, communication & collaboration on the intranet
How to keep your intranet alive by:

Identifying the right roles and responsibilties
Continually monitoring & reporting intranet success and effectiveness
During the workshop you will also:
Complete a benchmark exercise on your existing intranet (if you have one) enabling you to compare your intranet with a database of over 50 other intranets
Develop an individual action plan (or business case) that will identify and prioritise intranet improvement tasks, based on your intranet and business objectives
As a group, build a task-based intranet prototype (accessible from the web)
When you return to your office you will have access to:
A database of best practice intranet case studies,
Supporting references, and
Tips and tricks of leading intranets. 
How is this workshop is different?
This is the first workshop of its kind to be based on comprehensive research of real intranet end users. Throughout the workshop we will refer to practices from leading intranets, as identified by end users, to illustrate effective intranet development and design approaches.
Workshop Outline
The workshop covers the following topics:
Phases of building and designing an intranet
Building a business case or action plan for your intranet
Structuring your intranet content

Identifying information types, attributes and relationships
Designing 'information views'

Prototyping options
Designing the look and feel

Home page design
Template design

Developing your content

Identifying task based content
Identifying content that supports these tasks
Contextual integration
Staff details

Developing an approach to communication
Making your intranet dynamic (social)

Online lists & forms
Online discussions & collaboration spaces
Tagging and commenting

Maintaining & managing your intranet (governance)

Roles and responsibilites needed to maintain the intranet
Using the intranet itself to manage governance
Establishing a dynamic publishing community

Managing & measuring intranet performance

Mobile and off-site access
Personalisation
Measuring success
All topics include:
Tips, tricks and advice from leading intranets
Relevant references and supporting material
Examples and demonstrations
Group and individual exercises
About your presenter

Andrew Wright is the founder of the Worldwide Intranet Challenge (WIC) - a web based survey that allows organisations to obtain and benchmark feedback from their staff about what they think of their intranet. Feedback from the WIC has been analysed to identify the best intranet practice case studies referred to during the course.
Over 15,000 intranet users from 50 organisations have participated in the WIC including Ernst & Young, Arcelormittal, the European Space Agency, Standard Life and Hexaware Technologies.  Read more about the WIC.
He also publishes the Worldwide Intranet Challenge blog that contains many useful articles about intranets and how to improve them.
He has worked with intranets for the past 10 years using a range of tools such as SharePoint, IBM Websphere, and Lotus Notes. He has consulted for many organisations including KPMG, AGL Australia & the Coles Group.
He also runs the largest Linkedin group about intranets - the Worldwide Intranet Challenge - with over 8,000 members. He has presented at conferences both internationally and locally in Australia. He holds a Masters in Information Systems Engineering. 
You can read more about Andrew on his LinkedIn profile.
Getting there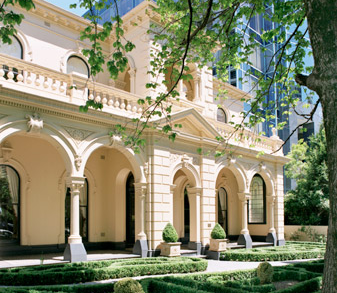 The venue for this event is the historical Hotel Charsfield, a St Kilda Road icon. Secure parking is available for the day for $15 in Leopold St, just around the corner. Or you can take a 10 minute tram ride down St Kilda Rd from Flinders St Station.
Fees, terms and conditions
The fee for this course covers all written materials, internet access, morning tea, lunch, afternoon tea and after-course drinks.
All fees are payable in full before the course. Cancellations received less than 14 days before the start of the course will be subject to the full fee. For non-attendance at a course there will be no refunds and the full fee will be payable. Substitutions may be made at any time without additional cost.
In the unlikely event that the course is cancelled, we will automatically make a full refund but will not be liable for any consequential loss of travel or accommodation fees due to cancellation of the course.
When & Where

The Hotel Charsfield
478 St Kilda Road
Melbourne, Victoria 3004
Australia

Friday, April 15, 2011 from 9:00 AM to 5:00 PM (AEST)
Add to my calendar
Organizer
Since November 2000, CIBA Solutions has provided intranet, knowledge management and business process improvement solutions to organisations around the world. CIBA Solutions also runs the Worldwide Intranet Challenge (WIC).