Find your Marketing niche and how to create and sell your unique brand to your potential customers.
About this event
About this Event
Have you ever stopped to consider who your business is speaking to and if they are the right audience for your business?
Learn insights into how to focus on the right audience, whose values align with what you have to offer and how you engage, connect and influence their purchasing decisions.
By knowing not only who your customers are, but who you want your customers to be you can appeal to a narrow market with more effective results and long term loyalty.
Discover where you should position your brand and how this relates to your marketing strategies.
WHAT'S COVERED
Customer Values: Identify your core market
Competitor Assessment: Where to find your niche
Tone of Voice: How to speak to your customers
Marketing Basics: How to reach your customers
WORKSHOP Event:
3 Gollan Street
Ulverstone
When? Tuesday, 08th FEBRUARY 2022
6pm-8pm
When you join up for our DIGITAL SOLUTIONS program, you will receive...
A digital needs assessment
1:1 digital mentoring session
Statewide Workshops
Online learning
**For YOUR Small Business to be eligible for this Digital Solutions Program, you must be For Profit, have a current ABN and employee 19 employees or less.... JOIN TODAY HERE!**
Find Switch Tasmania on Facebook, check out our website www.switchtasmania.com.au or call 6408 7005 for more information .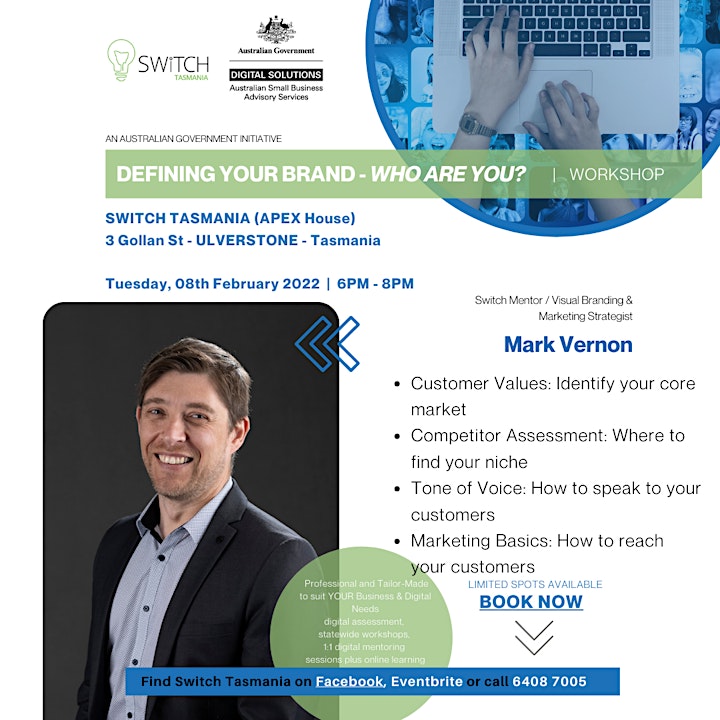 Organiser of DEFINING YOUR BRAND - Who Are You? Workshop Event
Switch Tasmania has the contract for ASBAS Digital an Australian Government program that is providing direct education and mentorship to assist Australian small businesses to build their digital capability.
Through the program you can access: A series of workshops in your local area, Two hours of tailored mentoring and Webinars & online materials.
An Australian Business Number (ABN) is required to attend.